Ashes: Australia's press on more Swann fall-out and MCG build-up
Reaction from Australia's press on more Graeme Swann fall-out as the war of words rumbles on.
Last Updated: 24/12/13 5:37pm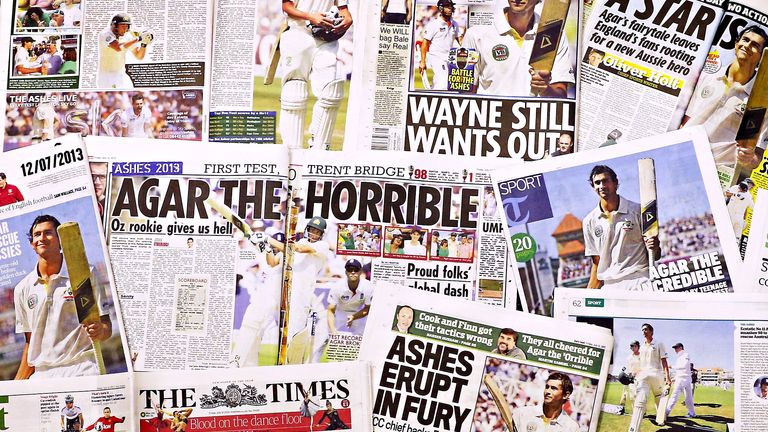 THE AUSTRALIAN
Swann saves cost of a Christmas card for Pietersen, says the headline. You never thought Swann's retirement would be a quiet affair did you?
The paper writes: "Was it mere after-the-fact damage control or was one of Graeme Swann's last acts as an England cricketer to bring to an end his long-running feud with teammate Kevin Pietersen?"
Aussie legend Shane Warne says Swann's "lashing" of his England teammates may have been designed to "fire them up" for the last two Ashes matches.
Warne says: "It's an emotional time for Graeme. Hopefully that was a way to lift the guys and say, 'Come on, pull your heads out and let's finish on a high'."
It seems the Aussies are getting bold, with bowling coach Craig McDermott declaring their bowlers the "best in the world" in advance of February's tour to South Africa.
SYDNEY MORNING HERALD
Reporter Andrew Wu declares Swann has triggered a "war of words".
He continues: "England is edging closer to self-destruction after the fallout from Graeme Swann's sensational exit interview plunged its unhappy Ashes campaign from disarray into farce on Monday."
It seems everybody's forgotten there's still a game of cricket to be played. There's a lowdown on the MCG pitch.
Curator David Sandurski says: 'There's pressure to get it right with 90,000 turning up. They want to see a good contest and obviously I control a lot of that with the wicket.
''I'm aiming for a wicket that's got a bit in it for the bowlers, a bit of pace and bounce for them, but that also helps the batters - and hopefully some spin on day four and five."
HERALD SUN
Aussie captain Michael Clarke offloads some steam in his column.
"People have been asking me how we're going to approach the Boxing Day Test after already winning back the Ashes. The answer is easy - full throttle.
"Momentum is a rare and precious commodity. When you have it you run with it as hard as you can because you're never sure how long it will last."
And on Swann's departure, Clarke has nothing but glowing praise.
"England are going to miss him. He was a high quality spinner. He was also integral to England as a slips fieldsman. He's one of those cheerful guys who always make life in the change rooms more fun."
A few worries for Ryan Harris for the fourth Test.
The paceman will only play one of the last two Tests because of a chronic knee injury. Harris said: "I'm finding ways of getting through it. I've got the best medical team. I'm going to have to get it fixed up to hopefully extend what I'm doing, but we'll wait and see when that is."
Reporter Robert Craddock has lots to say about England.
He writes: "Rarely has a prosperous era been so brutally truncated as England's this tour and there could be further blood on the floor on Thursday if keeper Matt Prior is dropped for the last two Tests."
Last but not least, Kevin Pietersen as the rumours persist on who Swann's barbed comments were aimed at, the Herald Sun takes a pop at KP.
"The Ego has flown, all alone"..the headline reads.
The report continues: "When the English cricket side landed in Melbourne after losing the Ashes in Perth, Kevin Pietersen was not among them. The batting maverick had caught a 7am flight the day before the rest of his teammates and sat in a business class seat, occasionally peering through the window beside him down to the vast brown, arid expanses that sum up the unforgiving country Australia is in every way. As always, he looked a man slightly detached and it was not the greatest of looks. Teams under siege should stay together, not travel in fragments but then Pietersen has always lived on his own planet."
Watch the fourth Ashes Test, live on Sky Sports 2 HD, on 25 December from 10:30pm