What happened to...Dean Headley?
Alastair Cook's England let slip a wonderful position in the fourth Ashes Test in Melbourne. That wasn't the case back in 1998, though. Sky Sports talks to a seamer who starred at the MCG...
By Rob Lancaster
Last Updated: 07/03/14 10:57am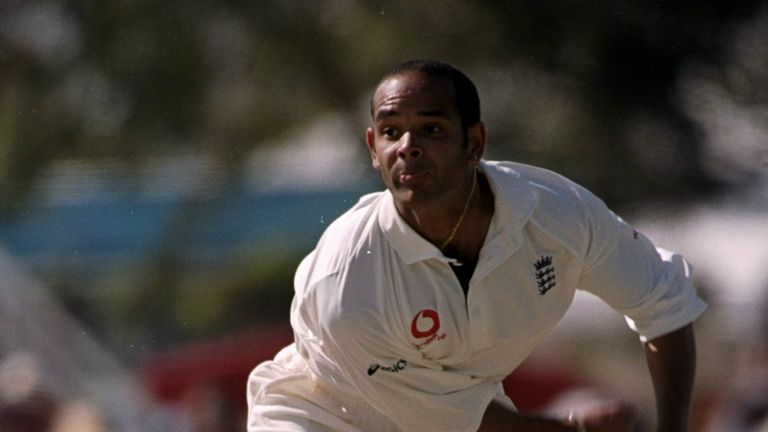 Grandfather George, who averaged over 60 in his 22 appearances, and dad Ron both represented the West Indies, each of them elegant batsmen. Dean, however, was different; born in Worcestershire, he played 15 Tests for England... as a seamer.
It didn't always seem like that would be the case. As a youngster it first appeared football could be Headley's chosen path, while even when cricket was his career of choice it must have felt like an international call-up may never come his way.
Eventually, finally, England took note of his performances for Kent, and the right-armer duly took eight wickets on debut, against Australia. His Ashes highlight, however, came at the end of the next year, in a magical match in Melbourne that saw the tourists in the field for over four hours in the last session.
Here Headley tells Sky Sports about that classic finish to that Boxing Day Test, as well as recalling the back injury that cut short his cricketing career and his reasons for getting back into the game...
Sky Sports: Normally the best place to start with these interviews is to ask how you got into your chosen sport. With you, that seems fairly obvious!
Dean Headley: I played all sports to be honest. I teach now and you see boys who are either interested in chasing the ball around for no real particular reason, and those that aren't. I was definitely a case of the former - anything that rolled, I would chase! I was massively into football - most people spoke about that when I was younger, not cricket. I played county representative under 13 at cricket, but there were two bowlers in front of me who would open up and take all the wickets. They broke all sorts of records, whilst I came on as first change. I struggle now to think just how young they find bowlers and wonder what would have happened to me nowadays. People mature at different stages, and there's no set age when you can consider yourself ready to be a professional. Sport picks you anyway.
My first love was football. I do think it was a genuine possibility at one stage. I played right up until 16 in the Birmingham Boys League, but the problem with that is I was playing matches, not training. I got to the end of that season and that was it, I've never played a competitive game again.
SS: But were you aware from a young age about what the Headley name meant in the world of cricket?
Yes, very much so. I remember sitting on the bus going to watch my dad play. I once watched Gladstone Small bowl at my father. Every Saturday I'd go off with dad, take my bat and ball, my football and just hope I could find someone at the ground to play sport with. I was very much aware about what my dad did - he would come off the field and I would see people go up and talk to him, I'd be sitting on the bench listening to what people said about him. I saw some really good players in that time.
SS: So how did a boy from the Midlands end up making his name at Kent?
DH: I got taken on by Worcestershire at the age of 18, straight from school, but they didn't give me a contract for the following year, which in my mind meant I was released. I then went to play in the North Staffordshire League and did well in that. The following year Clive Lloyd in the winter said he'd arrange for three counties to have a look at me - they were Somerset, Derbyshire and Middlesex. I went to the latter for two years, before refusing a two-year contract extension. I thought that earning the money they were offering to live in London wasn't enough. I knew Carl Hooper, we got chatting and so I went to Kent. The rest is history.
SS: Did you have international ambitions early on?
DH: I never really played much at under 19 representative level for England. I was always on the outside. Around then were the likes of Nick Knight, Ronnie Irani, people like that. I made my first-class debut for Middlesex at the age of 21 - I think I took quite a long time to grow into my own body. By the time I was 23/24 I started to put on some pace. I remember the Kent coach at the time saying to me that I had to be able to swing the ball, because I wasn't going to have the raw pace of someone like Martin McCague. That was the first year I joined Kent - 12 months later and I was bowling at that kind of pace. Then I got a lucky break, getting on an England A tour to Pakistan. I'd done well in the season but hadn't initially been selected, only to then be called up after Richard Johnson was ruled out of the England squad to tour South Africa, meaning Peter Martin was moved up and a space became available on the A team. I did well, came back home as top wicket-taker on the tour.
SS: In the end you had to wait for your chance to play for England - did you ever think there was a point when the opportunity might not come along?
DH: The winter before I made my debut I definitely thought I was going to go on the tour to New Zealand. I took three first-class hat-tricks and didn't get selected - I was gutted really. But I went on a fantastic tour to Australia with the England A team, captained by Adam Hollioake, and did well. It was a proper old-school A team. We were the best players outside the Test squad. A lot of us went on to play Test cricket, people like Jason Gallian, Michael Vaughan and Anthony McGrath. After that they started plucking out youngsters for those tours, looking for the next big thing. I don't think it works like that - people tend to peak around 30 - and yet we kept trying to find them in their late teens.
SS: Your Test opportunity finally came in the summer of 1997, an Ashes summer no less. You made the most of the opportunity, too, taking eight wickets in the fourth match of the series at Old Trafford...
DH: Yeah, it wasn't a bad debut! I was coming back from injury before then and they wanted me to have a run-out. I played for Kent against a Combined Universities XI and took one wicket I think, on a slow, low track at Canterbury. I used to nip the ball back in to right-handers when I wasn't in my full rhythm, but when I made my Test debut Australia had three left-handers in their top six. That actually helped me, because the ball was jagging away from them. I got three out in the first and second innings, and suddenly everyone was saying what I great bowler I was to left-handers! I just believe in a bit of fate, a bit of fortune. I was good bowling at left-handers, but it was just circumstance.
SS: Back then it was a different situation to how it is now - there was a lot of chopping and changing in the England line-up. Did you always feel the pressure to perform?
DH: People keep telling me that the players in the England squad are better today. I played with some great players, people like Graham Thorpe, Alec Stewart and Mark Ramprakash, but the environment we played under back then had no stability. Now, England is a club you play for. Back then, it was a team you got picked to represent now and then. England now has a club mentality, right down to the players' families. For me, you have to take away that fear (of being dropped) and let players express themselves. I'd have loved to have seen a player like Mark Ramprakash, or Graeme Hick, play under this sort of regime. They, for me, were phenomenal players. But there was always that fear about making a mistake, and that unsettles anyone. It was an unsettled team - I played nine Test matches away and the other six at home, which is quite unusual. I'd go and bowl in Australia, the West Indies, then you'd get back home and be out of the team because some seamer elsewhere in county cricket had swung the ball in the early months of the summer and taken wickets. There are plenty of people who can bowl for England in England - there are far fewer who can bowl for England abroad. That is the challenge.
SS: So to the Ashes tour of 1998/99. England were saved by a storm in Brisbane, then lost in Perth. The defeat that followed in Adelaide meant the Ashes could not be regained. However, then came Melbourne...
DH: They'd outplayed us in the last Test in Adelaide, the only match in my career when I faced Australia when they absolutely annihilated us. That was the opening day where it was 46 degrees, the writing was on the wall from about a minute after the coin went up. I've been watching on now this winter and we've had our chances to be in this current Ashes series, even though Australia have won convincingly. Catches have gone down, opportunities have gone begging. It was the same back then. Angus Fraser dropped a catch at the Gabba (in the first Test) when Ian Healy had very few to his name and Australia were five down for just over 100. He went on to get a big hundred. We used to create opportunities in that England team, but simply didn't take them.
SS: In the Boxing Day Test England made 270 on day one, then Australia rallied from 151-5 to 340 all out first time around. You followed up with 244, leaving your opponents chasing 175...
DH: In our second innings the tail wagged. No 11 Alan Mullally had posted four noughts in a row when he went out to bat - we were making things up for his exploits, or lack of. Four '0's was an Audi, and that day he was going for his Olympic rings! You talk to him now and he'll say we won that game by 12 runs, and those he made were the difference. He hit (Glenn) McGrath back over his head for six. That's a big hit.
When we came out to bowl I got told by Bumble (David Lloyd, who was then England coach) to just go out there, bowl fast and hit the deck hard. That's what I did. I think when I took my first wicket I had figures of nine overs 1-44. Then there was a great catch by Ramprakash, Langer hit it off Mullally and Ramps took it diving away at square leg. Then 'Mr Angry' came out of Ramps, and it went from there. A lot of Australian batsmen that thought they wouldn't be batting that day suddenly were getting them on. Healy came out and got nothing. The ball was reversing and Goughie and I just kept going. Steve Waugh claimed the extra half-hour to win the game...
SS: But at any stage did you think it had slipped from your grasp? They were 130-3 at one point before you dismissed Mark Waugh, then reached 161 with three wickets left and the other Waugh brother still in...
DH: I think we had to get Damien Fleming out three of four times (in that second innings). That's why DRS is massive these days, particularly if you are someone who hits the wickets and reverse swings the ball. Now, DRS has encouraged umpires to make decisions. Anyway, eventually we got him out, he basically padded up to one swinging back in. McGill had got 50-odd in the first innings, but it was unbelievable. Every time it wasn't on his stumps he'd miss it then every time a ball was straight he'd get something on it. We had allowed the tail to get a few too many first time around, which gave Australia their lead. He just kept getting a thin edge on balls that you thought were through him. But we'd bowled pretty well throughout that series. 'Goughie' (Darren Gough)... I loved playing in Test matches with him, he was an inspiration to play with. They are good memories. It was a good night after we'd won!
SS: It was then on to Sydney, and you had your chances there to level the series. You ended up trying to chase 287 on a spinning pitch...
DH: We did (have a chance of victory), but (Michael) Slater didn't get given run out in Australia's second innings from a direct hit by me from third man. The umpire didn't give it when he was probably about six inches out. It ruined the Test, really. I'm not saying we would have won, but Slater went on to get 123 out of 184. But even though we won at Melbourne, to me that was the best game of cricket I ever played in. It was a good wicket, it turned miles. We lost by about 100 runs but we gave a good account throughout that series. We were lucky to get away with a draw in Brisbane due to a tremendous storm, one that you could see coming in the distance, but even in that (first) Test we had our opportunities.
SS: You finished with 19 wickets in three appearances in that series, yet played only another two Tests after that because of injury. When did the back begin to bother you?
DH: Basically, when I came back my problems started. I remember being at pre-season and the confidence level in me was massive. I had my strategies and knew what I was doing after taking 19 wickets on that Ashes tour. Then I slipped on a mat during outdoor nets, though at the time I didn't think anything of it. I played the very next day against the Kent League in a friendly and I suddenly did not know where the ball was going. It was like someone had flicked a switch overnight. I played the whole of that summer and averaged something like 44, and that wasn't with the bat! I played two Tests in that time and I couldn't have told you if it was going down leg or off side. I knew there was something stopping me from bowling, but I didn't have any pain at the time. I honestly have never had that in my life. I haven't got it now, either. To stand on your run up and think 'I hope this ball goes somewhere near' is just a nightmare.
SS: Still, you were selected to go on tour to South Africa that winter...
DH: I had gone mentally, we had played and lost against New Zealand at Lord's and everyone was at a low. How I got through those Tests that summer I do not know. I think one day they were only four down and I took three of the wickets, leaving me to think I'd got away with it. There were probably 50-odd bowlers at that time who could have done a better job than me.
At the end of the summer I just went into the gym - I didn't touch a ball for six weeks. I was hoping it was just going to go away, and after two days of nets I was back bowling really well again. Then, on the third day of practice, I did some extra bowling to Mark Butcher. Chris Read was batting, and on the last ball I bowled during the session I went wide of the crease and bowled him with a Yorker, the off stump going out of the ground. I suddenly went 'Oh, my back'. I played in the next game and when I ran in the ball came out at about 55mph I was diagnosed with a stress fracture, which is caused by overloading a joint. I hadn't bowled for six weeks beforehand though, so I hadn't just done the injury. Then when I came back the England team doctor said it wasn't a stress fracture but that I'd instead torn a ligament off my back. I had to wait until April as he said rest would do it, when I actually should have had an operation there and then to be ready.
By the time I was actually ready to come back it was 18 months later. My problem then, though, was that the insurance company wouldn't provide cover for me. They said to me that I either stay where I am now and they'd pay me out, or they'd declare me fully fit but uninsurable. So, at the time, I retired.
SS: So had you planned for retirement? Did you have any idea what to do once the cricketing career was over?
DH: No, not at all. That was miles away from any thoughts I had. I'm back in the game now, but I didn't go near a cricket field for four years. I worked for a design and print company, then went on to spend eight years as a director of a newspaper group. It was painful at times, but a great grounding. A few years ago I decided that was enough of that, just came home one day and said to the missus that I'd given up the job. Looking back now, when I finished (playing cricket) I wasn't prepared. I needed to get away and show people I didn't need the game.
SS: And now you are involved in cricket again, working at Stamford School in Lincolnshire. Is it good to be back?
DH: The game is part of me. If you are a good painter, then you should paint. My biggest asset is that I love sport, so to work at Stamford School now is a fantastic thing for me. I do rugby, hockey and cricket, just get involved with the sides and do the coaching programme for the cricket there. It's been fantastic - I've really enjoyed it and it's been a great learning curve. I don't think you can manufacture cricketers, the best players are smart, clever. I just think that coaching has become an industry that needs to fuel itself. I find it very difficult when kids are clearly very talented but have to travel a long way to get coached, and also have to pay for it. If we're serious about finding proper talent then we have to create the proper pathways.
SS: And have you dusted off the bowling boots to play again?
DH: I turn out for the PCA Masters. I enjoy that. We all laugh when we get hit around by 20-year-olds, but the fire in the belly comes back in and there have been the occasional moments of argy bargy this year. It's good fun. Neil Fairbrother comes on and always takes more wickets than me. He goes in the fetlock a lot. He comes off about two yards, swings it a lot and thinks he's Wasim Akram. They just slog it and get out, but to be fair he's got a better average than me.