Ashes 2013/14: Quotes of the series
We take a look back at some of the memorable comments from both camps during the Ashes series.
Last Updated: 05/01/14 12:10pm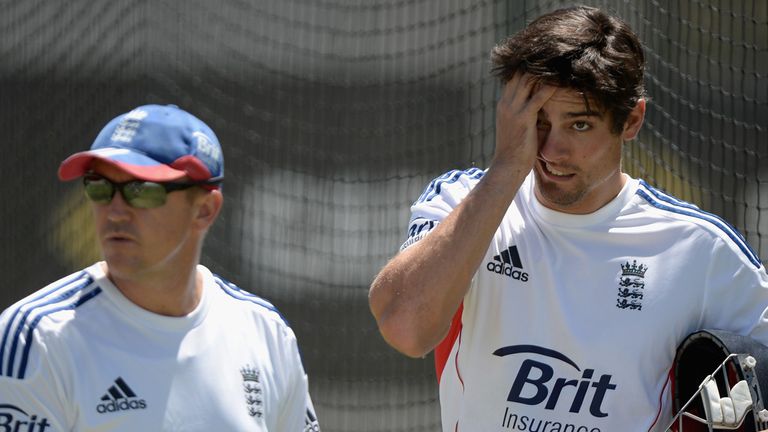 "We finished third in a two-horse race" - England wicketkeeper Matt Prior.
"There's always going to be theories. There's always going to be inquests when you lose. The simple fact of the matter is we haven't had enough players in form with either bat or ball" - England captain Alastair Cook.
"I was definitely nervous at the start of the series, I hadn't played a Test in a long while, and what England have done to us in the past was on my mind, but I was able to push that aside and bowl the way I wanted to bowl" - Man of the series Mitchell Johnson.
"Some have called it a magical mo, and it's going okay at the moment, but once the series is over I'll end it..." Johnson on his memorable moustache.
"I think we've got the best bowling attack in the world" - Australia's contented bowling coach Craig McDermott.
"I've been told that a number of Olympic athletes go into some sort of post-Olympic depression or a negative frame of mind - and I'm not saying we're in a depression or a negative frame of mind - but after you've competed at such a level...mentally you're a bit fragile" - Kevin Pietersen on the stresses of back-to-back Ashes series.
"Some things have to change because I do think this is the ending of a certain era for this team. After Sydney it will be the start of some fresh cycle in some way" - England team director Andy Flower.
"I still have confidence in my ability to lead this group in the right direction" - Flower asserts his commitment to the new era.
"Andy Flower is one of the great coaches in world cricket. If he is not the man to take England forward I don't know who is" - Former England captain Andrew Strauss supports his former colleague.
"I'm 100 per cent wanting to carry on. I've got no plans of going anywhere. If, at the end of the series, the selectors decide I'm not the best man for the job then so be it" - Cook ponders his own future.
"It would be wrong for the team, wrong for me as well. It's time for someone else to strap themselves in and enjoy the ride like I have done," Graeme Swann defends his decision to retire mid-series rather than wait for the final two Tests.
"Some people playing the game at the minute have no idea how far up their own backsides they are" - Swann on the scene he is leaving behind.
Knockout blow
"It's a little bit of a knockout blow" - Australia David Warner on Swann's shock decision.
"It's going to be really hard not going to breakfast with a miserable Jimmy Anderson every morning, breaking him in slowly through the day and seeing a smile about teatime" - Swann on what he will miss about Test cricket.
"I felt like a clown in Adelaide" - Kevin Pietersen after falling to Peter Siddle in a well-signalled trap.
"Each time they set a trap for him and he falls for it. He is a mug and the Aussies are laughing. They think he is a sucker" - Former England captain Geoffrey Boycott on Pietersen.
"I have the greatest admiration for Geoffrey Boycott, what he achieved for England, but I think the way Geoffrey played and the way I play are totally different" - Kevin Pietersen.
"I don't feel it is right that I'm playing knowing that I'm not 100 per cent and I cannot currently operate at the level I have done in the past. My priority now is to take a break from cricket so that I can focus on my recovery" - Jonathan Trott announces his departure after one Test due to a long-term stress-related illness.
"It's heartbreaking for us to lose Trotty" - Stuart Broad on the exit of England's dependable number three.
"England are on the back foot and it does look like they've got scared eyes. The way Trotty got out was pretty poor and pretty weak" - Australia batsman David Warner prior to Trott's revelation. He later apologised for the comments.
"I definitely think they're rattled by it. They don't like it at all. Their coach has come out and wanted a truce from what I've heard, but that's not going to change from our end" - Mitchell Johnson on Australia's sledging policy.