Ashes 2013/14: What the papers say about England's 5-0 whitewash
We take a look at what the papers make of England's humiliating 5-0 Ashes whitewash.....
Last Updated: 07/01/14 8:58am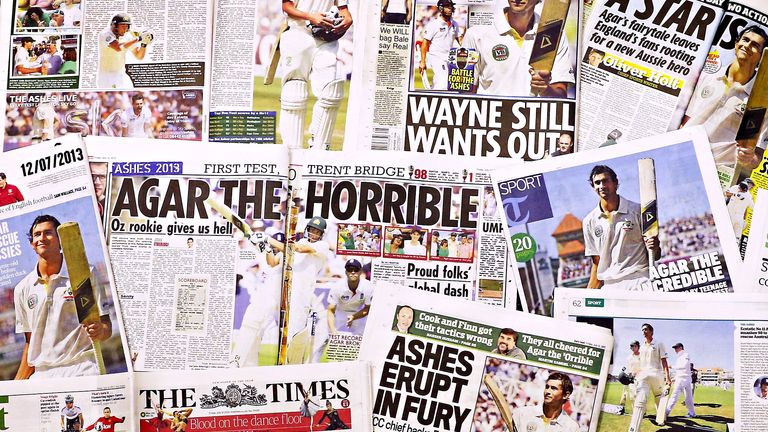 THE TIMES
Whilst most of the back pages are dominated by Manchester United on Monday, the Times is in no doubt what the main sports story is. 'Broken England' roars the back page. Sky's own Michael Atherton gives Cook 4/10 in his Times column, whilst Richard Hobson picks out five candidates to play for England in the next Test series, going for Varun Chopra, Sam Robson, Jos Buttler, Graham Onions and Moeen Ali.
THE GUARDIAN
'Just as all good things come to an end, so too must the unrelentingly traumatic,' writes Barney Roney, who is just relieved it is all over. England batted 'like drunken lords with the bailiffs at the gate' he says. Vic Marks believes England should stick with Michael Carberry - provided he continues to be aggressive - and Boyd Rankin.
THE DAILY TELEGRAPH
The Ashes is the focus of a stern editorial. "It is not so much the margins of defeat that rankled, though they were pretty spectacular; it was the manner. Only one England batsman scored a century, and he a debutant, compared with 10 by Australians."
THE INDEPENDENT
Its main article is headlined 'Broken bat says it all about series of English disasters', using the symbol of Michael Carberry's broken bat as the motif for the team. "England were utterly broken", writes Stephen Brenkley. "For 10 weeks the batsmen had shown no resistance and now their bats had given up." Alastair Cook is given 2/10 in his tour report...
THE DAILY MAIL
The Mail is furious. 'The most wretched defence of the Ashes in history...now axe men who shamed England," it roars on its back page. Paul Newman says the axe must fall on Monty Panesar, Chris Tremlett, Michael Carberry, Tim Bresnan, and batting coach Graham Gooch. Columnist Nasser Hussain says Alastair Cook must show the senior men who is boss, as he did yesterday on Sky Sports of course. Cook gets 4/10 from Nasser. He expects Matt Prior to get the gloves back off Jonny Bairstow by next summer.
DAILY EXPRESS
'England are deluded if they think there's no need for change,' writes Gideon Brooks. Nick Compton, who many feel should have been on the tour, is a columnist and he said: "As one of those hoping to regain a batting spot this summer, I intend to get my head down and make plenty of runs. Prospective England players will be rejoining their counties soon thinking this could be their opportunity. Right now, it does feel that change is in the air and there may well be more openings for players."
THE DAILY MIRROR
'England saved the worst until last' fumes correspondent Dean Wilson, 'to complete a disgraceful and shambolic tour of Australia.' A 5-0 whitewash containing five brutal hammerings out of five left England lucky to come second." Alastair Cook gets 3/10 from Wilson, who believes Chris Tremlett and Monty Panesar - at least - will not play for England again.
THE SUN
'Broken n' useless' roar the Sun's Ashes spread, using Carberry's broken bat to illustrate a point. "It was snapped in half, a broken, splintered and useless thing - only fit to be tossed into a dustbin," writes John Etheridge, and we can see where he is going with this... "The state of Michael Carberry's bat was a cruelly symbolic metaphor for the England cricket team in this match and on this Ashes tour." He reckons Carberry, Tim Bresnan, Monty Panesar, Boyd Rankin and Chris Tremlett will not play for England again.