Ashes report card: We review the performance of Australia's players
It was a glorious few weeks for Michael Clarke and his men, here we grade Australia's Ashes heroes.
By Graeme Mair
Last Updated: 11/01/14 11:27am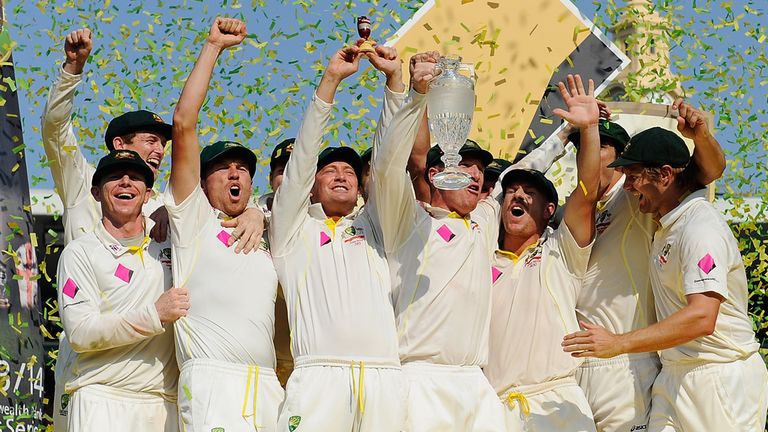 We get out the red pen to mark the performance of Australia's players during the series.
Let us know your thoughts by using the feedback form at the bottom of the page...
Click here for our review of England's players
Chris Rogers - B+
Finished strongly with centuries in Melbourne and Sydney, enough to make him the leading run scorer on either side over the course of the 10 Ashes Tests home-and-away this year. Justified his recall after five-year absence. Patient approach, strong on the back foot and played late. Less comfortable against spin and benefited from mid-series retirement of Graeme Swann, as he himself admitted.
David Warner - B+
Booed mercilessly and short of form in England, it was a different story back on home soil. Scored second-innings hundreds at Brisbane and Perth before his form tailed off in the final two matches. Relies on hand-eye co-ordination and fast hands/feet rather than technique but hard to argue with a series-leading return of 523 runs. Quick in the field. Plenty to say for himself on and off the field. No future as a diplomat.
Shane Watson - B
Averaged 38.33 at No 3, including 103 at Perth to set up a declaration and 83 not out to see Australia to a target of 231 in Melbourne. Made regular starts in the first innings before getting out each time. Less of an lbw candidate than had been the case in England, that was until Sydney at least when James Anderson pinned him on that familiar planted front foot. Doesn't appear to enjoy bowling or standing at slip much, a shame because he's good at both. Had a few strains and bumps along the way but his body made it through the series. Physio deserves a medal.
Michael Clarke - B+
Different personality to Allan Border but Australia's turnaround was founded on aggressive, ruthless captaincy that bore distinct similarities to Border in a previous generation. Hit back-to-back centuries in Brisbane and Adelaide but contributed little with the bat thereafter. Caught some beauties at second slip and long-term back problem was managed successfully. Proved his critics wrong, not for the first time.
Steve Smith - B+
A passenger in the first two Tests but stepped up with 111 in first innings at Perth, essentially an Ashes-clinching innings. Added another hundred on his home patch in Sydney and looks increasingly comfortable at No 5. Difficult batsman to contain, big backlift and extravagant follow-through make him watchable even if shot selection is sometimes over-ambitious. Now a fixture at third slip. Few chances to turn his arm over these days, probably for the best.
George Bailey - D+
Made debut in Brisbane after hot run of form in ODIs and held place at No 6 for all five Tests despite mixed returns. Highlights were 53 on day one at Adelaide and smashing James Anderson for a Test-record 28 runs in an over in Perth to set up a declaration. Failed four times in the first innings and judgment of what to play or leave outside off-stump was flawed. Did well under the helmet at short-leg and never stopped grinning. Set to return to life as a limited-overs specialist.
Brad Haddin - A+
What a difference a year makes. Test career looked over 12 months ago, now celebrating first Ashes win at fourth attempt. Continually rescued Australia with vital, match-defining runs from No 7. Made first-innings scores of 94, 118, 55, 65 and 75. Century in Adelaide built on already decent position but the other four scores were made with England scenting blood as he walked to the middle. Easily the best wicketkeeper on show and never stopped chirping. Brought back for the tour of England earlier in year to fill experience gap caused by retirements of Ricky Ponting and Mike Hussey. Couldn't have done any more for the team, hard to come up with even a minor criticism.
Mitchell Johnson - A+
Grew a moustache and claimed 37 wickets in the series to turn his career around. Not even part of the squad for the tour to England earlier in the year, his return to fitness and form transformed Australia from 3-0 losers on that trip to 5-0 winners at home - the analysis is that simple. Short, sharp bursts allowed pace to remain consistently above 90 mph. Exceptional strike-rate of 30.5 and regularly took his wickets in bunches. Too quick for the lower order. Man-of-the-match at Brisbane, Adelaide and Melbourne.
Ryan Harris - A
Provided the perfect foil for Johnson with 22 wickets at 19.31. A surgical bowler in the Richard Hadlee/Glenn McGrath mould and able to exploit any slight quirks among the English batting techniques. At 34, a master of his craft and finally able to string a long run of Tests together - nine and counting - with careful management of a knee problem.
Peter Siddle - B+
Has found his niche in life as the third seamer. Accurate, nagging line-and-length operator. Played on the patience of England's batsmen and finished with 16 wickets at 24.12. His economy rate of 2.46 was the best on either side. Has dismissed Kevin Pietersen 10 times in Test cricket (Matt Prior 11). Super fit. Like Watson and Haddin, first Ashes win at fourth attempt.
Nathan Lyon - B+
More than just a support act for the seamers, 11 of his 19 wickets were top-six batsmen. Took 5-50 as England collapsed in the second innings at Melbourne. Led the team victory song for the first time in Brisbane but had sore vocal chords by the time Sydney came around. No longer any doubts as to who Australia's premier spinner is.