Names in the frame
Three-time Ashes-winning coach Andy Flower has left some big boots to fill as the next England team director. We look at some of the contenders for the vacant position...
Last Updated: 04/02/14 1:24pm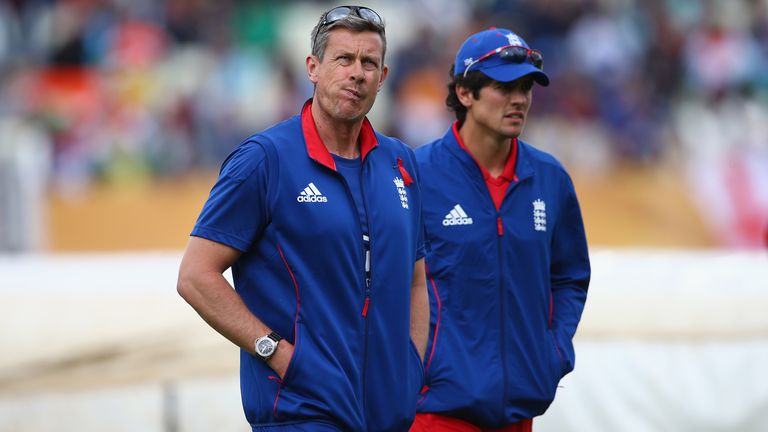 Here, skysports.com looks at who has declared their hand and their prospects.
Ashley Giles
Credentials: A recent England player, a current selector and in position already as limited-overs coach.
What he said: "It's one of the biggest jobs in cricket and I'd apply for it because I want to do it."
Chances: Rightly considered the favourite, Giles was identified as a potential successor for Flower some time ago.
Gary Kirsten
Credentials: Unrivalled. Kirsten took both South Africa and India to number one in the world but took himself off the international merry-go-round for family reasons.
What he said: "I suppose it is flattering that people are thinking about me. As far as I am concerned, my sentiments have not changed."
Chances: The ECB would surely be tempted if Kirsten applied but, with England's schedule even more exacting than South Africa's, that seems a long shot.
Tom Moody
Credentials: An Australian who has played and coached in England, led Sri Lanka's national side and interested the ECB as far back as 2009.
What he said: "It's not something I've sent emails or made phone calls enquiring about, but if it presents itself I'll look at it seriously."
Chances: Well thought of and popular in the game but would need to show more enthusiasm for the role.
Mick Newell
Credentials: Much admired for his work at Nottinghamshire and has worked with England Lions.
What he said: "Any coach in county cricket will want an opportunity to work with the best players on the international scene and I'm no different."
Chances: Ambitious, experienced and would interview well if given the chance. Lack of international playing experience could be problematic.
Mickey Arthur
Credentials: Mixed, following a successful stint with South Africa and a tough time in charge of Australia.
What he said: During a recent commentary stint on BBC Radio, indicated he "could be interested" in the job.
Chances: The likelihood of Arthur being encouraged to progress with an application varies between slim and none.
Jason Gillespie
Credentials: Has been a breath of fresh air since arriving at Yorkshire and would be a sharp contrast to the intensity of the Flower years.
What he said: "It's nice to be thought of in that way, but it's certainly not something I'm entertaining."
Chances: Has ruled himself out, but it would be a surprise if Gillespie did not emerge at international level at some stage.
Shane Warne
Credentials: One of the game's greatest players in history and - beneath his showbiz bluster - a fine tactician.
What he said: Wrote on Twitter he would "think about" the England job, though later backtracked somewhat.
Chances: Anyone who has heard Warne's comically partisan commentaries will know England does not feature in his thinking. The ECB, meanwhile, would not mourn his absence from their shortlist.