Don domination
Some players dominate a match, some dominate a series. But as Dave Tickner explains as part of our Ashes history serialisation, Donald Bradman dominated an entire era...
By Dave Tickner
Last Updated: 06/07/15 9:57pm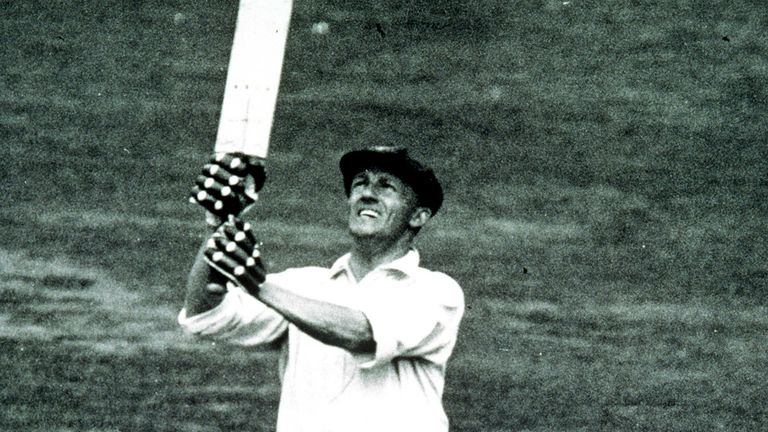 Some players dominate a match, some a series: Don Bradman dominated an Ashes era.
Many players have stamped their authority on Ashes series. Some have dominated individual series. A select few have even had series named after them.
But no player has dominated the Ashes for so long and so utterly (or forced the opposition to concoct such devious plans to stop him that full-scale diplomatic incidents are only barely avoided) as Sir Donald George Bradman, the greatest cricketer - and perhaps the greatest sportsman - of all time.
He was irrefutably a genius. Having served notice of his outrageous talent in the 1928/9 series with his first two Test hundreds, it was on the 1930 tour of England that he confirmed his genius beyond all doubt.
The figures are eye-watering. Bradman scored six double centuries during the tour, passing 1000 first-class runs before the end of May (the first Australian to achieve the feat). In the five Test matches, he scored 974 runs at 139.14. Neither mark has been bettered.
And Australia regained the Ashes.
England actually won the first Test, at Nottingham, by 93 runs. But that was as good as things got for the hosts.
Australia continud their love affair with Lord's as Bradman smashed 254 in an eye-watering total of 729 for six declared.
England battled hard, and Duleep emulated his uncle Ranji by scoring a century in his first Test against Australia, but the tourists eased to victory by seven wickets. Although Maurice Tate (son of the unfortunate Fred) did have the satisfaction of dismissing Bradman for just a single.
The next two Tests were drawn, partly thanks to the northern weather.
Australia had already further highlighted their fondness for Lord's; now Bradman would commence his love affair with Headingley.
He was 309 not out after day one, and legend has it that he said afterwards it was good practice for the second day. It wasn't: he was dismissed for a mere 334 on day two
England were forced to follow on despite a rearguard century from Wally Hammond, but rain on the third day helped them escape with a draw. More rain produced a draw at Old Trafford, however unlikely a notion that may be.
The final Test at The Oval, with the Ashes on the line, was a winner-takes-all timeless clash.
Australia cruised it by an innings and 39 runs.
Herbert Sutcliffe's century helped England post 405 in the first innings. It was horribly insufficient.
Bill Ponsford (110) and Bradman again (232) took Australia to 695, and Percy Hornibrook (7/92) spun Australia to innings victory on a pitch by now offering great assistance to slow bowlers.
The Ashes were back in Australian hands. And it was clear, if England hoped to regain them any time soon, Bradman had to be contained. But how?
What followed is still the most infamous and controversial series in cricket history. One can still bring almost 80 years of Australian bile to the surface by simply saying the word 'Jardine' in their presence.
Douglas Jardine - already hated in Australia for wearing a Harlequin cap and generally personifying all that was wrong with England - was appointed captain and set about devising a plan to combat Bradman.
Bodyline
Having perceived a slight weakness in the great man's game against short-pitched bowling aimed at the body, Jardine developed Bodyline: a persistent targeting of the batsman's body with fast, short-pitched bowling and a ring of close catchers on the legside. And in the two Notts professionals Harold Larwood and Bill Voce he had the perfect weapons to deploy his plan.
It was not a particularly novel idea. Leg-theory, as it had been known, had been around for decades. It was an effective method of making run-scoring almost impossible. But no captain had previously used it with such apparent relish and for such a sustained attack on all opposition batsmen.
The true effectiveness of Jardine's scheme would not be known in the first Test at Sydney. Bradman didn't feature as England secured a 10-wicket victory. Larwood took 10 wickets.
Leg-spinner Bill O'Reilly spun Australia to victory in the second Test to square the series. The returning Bradman followed a duck in the first innings with a century in the second.
And so the teams, tied at 1-1, headed for Adelaide. And simmering ill-feeling boiled over into a full-blown diplomatic crisis.
England collapsed to 31/4 but recovered to post 341.
In reply, Aussie captain Bill Woodfull was hit on the heart. After treatment, he carried on. When Jardine set a bodyline field for the next ball, a riot was only narrowly averted. Mounted police gathered outside the ground.
After the day's play, England manager Warner attempted to placate the Australians.
Woodfull dismissed him from the Aussie dressing room with one of the game's great quotes: "I don't want to see you, Mr Warner. There are two teams out there. One is trying to play cricket, the other is not."
England won the match by 338 runs as Larwood and co continued to target the batsmen's bodies even as they backed away to leg exposing their stumps.
A short ball from Larwood fractured the wicketkeeper Bert Oldfield's skull. Wisden descirbed it as "probably the most unpleasant Test ever played ... altogether the whole atmosphere was a disgrace to cricket"
On the fourth day of the Test, the MCC received the following cable from the Australian Board of Control:
"Bodyline bowling has assumed such proportions as to menace the best interests of the game, making protection of the body by the batsman the main consideration. This is causing intensely bitter feeling between the players as well as injury. In our opinion it is unsportsmanlike."
It is impossible to overstate the seriousness of that accusation to the gentlemen of the MCC in the 1930s. Short of suggesting Jardine had taken a dump in the King's shoes, it was about the most serious accusation the Australians could make.
The MCC, blissfully unaware on the other side of the world of just how unpleasant things had become, haughtily replied that they had full confidence in their team and captain to uphold the highest virtues of sportsmanship and fair play. The MCC did, however, concede that if the Australian board wanted to abandon the tour, they would agree "with great reluctance".
Diplomatic relations between the two countries were at an all-time low, but the Australians - perhaps mindful of the financial implications of cancelling the remainder of the tour - became slightly more conciliatory.
The tour continued, but under a cloud of ill-feeling and unrest that lingers to this day. England reclaimed the Ashes at Brisbane as Eddie Paynter, suffering from severe tonsilitis, clambered from his hospital bed to make a crucial 83.
On the same day, Archie Jackson - who had made such an impression as a teenager in 1928/9 - died of tuberculosis. He was 23. There are those who say he could have rivalled Bradman as the great batsman of the age. What is without question is that Jackson remains cricket's great lost talent.
Cheered
With the Ashes regained, Larwood reportedly asked to be left out of the final Test of the series. Jardine, so the story goes, denied the request thus: "Harold, we've got them down: now we're going to tread on them."
In the end it was the subtler wiles of Hedley Verity's spin bowling that secured England's 4-1 series victory, while Larwood's 98 (then the highest score by a nightwatchman) was sportingly cheered by an Australian crowd who had long decided the identity of the real villain of the piece.
But Jardine's tactics, whatever their relationship with fair play and sportsmanship, had worked. Larwood's 33 wickets at less than 20 apiece proved the decisive contribution to the series, while the genius of Bradman was tamed: he averaged 'only' 56.57 in the series.
And Jardine would later show that bodyline could be countered, making his only Test century against leg-theory bowling from the West Indies later that year.
However, in 1934, MCC issued a ruling that the "persistent and systematic bowling of fast and short-pitched balls at the batsman standing clear of his wicket" was "unfair" and a "direct attack on the batsman".
Bodyline was finished, and neither Jardine nor Larwood would play for England again.
However, the last word on this most infamous of series must go to its architect. Jardine's view on the series was summed up in verse:
"Australia's writers showed their claws,
Her backers raged, her batsmen shook,
Statesmen consulted - and the cause?
Our bowling was too good to hook."
In 1934, Bodyline now effectively outlawed, Australia regained the Ashes. They would not relinquish the urn for almost 20 years.
The first Test, at Nottingham, was won by 238 runs. A comprehensive victory, but England were only 10 minutes away from scraping a draw (though at the time Wisden conceded they never really looked likely to). It was Australia's only victory over England between 1928 and 1938 achieved without a Bradman century.
In the second Test, something remarkable happened. England beat Australia in a Test match at Lord's. And they didn't just beat them - they thrashed them. England won by an innings and 38 runs.
After two days, the game was evenly poised. England had amassed 440; Australia, in reply, were 192/2. But, after a rest day, Hedley Verity took 14/80 on the third day's play - six wickets in the last hour - as Australia were forced to follow-on before crumbling to just 118 all out in their second innings.
It was England's only Ashes victory at Lord's in the 20th century. The 21st century is faring no better.
The next two Tests, at Old Trafford and Headingley, were (as in 1930) drawn despite Bradman's now-customary triple century in Leeds (304).
And so, as four years previously, a timeless fifth and decisive Test at The Oval beckoned.
Again it was proved a one-sided affair. In a scintillating performance, Australia wrapped up an astonishing 562-run victory inside four days.
Bill Ponsford and Bradman both made double centuries on the opening day. Australia were 475/2 by stumps.
Their first innings was extended to 701 before the final wicket fell. England managed just 321 in reply.
Australia added another 327 (Frank Woolley, recalled to the side at 47, replaced injured keeper Les Ames and shipped 37 byes) to leave England chasing the small matter of 708 to retain the Ashes.
Annoyed
They never got close, Clarrie Grimmett's five-wicket haul helping to dismiss England for just 145 and a crushing defeat.
Bradman, with a double and a triple century, finished with 758 runs at 94.75, but had to cede top spot in the averages - just - to Ponsford's 94.83
This was a golden age for Ashes contests. And not just because of Bradman.
In 1936/7, another Ashes series for the ages was played out down under. Australia became the first - and still the only - side to hit back from 2-0 down to win an Ashes series.
England were skippered by Gubby Allen - the amateur who refused to bowl bodyline four years earlier. His appointment was at least in part a move to placate Australian tempers still high on Bodyline. The fact they're still annoyed about it now suggests attempts to cool tempers so soon after were probably futile.
England raced out of the blocks: huge victories at Melbourne (by 322 runs) and at Sydney (by an innings and 22) put the tourists on course to reclaim the urn.
Wally Hammond scored the third of his four double-centuries against Australia, extending his run of scores at Sydney to 251, 112, 101, 75 not out, and 231 not out. Not quite Bradman at Leeds, but impressive nonetheless.
Things started to go wrong for England at Melbourne in the Third Test. There were few worries as Australia amassed just a round 200 in their first innings.
But England were then routed for just 76 as Australia secured a sizeable first-innings lead.
They set about extending it, but were checked by regular wickets. At 97/5, the match was still very much alive. Enter Bradman, batting at number seven due to flu.
Wisden's report deadpans that Bradman was "not quite his old scintillating self".
He scored 270 in 375 balls. Australia's sixth wicket didn't fall until the score was 443. Bradman's stand of 346 with Jack Fingleton remains a Test record for the sixth wicket.
Australia were finally dismissed for 564, leaving England chasing 689 for victory. They managed to take play into a sixth day before falling a mere 365 short.
Australia, with momentum behind them, completed comfortable victories in the last two Tests - with yet another Bradman double century at Adelaide helping them on their way.
Australia retained the urn with a 1-1 draw in England in 1938 (Hutton and Compton scored tons in their first Tests against Australia; another Leeds ton for Bradman helped him average a handy 115 for the tour) before the Second World War contributed to a period of over 12 years between English Ashes Test victories.
Australia won the next two series 3-0 at home in 46/7 in the first Australian series where Tests were played over five days rather than to a finish and - most memorably - 4-0 in England 1948. Bradman's Invincibles.
Were they the greatest team ever? The point is moot. But they merit consideration and were surely the greatest at that time.
Frank Keating neatly summed up the 1948 tourists' memorable accomplishmensts in Wisden Cricket Monthly 50 years on: "They won 25 of their 34 first-class matches, and were undefeated. They won four of the five Tests (drawing the third at rain-ruined Manchester) by, successively, eight wickets, 409 runs, seven wickets, and an innings and 149 runs. Their batsman failed to accumulate 200 only twice on the entire tour, while their bowlers dismissed the opposition for less than 200 an astonishing 37 times, and seven times for under 100. They exceeded 350 in 24 innings, while the highest score against them outside the Tests was 299 by Notts, when Joe Hardstaff and Reg Simpson batted well. Bradman's men won half their 34 matches by an innings - Essex by an innings and 451. The team's 50 centuries were shared by 11 players, seven of whom passed 1000 runs."
And this was no scratch England team: Hutton, Compton, Edrich, Washbrook, Evans, Laker, Bedser.
But this tour was about far more than the Ashes.
One of the compelling reasons for Bradman - now nearing 40 - to make the tour of England was his desire to go through an entire tour unbeaten. It had never been done before.
In post-war Britain, the arrival of the legendary Bradman - touring England for the first time in a decade - was a welcome shot in the arm. That, too, cannot be discounted as a compelling reason for Bradman agreeing to tour.
Huge crowds gathered for the tour matches, with thousands reportedly turned away from grounds around the country.
Pressure
From the first morning of the first Test, England were under pressure. On the first morning at Trent Bridge they slumped to 74 for eight before recovering to 162.
It was nowhere near enough. Bradman and Hassett made centuries as Australia racked up 509.
Compton made a majestic 184 in the second innings, almost but not quite saving the day for England.
The next two Tests followed tradition: Australia trounced England at Lord's, and the rain led to a draw at Old Trafford (no Ashes Test had achieved a positive result in Manchester since 1905). Indeed, England were in a winning position after three days - leading by 316 with only three second-innings wickets down.
The best was saved for Headingley, Bradman's home from home.
England, thanks to first-innings centuries from Cyril Washbrook and Edrich, set Australia 404 to win in 345 minutes on a dry, turning pitch.
Australia cruised home for the loss of three wickets, Morris (182) and Bradman (173 not out) scoring at 90 runs an hour to seal the largest fourth-innings run chase in an Ashest Test in England.
In four matches at Headingley, Bradman two triple centuries and two centuries, scored 963 runs and averged 192.90
But despite that, the most famous moment arrived in the final Test at The Oval. Australia won by an innings after bowling England out for for 52.
That was almost beside the point. This was the Don's final Test match.
Bradman needed just four runs to reach 7,000 in Test cricket and a career average of 100.
But as every Ashes student knows, Bradman was bowled by Eric Hollies' googly second ball for nought.
Bradman was left with the far more memorable figures of 6996 runs at an average of 99,94. These are figures all cricket lovers know by heart and have undoubtedly helped add to the Bradman legend.
"Perhaps," Steve Waugh observed years later, "cricket was never meant to be conquered to the point of someone averaging 100."
Australia retained the Ashes with a convincing 4-1 victory in 1950/1 (although England did at least manage to record their first Ashes Test victory since 1938) but their hold on the urn was slipping.
In 1953, after a record 18 years and 362 days in Australian hands, the Ashes were finally regained by England.
After four rain-affected draws - including an epic rearguard from Willie Watson and Trevor Bailey at Lord's - where fortunes swung first one way then the other, England won a memorable fifth Test at The Oval.
Rain ruined things again at Old Trafford, and Australia were unlucky at Headingley where Lindwall and Miller tore through England's second innings. Bailey again and Jim Laker held up the Aussie charge, and a victory target of 177 in just two hours proved beyond the tourists.
So to The Oval with everything to play for.
England secured a slender 31-run first-innings lead, but Jim Laker and Tony Lock spun the Aussies out for just 162 second time around.
Bill Edrich and Compton steered England home. As Brian Johnston joyously exclaimed "Is it the Ashes ... yes, it's the Ashes, England have won the Ashes!" 25,000 people invaded the outfield to celebrate.
Lindsay Hassett's side were athletic and competitive, and contained such legendary figures as Keith Miller and Neil Harvey. But the absence of Bradman was keenly felt: for the first time in 50 years, no Australian averaged 40 in the Test series, and only Hassett himself registered a three-figure score.
After 19 years, the Ashes were home again. And in Coronation year as well.