Ashes 2010/11: Andrew Strauss says 'phenomenal team effort' was behind win
Last Updated: 22/11/17 1:14pm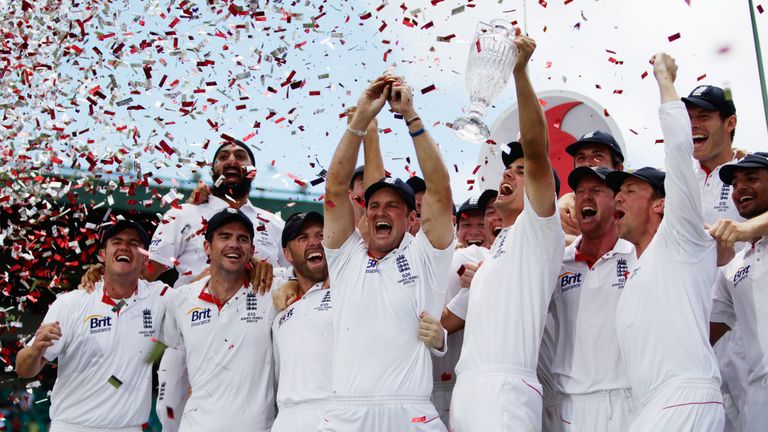 England travelled to Australia in 2010/11 with recent history hanging heavy on their bid to retain the urn they won under Andrew Strauss in 2009.
What followed was later described by Nasser Hussain as the best series he's ever covered. Bob Willis, Ian Botham, David Gower, Mike Atherton and Nas lived every ball and run from the Sky Sports commentary box as Strauss' men fought to break the mould.
As the Tests slipped by, it became clear that this was one exceptional contest...
Bob Willis: first Test, Brisbane - match drawn
It may not have been quite as dramatic a start to the series as Steve Harmison's first ball of the 2006/07 tour, but losing Andrew Strauss in the first over was quite some start to proceedings! My dominant memory, though, is of a very, very flat Gabba pitch - one that didn't really help any bowlers later on in the game - and England's top three putting down their batting marker in the second innings, dictating the terms against a pretty moderate Australian seam bowling attack and really exposing Ricky Ponting's captaincy for what it was, namely not very good without Glenn McGrath and Shane Warne. England racked up 517-1 declared in their second innings and that gave England the belief that they could out-bat Australia.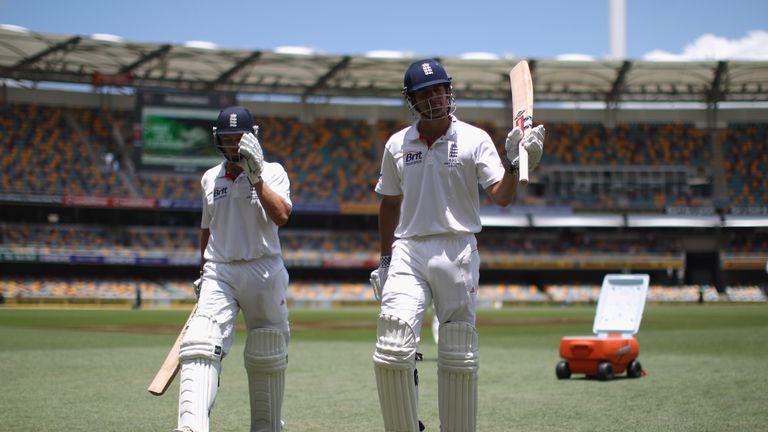 Over the years England have shown at times a worrying tendency to get out for no reason at all on a flat pitch against a less-than-brilliant attack and that - taking into account Peter Siddle's hat-trick - was the story of their first innings. They need to avoid such slip ups in this summer's series; if they don't then Australia will steal a Test in this series.
Strauss: Getting out in the first over was obviously a horrendous way to start the series and I came perilously close to bagging a pair in the second innings before going on and getting a hundred. It's never a bad thing to score a hundred, put your feet up and watch your team fill their boots.
There aren't many moments in cricket where you feel like you've earned the right to relax and enjoy watching cricket but that was one of those moments and it was so enjoyable to see the Aussies run out of steam and ideas on the back of some incredible batting and concentration from Alastair Cook and Jonathan Trott.
Ian Botham: second Test, Adelaide - Eng win by inns & 71 runs
There were many high points in this series for England but for me the Adelaide Test stands out because this was when we asserted our authority and put Australia firmly in their place.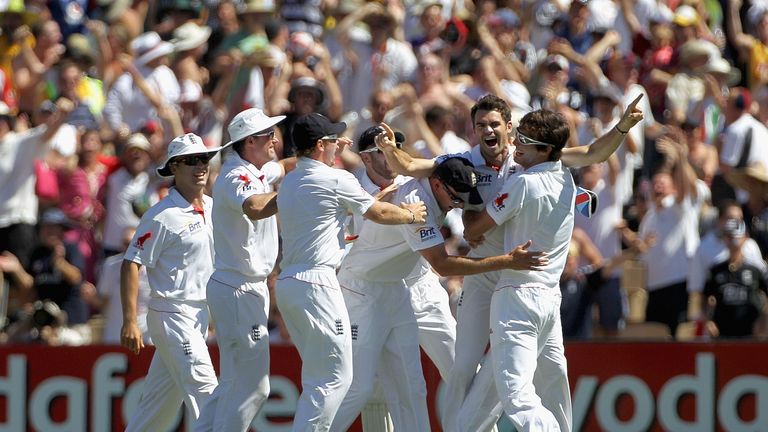 England sent out all the right messages from the start as Australia - who had chosen to bat first, remember - found themselves rocking on the ropes within 40 minutes of the game starting.
It was a pretty special effort to get Australia 2-3 and without a classy knock from Michael Hussey the game could have been up before it had begun. Poor old Straussy missed out as England put Australia's 245 into context with Kevin Pietersen (227) and Alastair Cook (148) grinding the Aussies into the dust, which was great to see.
Australia never looked like making England bat again and while Graeme Swann picked up five, it was a great all-round display by England's attack. A very sweet victory and one-nil to England!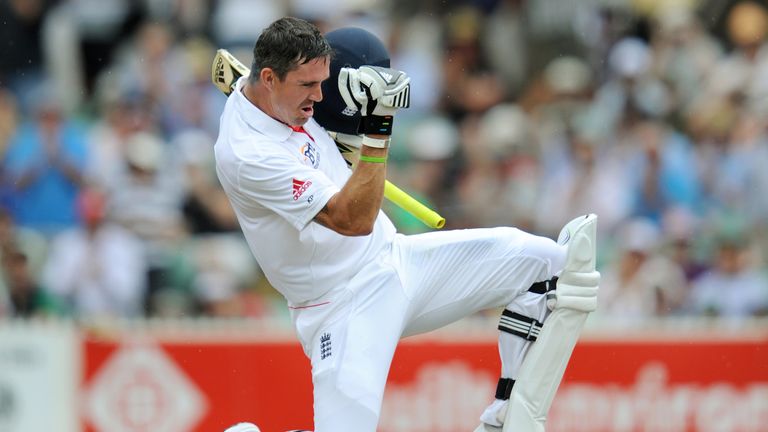 Strauss: This was a huge win for us and reinforced the belief that we could go on and win on Australian soil; we felt that we were in a different position from recent England sides of the past. To win by an innings on a very flat wicket in Adelaide was an extraordinary effort. We only lost five wickets in the process and really dominated Australia from day one; if we had any doubts that we were capable of winning out there they vanished with that game.
David Gower: third Test, Perth - Aus win by 267 runs
It turned out to be a very good game for Mitchell Johnson, who scored 62 in Australia's first innings but more pertinently took 6-38 as England were bowled out for 187 first time around. One does tend to sympathise with someone who struggles on the biggest stage and becomes the butt of the Barmy Army's songs and jokes - a talented cricketer whose game goes awry - so when things come right for him, as they did at Perth, it is quite reassuring.
There is a human element to everything we do and we've all been through those times when things just don't work and they are horribly depressing at the time, especially when you know you can do it. This match was a huge reassurance for Johnson, not that it seemed to last too long.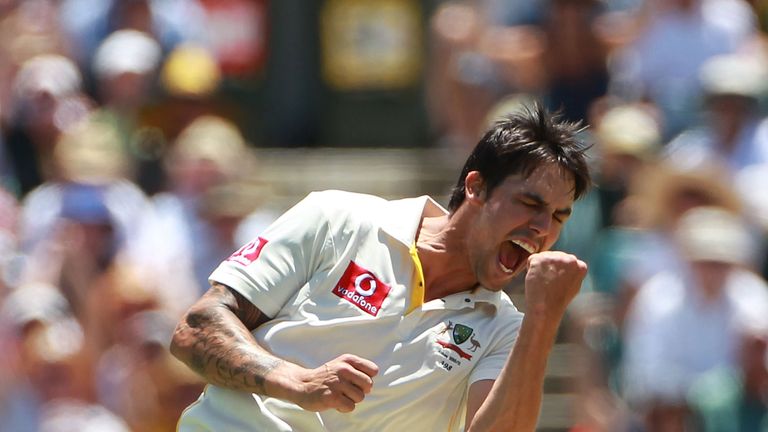 The defeat was enough of a reminder for England at that stage that if they wanted to win the series they would have to up their game. England were bowled out for 123 in their second innings and with the Ashes just around the corner it is a salient point that if the opposition bowling attack has a good day, it doesn't matter how good your batting line-up looks on paper. But in a five-match series it is always the bigger picture that counts. If you get four Tests right and one wrong, you are still a long way ahead of the game.
Strauss: As a bowler Mitchell Johnson is quite unpredictable - you are never quite sure what you are going to get from him on any given day and on that day everything clicked. He got the ball to swing in. The other thing that sticks in my mind was just how quickly a huge momentum built for Australia. The home crowd really lightened up and got behind their side - there was a huge amount of noise and passion from their fans which was really hard for our batsmen to contend with.
Before we knew it we'd lost three or four batsmen for next to no runs and were out of the game. It was a timely reminder for us that if you do get on top of the opposition you've got to hang on because a team like Australia is always going to try and come back at you at some stage.
Mike Atherton: fourth Test, Melbourne - Eng win by inns & 157 runs
That first day stands out for the simple reason that by the end of it most Australians had left the ground! At the start of play around 80,000 people were in the MCG but towards the end that number had dwindled away to around 10,000 - most of whom were England supporters lapping up their team's superiority. That was pure and simple a reflection of the kind of day that England had.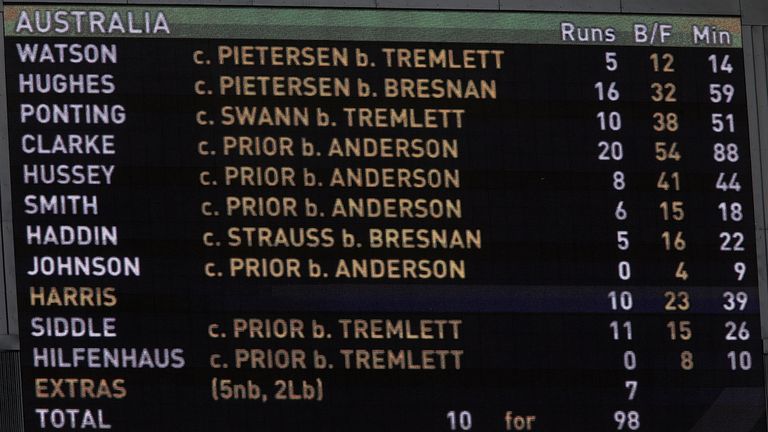 England's bowling being outstanding throughout - Chris Tremlett, Tim Bresnan and James Anderson were very accurate. That was the key to the performance because the pitch just helped a little bit and England's bowlers didn't give Australia anything as they were skittled out for 98 in something like 43 overs. Then Andrew Strauss and Alastair Cook turned the screw by putting on 157 before stumps. For England fans it must have been like Christmas all over again!
England's policy in that series was to try and bowl as tightly as possible and although Steven Finn was the leading wicket-taker up to that point, the selectors felt that he had gone for a few too many runs an over so in came Tim Bresnan. He did exactly what they wanted him to do - namely keep it tight. Tremlett had come into the team on a bouncy pitch in the Test before at Perth and taken wickets and this was another case of the selectors making a successful change.
Jonathan Trott then ground Australia down - much as England did throughout the series from the second innings at Brisbane onwards - with an unbeaten 168. That Brisbane innings set the template for how they were going to grind Australia down - give Australia nothing to hit and put a high price on their own wickets against an Australian attack that was modest by their standards. Trott and Cook were at the heart of that.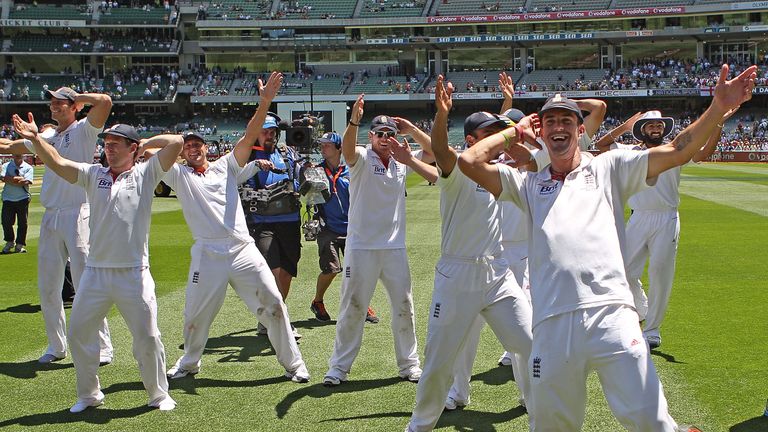 Strauss: That first day was quite extraordinary. If Carlsberg did days of cricket that was it - to bowl Australia out for 98 and then finish the day 157-0 was incredible. One of my great memories as an England player was when we were about 100-0 watching 60,000-odd Aussies trying to find their way out of the MCG because they were so disgusted by the way that Cook and I were batting.
It was just brilliant. There is some quiet satisfaction in knowing that your batting is sufficiently annoying to all those Aussies that they decided it was the right time to go home and do other things rather than concentrate on cricket.
Nasser Hussain: fifth Test, Sydney - Eng win by inns & 83 runs
This was the best series I've ever covered. It is one thing beating Australia in England with the Duke ball but to go out there and win in such style is something else. The ruthless nature of Andrew Strauss' side was quite phenomenal. Sydney is a great venue and a ground where we've often played good cricket; England get good support there and the atmosphere for that Test was excellent. We'd retained the Ashes but it was a case of keeping Australia down and winning the series.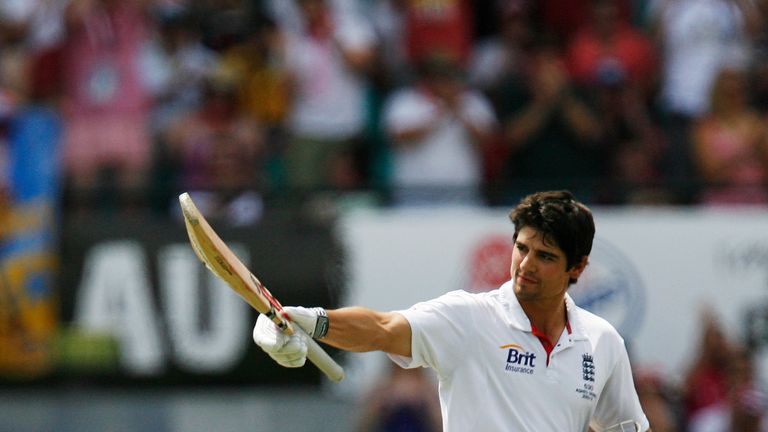 Both Cook and Trott have phenomenal records against Australia. Don't forget that going into that series a lot of people were questioning whether Cook could do it against Australia because he hadn't got a lot of runs against them in his career. Did Australia know how to bowl at him? Well, after Brisbane they had plenty of opportunity to bowl at him and very little success.
Cook is that sort of guy. When people start questioning him he will find a way of getting the job done. He was brilliant out in Australia and turned his career around. Once Alastair gets in you know he's not going to give his wicket away - he likes to deal in 'Daddy hundreds' and 'Grandaddy hundreds', as Goochie likes to say.
Strauss: I've never seen an England side play so consistently well as we did on this tour. From one to 11 everyone contributed. The batsmen looked in great nick all through the tour with the possible exception of Paul Collingwood, who contributed in other ways with his catching and his fielding.
All of the seam bowlers were extraordinary, especially the guys who came into the side and performed so well - guys like Chris Tremlett and Tim Bresnan. It was a phenomenal team effort and it was certainly the highlight of my England career as a captain to see the guys flourish under the pressure down in Australia. That is going to take some beating by an England side.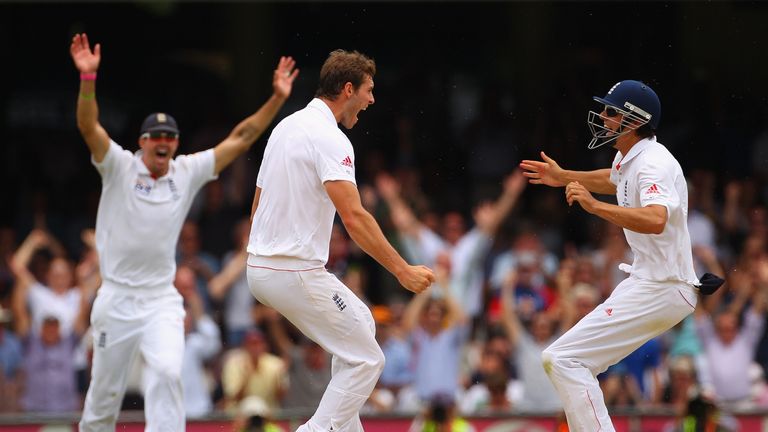 I'd spoken to Mike Gatting a few times prior to leaving and then again just after the end of the series and he was delighted for me. Gatt and I go back a long way having played at Middlesex together and I think he was quietly satisfied that another Middlesex man had been able to lift the urn.