Lane and length
How does a team remain the best in the world? England women's coach Mark Lane reveals all...
By Oli Burley
Last Updated: 18/08/11 3:54pm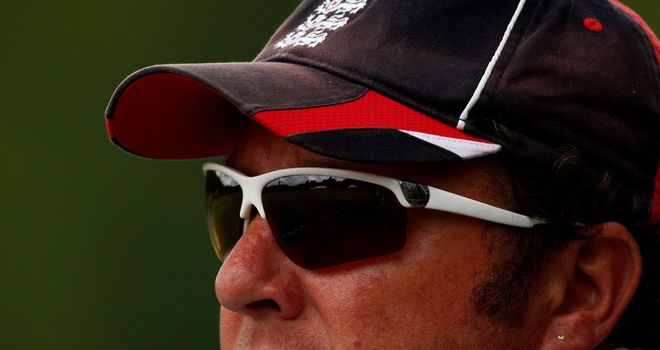 How does a team remain the best in the world?
England Women know better than most after following up their World Cup triumphs with victory in this summer's 50-over and 20-over NatWest Quadrangular Series.
Testing tours of South Africa and New Zealand lie in store in the next six months but for now Head Coach Mark Lane can reflect on more silverware success and the growing popularity of the women's game...
Once again you're setting the standard in limited-overs cricket. Can you offer the men's team any advice?
MARK: England men have been very successful themselves, recently becoming World No 1 in Test cricket after winning the World Twenty20 trophy last year.
For us (England women) it's all about being consistent and challenging ourselves to push that little bit harder, to make sure that the gap between world No 1 and No 2 is as wide as possible. It's fantastic for the women's team to have players of the calibre of those in the men's team to look up to; it's great to be an English cricketer at the moment!
Do the two teams share information?
MARK: Absolutely. Sharing knowledge is one of the fundamentals of coaching success; it's the way that we can all get better.
What is your highlight of the year so far?
MARK: We've been very successful at Twenty20 cricket already - particularly in Australia . I'm very pleased with our results in Twenty20 and 50-over cricket this summer.
Katherine Brunt's 5-18 in the 50-over final at Wormsley was probably the best spell of fast bowling I've seen from a female cricketer, but what was far more pleasing was that everyone contributed during the summer. If it wasn't in one game or format it was in another. It was a real squad effort.
How far has the women's game evolved since you took over?
MARK: Players now benefit from full time support staff, are centrally contracted and receive some financial support from the ECB. This has definitely had an impact on players assisting them to train harder and smarter.
There has been a huge amount of work put into the women's development programme and we are now seeing players progress through the system to the full England side which is an exciting prospect for the future of England women's cricket.
The standard of county cricket has improved significantly, as have the players we are working with. We are no longer selecting a team from a squad of 12. This summer it was difficult enough to select a squad of 14 let alone a starting XI. We now have a pool of around 22 players pushing for England selection. That's a massive step forward. The key is to make sure the balance of the side is right - that's been instrumental in our success this year.
Claire Taylor - the first woman to be named as one of Wisden's Cricketers of the Year - retired in July. How much will team miss her?
MARK: She is a massive loss and would be to any side. She's someone who has been so consistent over many, years. Her best was probably 2009 when she picked up Player of the Tournament in the ICC Twenty20 and the 50-over World Cup. I've worked closely as a coach with Claire for 14 years.
Her determination and professionalism will be missed but I am sure she will do some mentoring with some players in the coming years.
Three of the squad - Charlotte Edwards, Lydia Greenway and Laura Marsh - have been long-listed for September's ICC's Women's Cricketer of the Year award. Who would you give it to?
MARK: Lydia has been fantastic not just this year but over the last few - she has really put herself forward. Laura is coming on nicely and has batted higher up the order recently. It's always nice to see someone like Charlotte Edwards, who is a stalwart of English women's cricket, getting the acclaim she deserves.
Likewise, someone like Stefanie Taylor - who has scored a lot of runs for the West Indies - deserves some acknowledgement. And of course Shelley Nitschke who has performed on for Australia for the past seven years and retired this summer.
The women's game seems in great shape at international level, but does it have much depth?
MARK: It's certainly improving. This week our best U19 players are meeting at Wellington College for some tournament cricket and earlier this summer our best U15 players did the same down at Brighton College.
The England women's Academy side notched up victories over Australia and New Zealand in warm-up games this summer so we are making real strides forwards and will continue to do so with the help and opportunities we are receiving the ECB.
High Performance Manager Paul Shaw has made a huge impact managing and developing the women's and girls' performance plan ensuring high potential players are given the support to develop to the best of their ability. Head of Women's Cricket Clare Connor is also a key figure in championing the development of the women's game both in England and across the globe. With support like this there is no reason why women's cricket in England and Wales can't go from strength-to-strength.