Just the tickets!
Long-time coach Les Randall was rewarded for his work with disability players with tickets to Lord's.
Last Updated: 18/05/12 4:08pm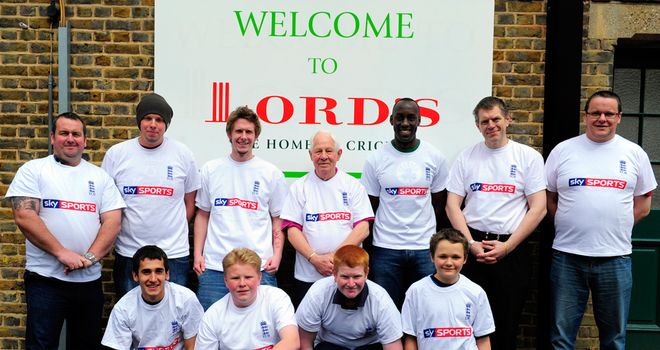 Les Randall, a member of the Sky Sports ECB Coach Education Programme, has been rewarded for his endeavours with a set of 30 tickets for the first day of the England-West Indies Test match at Lord's.
Randall, who has been coaching young cricketers with mild/moderate learning difficulties in his home county of Hampshire for over 10 years, was one of a number of candidates in line for the tickets.
But England coach Andy Flower says Randall, whose club Portsmouth Community CC were the first in Hampshire to integrate disability players into its structure and saw two of their adult teams promoted to higher divisions last season, deserved the prize for the way he has unified his community.
"I have the utmost respect for coaches that have the capacity to 'give' to the extent that these men have," Flower said of the nominees.
"It would be nice if they all got some recognition for how they have progressed their communities and made other peoples' lives better.
"However, in this instance there can be only one winner. Having perused the candidates' achievements, I have decided that the winner should be Les Randall, for the following reasons:
• Les has helped create a cricket club! A successful cricket club! This club now supports men, women and children
• Les has affected his community in an extremely positive way
• Les has successfully combined individual and group coaching skills while still being effective in building a structure that benefits the wider community
• Les has been able to communicate and work successfully with players with learning disabilities
The combination of these achievements is evidence of extraordinary dedication, communication skills, resilience and success, and perhaps most important of all, of giving to others."
Striving
55-year-old Randall, who has openly admitted suffering from dyslexia, has worked extensively with deaf and visually impaired young people, as well as those with severe behavioural difficulties.
The ECB level three coach recently enjoyed a successful tour to South Africa with the England MLD squad and is currently striving to set-up a development party to sit underneath the main side.
Randall has instigated a series of regional development coaching sessions which monitor the progress of players, while he has also aided players in their quest to play mainstream cricket.
Les and his team were seated in the upper tier of the Edrich Stand at Lord's on Thursday and saw Stuart Broad rattle through the West Indies batting line-up to take six wickets for 72 runs.