A Games changer
England fielding coach Richard Halsall explains what cricket coaches can learn from the Olympics.
By Oli Burley - @SkySportsOli
Last Updated: 13/08/12 5:18pm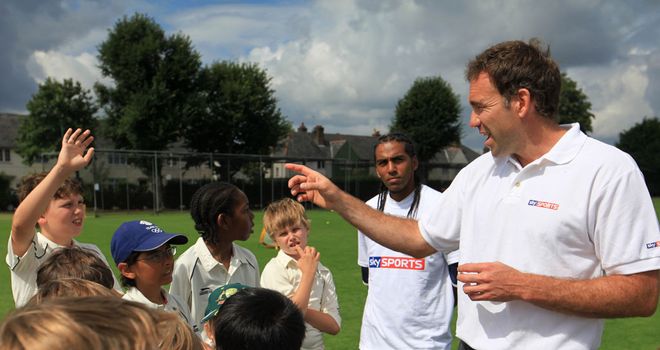 England fielding coach Richard Halsall always aims for the gold standard when it comes to catching and throwing.
He wasn't disappointed when he spent the morning with 40 children, aged from 5-12, and six coaches from Spencer CC in a special session run by the Sky Sports ECB Coach Education programme.
With London 2012 still fresh in the mind, it was a great opportunity to see what disciplines and drills can cross over from the Olympics to cricket.
Plus, it was a chance to recognise a true champion of grassroots cricket - coach Kiyo Jason, who joined up with Richard to run the session.
Kiyo's father and uncles created the acclaimed Spencer Colts Section and he has since taken on the Spencer Development and Spencer Academy sides, as well as creating and growing the Spencer Girls' Section from scratch.
skysports.com: First things first, Richard. How impressed are you with the work that Kiyo has done here?
RICHARD: Coaches like Kiyo are what this Programme is all about. His work at Spencer CC and his commitment to growing the game are absolutely invaluable and it's coaches like him that we depend on to produce the players of the future.
skysports.com: What specific drills have you been working on and how has it gone?
RICHARD: It's been a fantastic experience. Once the coaches had ensured that the boys were nicely warmed up, I tried to replicate a lot of the drills that we do with the England side with them. That means a lot of small group work - real high-tempo stuff that involves a lot of challenges. Making the sessions enjoyable is always high up on the list, whatever level you coach at, but at the same time there has to be an emphasis on skill execution. So you make it fun but never do a drill just for the sake of doing it. To make sure you have a better chance of transferring what you practice into a game, it's best to do it at match pace.
skysports.com: Many of these kids will be watching the cricket AND the Olympics this summer. Is there much crossover between the two in coaching terms?
RICHARD: This subject came up when we were talking about close catching positions. Weightlifters get into a similar crouch position when they lift the bar up, as do players when they prepare to serve in volleyball or tennis. The more sport you watch, the more you can use those references in your coaching. It's that simple. If they've watched the sprints, it's easier for them to visualise chasing the ball like Usain Bolt! The image of him running is something they can relate to and will hopefully motivate them to run faster, but only if they can empathise with it.
skysports.com: So can events like the javelin help your cricket?
RICHARD: A key part of throwing involves that back hip, the 'power hip', particularly in the javelin and the shot putt - there is a very similar biomechanical chain to throwing. If players can build a picture in their mind about what you are articulating, it will work, but if they can't build that picture from your words, then there's a danger that they will just stand there nodding at you because as polite as they are they don't really understand. You have to try and create that picture which they think they can do. Ideally you would use video all the time to explain that stuff, but if not then the words you use are crucial.
skysports.com: How do you rate England's performance in the field against South Africa so far this summer?
RICHARD: It hasn't been up to our normal standards in terms of our execution in the field; our ground fielding and high catching has been outstanding, but our close catching hasn't been up to scratch at times. The players hate letting their team-mates down and because they all buy into the team ethic it reinforces the pain. We can't work any harder so it's down to me to work a bit brighter - or get our mathematician to prove that this is just a statistical blip on the upward curve! In all seriousness, we're doing everything we can to ensure that we win more games of cricket.
skysports.com: So it's a case of 'could do better'?
RICHARD: There is still loads of excellent stuff going on - Tim Bresnan's 70m throw right over the top of the bails to run out Hashim Amla at Headingley and Steve Finn's phenomenal run out of David Hussey at the Oval being just two examples. Unfortunately, though, we've put down one or two what have turned out to be critical catches. It's not through any lack of preparation or effort. We just have to work on the execution.
skysports.com: Graeme Swann's absence at Headingley meant that Alastair Cook came into the slip cordon. How much do players prepare for scenarios like that?
RICHARD: Cook's been training to field at slip for probably most of this season. Before the Headingley Test match he took 45 out of 46 catches in training but unfortunately he then dropped that very simple one offered by Alviro Petersen. We all know that fielding in the slips is very different from anywhere else but you don't always get the opportunity; while that could be a mitigating factor at this level you should take those and Cook actually took a much harder chance to dismiss Jacques Kallis. As a team we are going to drop a catch now and again but unfortunately they all seem to be coming in a rush at the moment.
skysports.com: Bumble has been on permanent 'Trott-watch' this summer. Is it fair to ask one player to cover so much ground?
RICHARD: It boils down to this: Trotty does it to help the bowlers out, so they aren't doing those left-hand/right-hand shuttles down at fine leg. He's taken it on as his role. When you've got three quick bowlers in your side and you've already got three slips and a gully in and a short leg, there aren't that many fielders left. It's not us thinking 'Trotty would be really good at this', it comes down to the fact that he's the only one left! It's not going to affect his batting. He's fit enough to manage that workload and still go out there and score his runs.
Don't miss the third and final Test between England and South Africa - live on Sky Sports 1 HD from 10.30am on Thursday August 16.
The Sky Sports ECB Coach Education Programme aims to attract and train coaches at all levels of cricket in England and Wales. More than 45,000 coaches have gone through the scheme since 2006, with a growing number of young, qualified female coaches engaged. To find out more visit the ECB's website.