Top of the order
Bob Willis told Sky Sports News HD that England's batsmen are behind their their rise to No 1.
Last Updated: 23/08/11 10:10am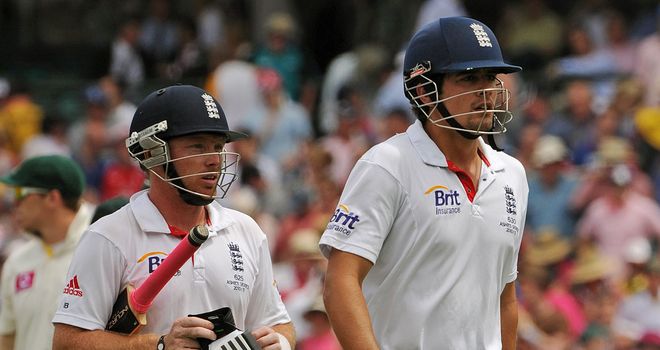 Bob Willis believes England's rise to number one in the world is down to their top order.
Andrew Strauss's men cemented their place as the best Test side around with another comprehensive win over India at The Oval and a 4-0 series whitewash.
Kevin Pietersen (232) and the England skipper (106) led the way with the bat, with Alistair Cook and Ian Bell also scoring heavily throughout the summer as England's batsmen moved up the ICC Test rankings.
Bell is now third, Cook fourth, Jonathan Trott - who missed the last two Test through injury - and Pietersen eighth, and Willis says you need look no further than the top of the order to see why they have had such a fantastic run.
"There is a lot of strength in every department but I think those three at the top of the order, Strauss, Cook and Trott are really, really solid," he told Sky Sports News HD.
Perfect
"They usually get England off to a good start.
"Cook is now back where he left off in Australia; he has this incredibly ability to concentrate for long periods, he doesn't get fazed by anything and that leaves the stage clear for the likes of Pietersen and Bell to come in and increase the run rate.
"It's the perfect formula for the long form of the game. England have now won five of their last 10 Test matches by an innings, three of those against Australia and two against India.
"It's a marvellous performance - and you can only do that if your top six or seven batsmen are piling the runs up."
Willis believes the transformation of Bell from England fall guy to number three in the world sums up the improvement England have made under Andy Flower.
The Warwickshire man struck two centuries - one a double - in four matches and totalled 504 runs at an average of 84.
His jump up the rankings has been the biggest of any English batsman and has made him one of the first names on the team-sheet after several years struggling to hold down a regular slot.
Mature
"One of the first things that Strauss and Flower did with Bell was drop him," said Willis.
"England were rolled over for 51 in Jamaica and they said this simply isn't good enough, some of the players are coasting along here and think they've got their place in this England side by rights - so Bell was left out of the side.
"He had to carry drinks for the rest of that tour and wait to go back to Warwickshire and fight his way back into the side.
"He's been a completely different character, far more mature and he looks England's most gifted and mature batsmen. "