DR mess
The ICC have come across as "weak" for not making DRS compulsory, says Sky Sports' Michael Atherton.
Last Updated: 29/06/12 5:50pm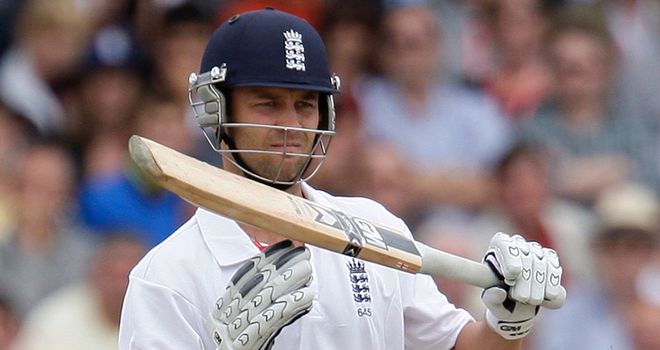 Michael Atherton believes the myriad benefits of the Decision Review System (DRS) means it should be a fixed part of international cricket.
The ICC have dismissed the recommendation from its Chief Executives Committee that the ball tracking-device be made mandatory in all Tests and one-day internationals and instead left it up to the individual nations to choose whether DRS is utilised in series.
India are vehemently opposed to the use of technology and recently-anointed ICC chief executive David Richardson says it would be unwise to force its wealthiest member into something they don't agree with.
Former England skipper Atherton, however, believes the ICC have been made to "look weak" by not making DRS compulsory and insists that machinery improves many areas of the game.
"There are many instances we can talk about where DRS has not worked properly," Atherton told Sky Sports." You're never going to get 100 per cent correct decision making; that's a nirvana that won't happen.
"Statistics show that you get about a five per cent uplift on decision making (with DRS) into the mid-to-late 90s. But, for me, it's not just correct decisions which are the benefits of DRS.
"One is player behaviour. How many times in recent years have we seen bad episodes between players and umpires? There have been few since DRS and you now rarely see dissent on the field against umpires. That is absolutely critical.
"Secondly, we have seen finger spin come back into the game and the balance between bat and ball has slightly tilted back in favour of the bowler. I like that because I think that for a while the bat was becoming a little too dominant in the game.
"The ICC have been made to look very weak because their Cricket Committee has said that DRS should be used by all countries provided that the finances are in place to do that, but it didn't even go to a vote.
"There seems to have been independent research to verify the ball-tracking technology and India are out on a limb - but they are very powerful."
Appeals
Atherton's fellow pundit, Sir Ian Botham, says the ICC should permanently instil DRS and has urged the Indian Cricket Board (BCCI) to end their scepticism of the technological device.
"The third umpire, the man looking at the screen, has to be as competent and understanding of the system as the umpires on the field," said Beefy.
"They have to work as a team and that appeals to me. You have got to have more right decisions and the ICC should make the decision [and make DRS obligatory].
"I understand that a couple of the senior batsmen in India have objected to it, though this was going back a few years ago. Things have moved on; that's why we move out of caves and put clothes on.
"DRS is here, has been independently tested, and those tests have proven it to be accurate. It's there, so [India] should get on with it."
Click here for Sky Sports pundit Nasser Hussain's view on the DRS debate.