Pup's grown up
Nasser Hussain told Sky Sports that Michael Clarke cuts an impressive figure as Australia captain.
Last Updated: 29/06/12 5:07pm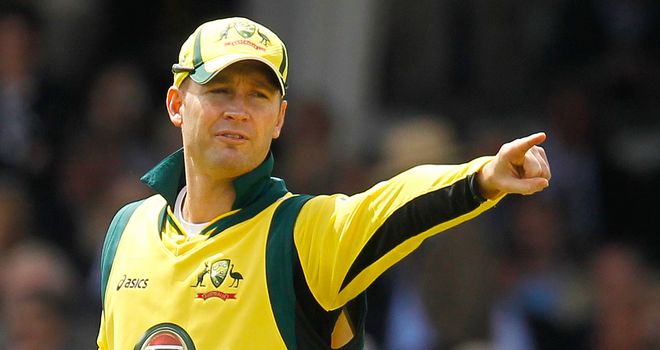 Nasser Hussain told Sky Sports that Michael Clarke has all the requirements to become a highly successful captain of Australia.
The 31-year-old replaced Ricky Ponting as the Baggy Greens' skipper in both the Test and ODI formats at the culmination of the 2011 World Cup.
Clarke has yet to lose a Test series since being appointed and guided his charges to 4-0 win over India this winter as well as a 2-0 triumph in the West Indies this spring, while he has also kept his nation at the summit of the one-day-international rankings.
Former England captain Hussain has been impressed by Clarke's early forays into captaincy, and thinks that the New South Wales star - whose batting form has blossomed since becoming skipper - has garnered plenty from Ponting and former Aussie great Shane Warne.
"Sometimes as a captain, and a player, you learn from people you've played with and under, and he is got a good combination of [Ponting and Warne]," said Hussain, during Australia's opening ODI with England at Lord's.
Attacking
"Ricky Ponting wasn't the greatest tactical captain but, boy, did he lead from the front and say: 'Look at me, I'm an all-Australian boy and I'm going to go out there and smack a hundred'.
"Clarke has learned from Ponting and done that with the bat, and I also think he has learnt from his best mate, Shane Warne, who I think would have made an incredible captain of Australia - on the field anyway!
"Shane always believed that he could win from any situation and I think that's what Michael Clarke believes; we have seen him declare when behind, we've seen him have three slips and a gully when Australia are struggling.
"You really need the bowling attack to be able to do that but, as yet, he hasn't got a [Glenn] McGrath or a Warne and that's what makes it better.
"Clarke is quite an attacking captain with a young, inexperienced side so he can only get better and when you're getting runs as well it silences all the critics."
Down-to-earth
Warne, who joined Hussain as part of the Sky Sports commentary team at Lord's, says the Australian public are beginning to be won around by Clarke, while the ex-leg spinner also praised the talented right-hander for amplifying his team's fielding abilities.
"Pup [Clarke] is a bit flashy; he is a bit out there," said Warne.
"There is nothing wrong with that, but he has taken a step back and said: 'My cricket, and performing well, is the most important thing to me'.
"He now has a quieter lifestyle off the field, is making runs and being successful as the new captain; you put that in the mix and the public like him more.
"There was this perception of what he was like because he likes nice cars and clothes, but he is a good, honest, down-to earth guy and comes across really well.
"A lot of pressure is put on the Australian captain, especially because they weren't performing well and had lost two Ashes series [in a row].
"Australia are not always going to get it right but what Clarke has stood for is for the fielding, the intensity and hard work."
Click here to see Sky Sports pundit Michael Atherton's interview with Clarke.