Tour guide
Australia's ODI torment in England will benefit them ahead of the 2013 Ashes, Tom Moody told Sky Sports.
Last Updated: 10/07/12 11:04am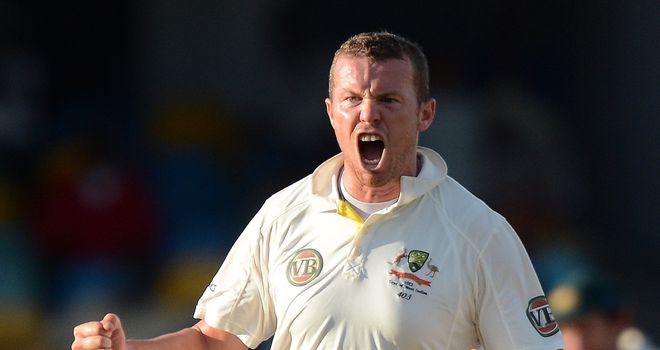 Tom Moody believes Australia's one-day humbling at the hands of England will serve as good preparation for next summer's Ashes encounters.
The Baggy Greens slipped to an eight-wicket loss at Chester-le-Street on Saturday, handing the hosts an unassailable 3-0 lead in the series ahead of the final clash at Old Trafford.
Click here for our match report
But former Australia batsman Moody thinks the Antipodeans will have soaked up vital information about English conditions that will aid them in 2013.
And he expects Michael Clarke's charges to fare better on their return trip to British shores, especially if Peter Siddle and Ryan Harris are back in the side's bowling ranks.
"The Australians will be squirming in the dressing room and there is no excuse," Moody told Sky Sports. "You can pluck all the excuses out of the sky but Australia have been outplayed and they have got a lot of thinking to do.
"It does, however, give them a measure of where they need to get to and they do have time to do it. They've got South Africa at home before Christmas and then Sri Lanka after; South Africa, in particular, will be a very tough series as England will soon find out.
"It will be an advantage seeing the likes of Steven Finn, the conditions and the various other dynamics that they will be challenged with when they do come back for the Ashes.
"Peter Siddle is a standout bowler for me, purely because he brings a lot of energy to the side. He has got a huge heart and is the leader of the attack.He bowls with good pace, has developed as a fast bowler and bowls a nice length that is suited to English conditions.
"I also think Ryan Harris stands out. He is a little older than Siddle but he is a very effective bowler in Test match cricket. He and Siddle will both be key next summer."
Strong feelings
England seamer Steven Finn was named Man of the Match in Durham after his 4/37 restricted Australia to a total of 200 from their 50 overs.
"He is very impressive and I am surprised he is not a regular member of the Test side," Moody said of Finn, who twice found himself on a hat-trick during the visitors' innings.
"He is a big guy, and he is going to get steep bounce. He read the conditions exceptionally well, and three of his wickets were because of his length: two lbws and one clean bowled."
England's victory was their record ninth ODI win on the spin and that, coupled with their number-one ranking in the Test match arena, has given Sky Sports pundit Sir Ian Botham confidence that Andy Flower's outfit can rule international cricket for the foreseeable future.
"They have got strong feelings against Australia in all forms of the game at the moment and a lot of these guys haven't been defeated by them," Beefy said of England, triumphant in the previous two Ashes series.
"We went through a period where Australia dominated in style for over 12 or 13 years and I think England are capable of doing that now as their confidence is sky high.
"We have watched Flower set out what he wanted along with [national selector] Geoff Miller, Andrew Strauss and now Alastair Cook in the one-day side. They keep setting the bar higher and are clinical."