Ashes 2013: Sir Ian Botham critical of Australia's use of DRS
Australia must use the DRS system more wisely in the second Ashes Test, says Sir Ian Botham.
Last Updated: 18/07/13 10:41am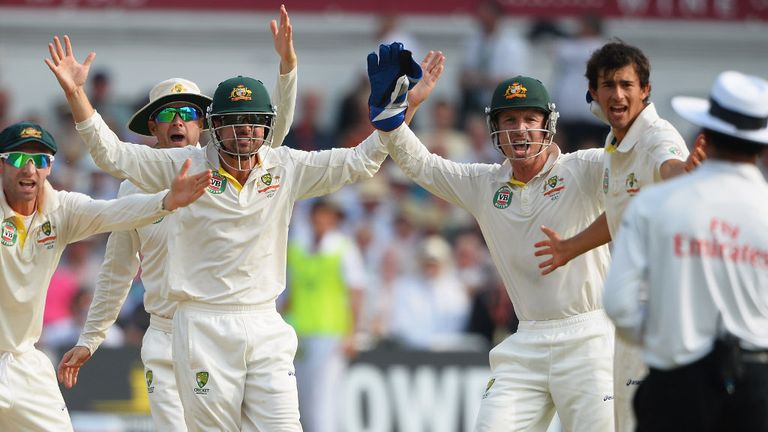 Technology played a major role during a dramatic five days of cricket at Trent Bridge, with reviewed decisions and Australia's inability to challenge Stuart Broad's edge to first slip among the talking points, as England won a fascinating first encounter between the old rivals.
The action resumes on Thursday at Lord's, live on Sky Sports Ashes HD, and Botham says the tourists, who fell just 15 runs short of taking a 1-0 series lead themselves, must give serious thought to the way they use DRS going forward.
Australia notably reviewed an unlikely LBW appeal against Jonny Bairstow in England's second innings, meaning they had no review left to challenge Aleem Dar's surprise 'not out' call when Broad nicked to Michael Clarke.
"Australia do need to do a little bit of homework on it," said the Sky Sports expert. "They have won only two out of nine referrals, while England use it pretty well.
"[In the first Test] Australia got it wrong and it cost them dearly. They wasted one on Jonny Bairstow, which was missing by another set of stumps down the leg side, and then Broad got away with the nick.
"Technology is here so get used to using it. It adds to the excitement; every time there's a decision everybody looks to the big screen to see what's happening. It's exciting; it's entertainment."
No change
However, Botham applauded the tourists' valiant run chase and said the close battle in Nottingham sets up an intriguing contest in the capital this week and promises a thrilling Ashes series to rival the 2005 and 2009 clashes on these shores.
But the former England talisman believes Alastair Cook's men are in a good place with talk of team changes, despite a first Test victory, demonstrating how strong the hosts' current squad is.
"Australia did well; no one expected them to get as close as they did," he said. "They gave everyone a bit of a rev up and I think it sets the stall out for the rest of the Ashes series; it's going to be a great summer.
"In terms of England's line-up, I'm not a great believer in changing a winning team. They'll go there, have a look at the pitch, have a look at the conditions, check the weather forecast and pick accordingly.
"Until you see the pitch the day before you don't really get much of an idea and I would say they'll keep their cards close to their chests and only make their mind up the night before.
"It's nice for England to be in such a healthy position and to be able to choose - they've got a winning team and you're thinking 'do we keep the same team or move on'. That's a nice position for England."
Magnificent
One player whose place is certainly not in doubt is first Test Man of the Match Jimmy Anderson, whose 10-wicket haul moved him to third in the all-time list of England Test wicket-takers.
Botham, who currently holds the record with 383 scalps, heaped praise on the Lancashire quick and revealed he reckons Anderson - who has 317 wickets to his name - will surpass his total by the end of the return Ashes series in Australia this winter and possibly even reach the 500 mark by the end of his career.
"Jimmy is 30 years of age, he keeps himself fit and if he keeps himself going who knows?" said Botham. "500 wickets isn't that far away from him if he keeps on taking wickets at the rate he's taking them now.
"He could end up with 40 wickets in this series with 10 already under his belt and by the end of the Ashes in Australia he will probably be the leading wicket-taker in English history.
"I love watching him bowl, he's worked hard at his job, he's a perfectionist, he's hard to pick and even the best batsmen in the world struggle, particularly when it starts reversing."
Watch the second Ashes Test live on Sky Sports Ashes HD and follow the action with the Ashes Events Centre, available through the Sky Sports App.