Cricket Expert & Columnist
Eoin Morgan must bat higher for England in ODIs, says Nick Knight
Nick Knight says Eoin Morgan must showcase his skills higher up England's ODI batting order.
Last Updated: 03/09/13 7:10pm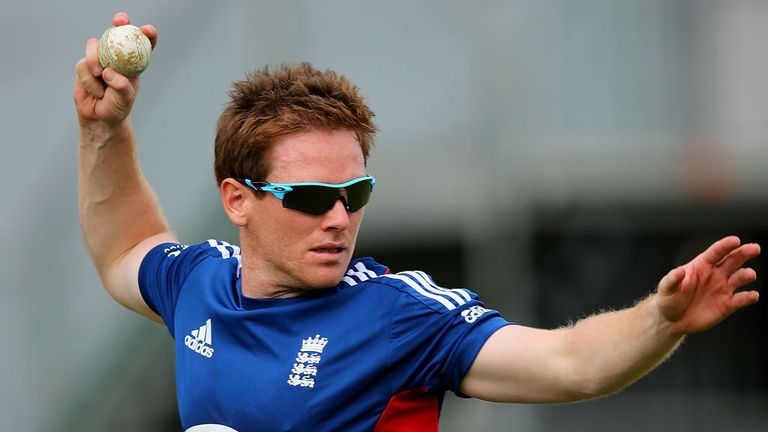 That was the view of Sky Sports pundit Nick Knight after the left-hander hit a blistering 124 off 106 balls to help his side overcome his birth country Ireland in a pulsating ODI in Malahide on Tuesday.
Morgan came in at five against Ireland and, with the assistance of Ravi Bopara - who notched his maiden ODI ton with a score of 101 not out off 75 deliveries - ensured England battled back from 48-4 to head into their series with Australia on a high.
But Knight, who played in 100 ODIs for England, feels Morgan's exploits highlighted why he should be shunted up Ashley Giles' team's batting order in the 50-over format.
"Morgan spends too much time finishing an innings rather than dictating the terms of an innings, but he dictated terms in this innings," said Knight.
"He took all the pressure and with the emergence of Jos Buttler he needs to move up the order and bat at four.
"When he first came into international cricket he felt comfortable being the finisher and it is important you feel comfortable at the start.
"But he has gone beyond that now and as one of the best players in the team must bat higher, which would allow Kevin Pietersen to open."
Confidence
Morgan and Bopara amassed the highest fifth -wicket partnership in ODI history with their unbeaten stand of 226 in Ireland, beating the previous record of 223 set by India's Mohammad Azharuddin and Ajay Jadeja against Sri Lanka in Colombo in 1997.
Knight was impressed by the way Essex bat Bopara carried himself throughout his innings and reckons the 28-year-old is enjoying his role as an established member of his nation's one-day line-up.
"You see Bopara play like that most of the time at Chelmsford so to see him do it in an international game is very satisfying," added Knight, who began his career with Essex, before joining Warwickshire in the mid-1990s.
"Ravi has got a fifty or a sixty so many times for England and then got out but he stayed in until the end today [Tuesday] and that will give him a huge amount of confidence, as will the fact he now feels like a senior player in the team."
Ex-Ireland spinner Kyle McCallan joined Knight in the Sky Sports commentary team at Malahide and was proud of his country's efforts against England, who finished runner-up to India in June's ICC Champions Trophy Final at Edgbaston.
However, McCallan was frustrated that Ireland could not record victory having posted a score of 269-7 from their 50 overs, and says the squad must be given more chances to test their mettle against cricket's elite.
"Ireland can celebrate an awful lot today," he said.
"The boys batted very nicely to get to 270 and even though our bowlers couldn't tie down England's batsmen and win the game, having Boyd Rankin opening the bowling for England and Eoin Morgan captaining England is a great showcase for Irish cricket.
"However, we need more games against this type of opposition to test the standard of our cricketers and the promising ones in the system."