Pick of the day
We review day four of the opening Ashes Test at The Gabba
Last Updated: 24/11/13 2:57pm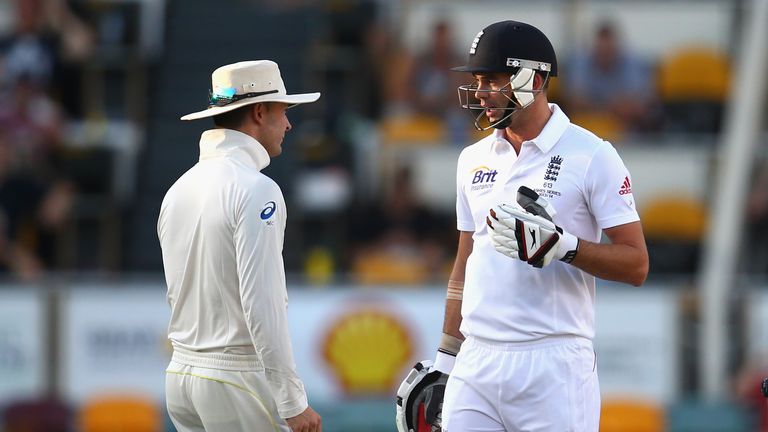 Alastair Cook resisted with 65 and a couple of rain breaks held up Australia for a while.
But the storms were only passing through and, with Mitchell Johnson adding three wickets on the day to take his match tally to nine, England were all out for 179 in the evening session.
We take a look back on the action with a range of opinion, analysis and video.
No escape
Chasing 561 for victory, England began day four on 24-2 with ambitions of replicating their rearguard at the same ground three years ago. On that occasion, Cook led the fightback with an unbeaten 235 and he was again the main focus. England lost only Kevin Pietersen and Ian Bell during the first two sessions and were not without hope when rain prompted an early tea. When play resumed it was Cook's exit, caught behind cutting at a delivery from spinner Nathan Lyon that bounced more than expected, that was the start of a collapse from 142-4 to 179 all out. Click here for full match report and here for picture gallery.
Sing when you're winning
Johnson was our man of the day for the second time in the match after adding figures of 5-42 to go with 4-61 in the first innings. The result was Australia's first win in 10 Tests and meant 'song master' Lyon got to clear his lungs and lead the rendition of Under the Southern Cross I Stand in the dressing room. Johnson said: "We've got to enjoy this moment; we haven't won for a while. We went in and sung the team song, which was so enjoyable. Everyone is happy."
Verbal agreement
Back-to-back Ashes series have allowed several longer-term plots to develop and also for both sets of players to find ways to get under each other's skin. David Warner used his post-century press conference on day three to lob some verbal grenades in the direction of Jonathan Trott, while Australia's fielders, most notable the skipper himself Michael Clarke, got stuck into England's No.11 James Anderson on day four. Cook criticised Warner as 'disrespectful', although his main issue appeared to be that the New South Welshman had his say to the press rather than on the field.
Bullying the bullies
Shane Warne was delighted to see Australia finally turn the tables on England after losing the last three Ashes series. The former leg-spinner credits some of the improvement to coach Darren Lehmann and his relaxed style. Warne said: "The way they've won here has really given England something to think about. It's been like meeting the school bully - they've bashed England up here; they've given them a lot of things to think about and they've intimidated them." Click here to listen to hear our experts dissect events in the Ashes podcast and here for Sir Ian Botham's views on England's 'ridiculous' batting.
Brand building
Australia captain Clarke and his senior bowler Ryan Harris both stressed the importance of backing up this performance in the second Test in Adelaide. Clarke said: "It's been a good start, but it's only one Test match. I'm sure England will come back bigger and stronger. We've got a lot of work to do to accomplish what we want to accomplish in this series." Harris expects conditions in Adelaide to suit England but wants Australia to continue their 'aggressive and entertaining brand of cricket'.
Rolling on the floor
Another tough day for England but at least the commentary team were able to keep their spirits high. Our usually unflappable anchorman David Gower struggled to contain his mirth during one of the rain breaks after an unfortunate juxtaposition of pictures and words involving an antique-looking 'super sopper'. Click here to check it out for yourself.