Ashes week in review
We reflect on a dramatic week Down Under that saw Australia move ahead in the Ashes series and Jonathan Trott head home
By Mark Kendall - Twitter: @SkySportsMK
Last Updated: 29/11/13 1:48pm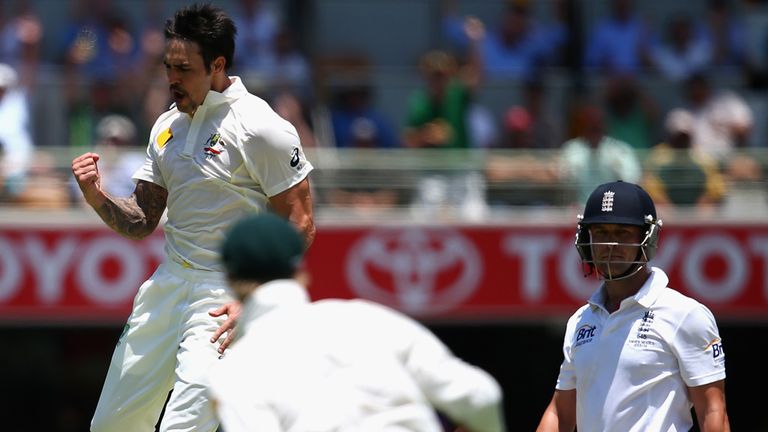 The tourists exuded a quiet confidence ahead of the return series Down Under and, after the 3-0 win on home soil (their third consecutive Ashes victory over the Australians), few would have found reason to argue.
But a thumping 381-run defeat at the Gabba has very quickly changed the landscape.
Many had pointed to Australia's dominant recent record in Brisbane and suggested England could struggle at a venue famed for its pace and bounce.
They were proved right... but that was only half the story.
England came up against a confident, spiky and ultimately superb Australia performance that bristled with belief and aggression.
But, as comprehensive as it was, the defeat came with collateral damage that could yet prove far more damaging to England's hopes with Jonathan Trott announcing in the aftermath of the match that he was to fly back home with a stress-related illness.
That news prompted some to question the ferocity of Australia's tactics, both on the field and in the media.
But there is no doubting that this is a team - and a team, remember, who have been subjected to intense and sustained criticism over the past couple of years - who scent blood and a chance to settle some old scores.
We take a look at what players, pundits and the media on both sides of the world have made of a turbulent first week of Ashes action.
Having seemingly led Australia's verbal war against England captain Alastair Cook and his men, Shane Warne pulled no punches in his assessment of the first Test at the Gabba. The legendary leg-spinner insists England were bullied by the hosts in Brisbane and believes they will now find it very hard to pick themselves up. "The way they've won here has really given England something to think about. It's been like meeting the school bully - they've bashed England up here; they've given them a lot of things to think about and they've intimidated them," said Warne.
Skysports.com's 'Man Down Under' Joe Drabble got a first-hand view of England's bruising defeat in Brisbane. Having watched England capitulate, he reflects on the lessons a damaging opening loss and also assesses the Australian media's reaction not only to their side's victory, but also to the subsequent news that Trott would be heading home. Let's just say that not everyone Down Under is oozing with sympathy for England!
Australian journalist Gideon Haigh believes the Baggy Greens' 'in yer face' attitude is a sure sign they are confident of recapturing the urn this winter. Haigh feels England can expect no let up, be it bouncers or verbals, from their rivals in the weeks ahead. "In 2010/11 when there was a general sense of malaise around Australian cricket and a sense of foreboding leading into the series. But Australia now feel they have a better chance and have the wind in their sails - and they want to let you know about it," said Haigh.
As his country's most capped Test cricketer, Alec Stewart certainly knows a thing or two about the stresses and intensity on life on tour with England. Stewart insists he has huge sympathy for Trott and believes he has demonstrated real bravery in stepping away from the cauldron of an Ashes battle. "I know Jonathan Trott and he's an intense character but this came as a huge shock because he kept it very much under wraps, as did the team and the ECB. I have huge sympathies for him."
Whilst there has been virtually universal sympathy for Trott and his plight, the fact remains that the show goes on for England who now have a real battle on their hands to retain the Ashes. The departure of Trott - England's lynchpin for so long at No.3 - leaves a gaping hole in their batting order and no specialist replacement. Here Sky Sports pundits Mike Atherton and Nasser Hussain debate their options with the former fancying Joe Root for the role and the latter backing Ian Bell.
Andrew Strauss is a man who knows the inner workings of the England dressing room better than most and the Sky Sports pundit insists Andy Flower and his charges must now hold full and frank discussions to clear the air following the first Test drubbing in Brisbane. "Some of the players are obviously struggling and it will be good for England if some of the players can hold their hands up and say 'this is what I'm going through at the moment - I'm in a bad place mentally, I'm in a bad place technically'. Everyone needs to rally around each other. The worst thing that can happen is people go off in ones and twos."