Man of the day
Peter Siddle became the latest Australian bowler to shine on day five in Adelaide
Last Updated: 09/12/13 6:03am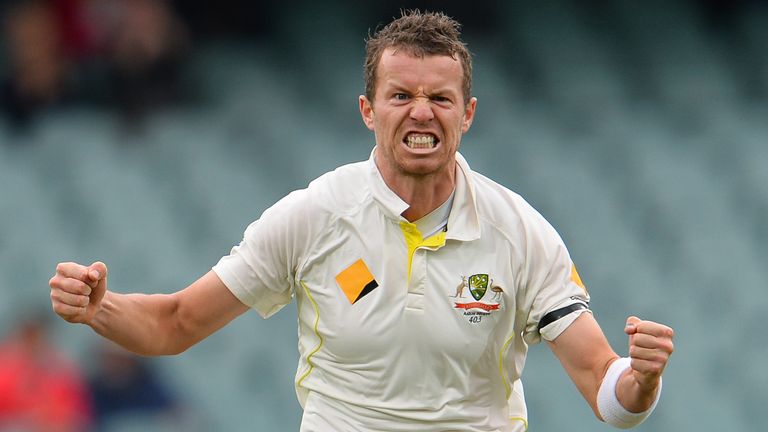 The trio of Mitchell Johnson, Ryan Harris and Siddle are proving complementary, with each man knowing his role and sticking to it.
Johnson has the extreme pace and big mouth but is only used in short bursts, while Harris is the wholehearted, injury-prone leader of the attack.
Siddle's calling card is more difficult to define. Television commentators and journalists never seem to tire of recounting his wood-chopping past as a youth in Victoria, or his present-day banana-based vegan diet. They find it hard to get as enthusiastic about watching him bowl.
The 29-year-old is easy to overlook because of his unflashy style, nipping the ball back from a consistent line in and around the off-stump corridor at just above medium pace. Boring would be a harsh - but often accurate - description.
But he has found his niche in Test cricket as a workhorse first-change seamer and is closing in on 200 wickets at the highest level.
Pietersen's nemesis
Siddle has dismissed Kevin Pietersen more times - nine - than any other bowler and got him in both innings in Adelaide.
Pietersen's second-innings exit, inside-edging onto his stumps, ended a stand of 111 with Joe Root and came after Siddle and Shane Watson had dried up the runs with a series of maidens.
Siddle's lack of variation, often cited as a weakness, actually proves a strength against Pietersen, who again came off second best in their game of patience.
With four wickets required by Australia on the final day in Adelaide to take a 2-0 lead in the Ashes series, Siddle had Stuart Broad caught at deep square-leg in the first over, one delivery after the same batsman had hit him for six.
And he later ended Matt Prior's resistance thanks to another catch on the leg-side boundary to finish with figures of 4-57.
Siddle said afterwards: "It's been a great team effort and everything came together nicely. We've been working on consistency and patience and hopefully we can keep it rolling.
"It was nice to get out there this morning and get it done quickly, so we can put our feet up for an extra half day before Perth."