Pick of the day
We review day five of the second Ashes Test in Adelaide
Last Updated: 09/12/13 6:06am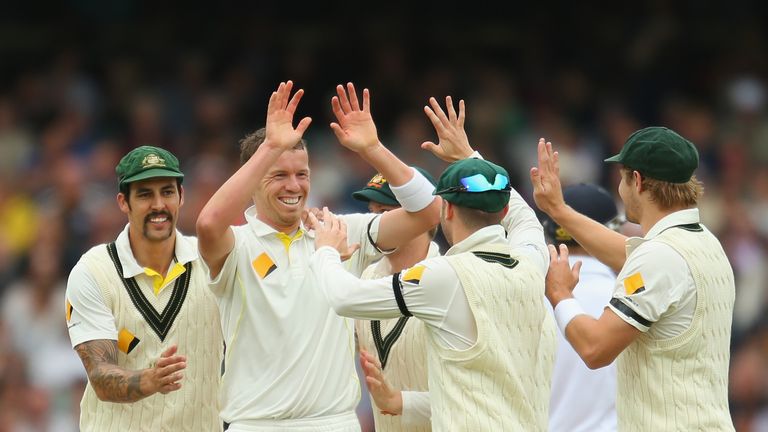 England, on 247-6 chasing a target of 531 overnight, subsided quickly when the action got under way 10 minutes late due to a passing rain shower.
Matt Prior hit 69 before England were all out for 312 after just 11.4 overs of the morning, giving Australia victory by 218 runs to go with their 381-run success in the first Test in Brisbane.
We take a look back on events on day five in Adelaide with a range of opinion, analysis and video.
Going down swinging
England came out on the fifth morning with the clear intention of playing their shots come what may. The situation was unpromising, requiring as they did a further 284 runs with only four wickets to play with. Stuart Broad hit a six and was then out hooking in the first over before Prior pulled and carved his way to a first half-century in 17 innings. But Peter Siddle made Prior his fourth wicket of the innings and England were soon all out to give Australia within one more victory of reclaiming the Ashes. Click here for a full report on day five and here for picture gallery.
Cook feeling the heat
England captain Alastair Cook was at a loss to explain his side's poor form and called on his players to stand up and be counted in the third Test in Perth later this week. Cook said: "We've had a big hit and if we believe that the Ashes are gone, they might as well be gone. We've had two tough games and we haven't played well. That's the simple deal. We have to dust ourselves off and do what we can do, which is work extremely hard on our games and come out to Perth on Friday with that belief that we can do something. We need to put some pressure back on Australia."
Working things out
Cook's opposite number Michael Clarke believes Australia are finally getting the just rewards of a sustained period of hard work. Clarke was quick to credit the back-room staff and the attitude of his players, the majority of whom were part of the side beaten 3-0 in England earlier this year. Clarke said: "It's enjoyable, there's no doubt about it. The thing that's most pleasing is we're finally getting the results. In England, where we didn't get the success we wanted, guys were still working exceptionally hard and we all believed a result wasn't far away."
'Tough to watch'
Andrew Strauss led England to victory in Adelaide three years ago but now, from his position in the Sky Sports commentary box, he admitted it had been unpleasant viewing. Strauss said: "It's tough to watch just for the contrast with three years ago when everything went our way. This time everything seems to be going wrong. It's hard to find any bright sparks from this Test, apart from Joe Root's play. Those players will be really hurting at the moment. Most of them experienced what it was like (winning) three years ago and now they are seeing what the other side of the coin looks like. They are going to have to find a way of dealing with the short ball better and showing more resolve and fight in Perth if they want to get anything out of that game." Click here to listen to Nasser Hussain, David Gower and Strauss reflect on another humbling Test defeat for England and look at their options for Perth in the latest edition of our Ashes podcast.
Man of the day
Peter Siddle has established himself as a respected member of Australia's squad in recent years. His old-fashioned line-and-length virtues are easily overlooked when compared with the more obvious talents of the blood and thunder duo Ryan Harris and Mitchell Johnson. But Siddle has now dismissed England's dangerman Kevin Pietersen nine times in Tests, more than any other bowler, including twice in this match. On day five, it was Siddle who took centre stage with the wickets of Broad and Prior to hasten England's demise. Click here for our man of the day feature, including obligatory references to Siddle's wood chopping past and banana-based vegan diet.