Ashes: Australia's press on Swann retirement and previews fourth Test
Reaction from Australia's press to Graeme Swann's retirement and a look ahead to the fourth Test.
Last Updated: 23/12/13 7:57pm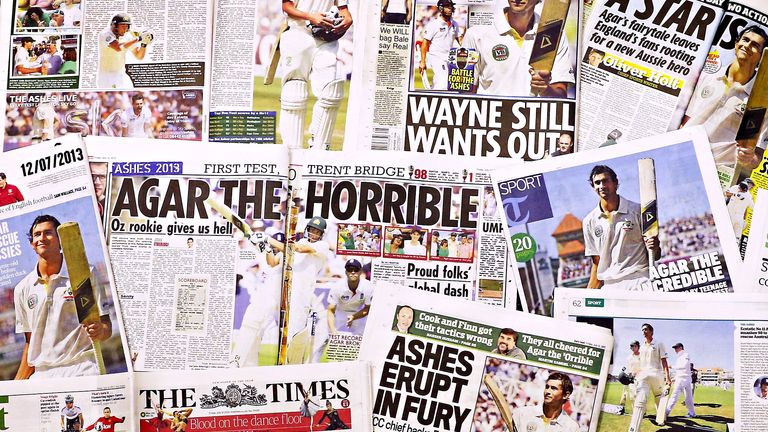 DAILY TELEGRAPH
Richard Hinds says Swann's timing for stepping down from the game "comes just when England could do with a laugh".
While Antony Pinshaw reports: "It would hardly be surprising if more international careers came to an end after this summer, but it was the suddenness of Swann's departure that will leave a lasting impact on his teammates."
The paper also looks at the reaction of Aussie coach Darren Lehmann who seems unmoved by another tourist heading home. "I only worry about us. That's all we can do. We can't worry about England and I'm sure they weren't worried about us earlier in the year."
THE AUSTRALIAN
The reason for Swann's exit? Will Swanton says it was the "Perth onslaught" that was the "final straw for aching off-spinner Swann".
Pete Lalor looks at the effect on Swann's England teammates, suggesting the off-spinner "jumped before he was pushed, leaving the England side as the stress of facing a 5-0 whitewash and mounting criticism takes its toll".
The paper analyses even further repercussions and suggests Matt Prior may be another casualty on the back of his disastrous form Down Under so far.
BRISBANE TIMES
Scyld Berry is one writer unhappy to see the back of Swann.
He writes: "Swann will be missed in more ways than one. His fielding at second slip was an integral part of England's rise to No.1 in the world Test rankings in 2011. Now Joe Root will have yet another job on his youthful plate. Swann's contribution to the chemistry of the dressing room was integral too. In an environment where everyone inclines to take sport too seriously, Swann was the rarity who could stand back and see that it was, at bottom, only a game."
SYDNEY MORNING HERALD
England are in "disarray" the paper reports, saying the timing of Swann's retirement "raises questions about the morale of the touring team, and leaves Monty Panesar to fill the spinner's role in Melbourne and Sydney".
Chloe Saltau writes Australian Nathan Lyon should "celebrate the career of Swann." She continues: "In an age of big bats and small grounds, Swann showed that you don't have to be an exotic off-spinner from the subcontinent to shine in Test cricket. In an era of doosras and carrom balls, he showed that you don't need a ball that spins the other way if you have drift, drop, a bit of turn and, above all, consistency."
On the back of Jonathan Trott's early departure, reporter Chris Barrett takes a look at a recent survey of former players in Australia that found one-quarter had experienced depression or feelings of helplessness after leaving professional cricket.
HERALD SUN
Looking ahead to the fourth Test in Melbourne starting on Boxing Day, the paper states that England are set to make up to three changes after the Perth defeat.
They suggest spinner Monty Panesar, Jonny Bairstow and Boyd Rankin are the most likely to get a call-up.
WEST AUSTRALIAN
Darren Lehmann is determined not to take the foot off the throat of their enemy! The Aussie coach says: "Our top order know they have to make some more runs and one of the big things is making them in the first innings. We need our guys performing straight up, day one, if we bat first."
Watch the fourth Ashes Test, live on Sky Sports 2 HD, on 25 December from 10:30pm