Pick of the day
We look back on day two of the fifth and final Ashes Test
Last Updated: 04/01/14 11:44am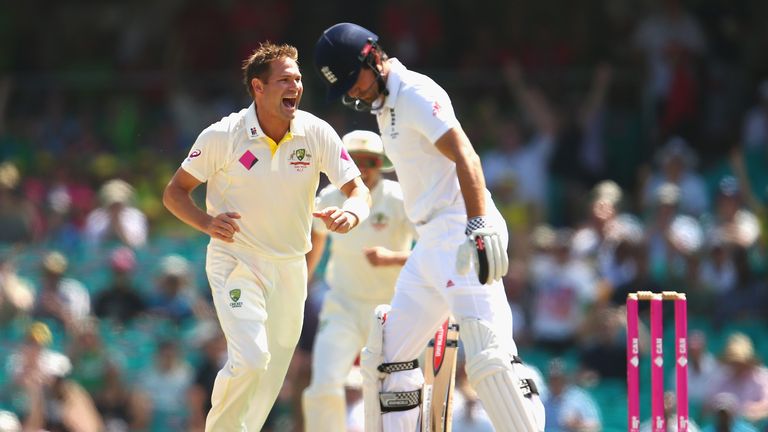 At 140-4 the Aussies are 311 ahead - already far beyond the biggest total ever chased down for victory in a Test at the SCG - this after England had been reduced to a humiliating 23-5 in the morning session before being dismissed for 155.
The pitch played its part, giving Australia's in-form bowlers all the help they needed with Ryan Harris, Mitchell Johnson and Peter Siddle all picking up three wickets.
But errors of judgement from the likes of Alastair Cook and top scorer Ben Stokes - just three shy of a half-century - summed up another desperate day with the bat for the tourists.
It probably wouldn't have looked so bad had the Aussies not been let off the hook when they batted first - they were 97-5 before Stephen Smith and Brad Haddin blasted their way out of trouble.
However, with our man of the day Ryan Harris leading the way with the ball there was more than just a whiff of inevitability about England's latest collapse.
But those expecting heads to roll after what appears sure to be a 5-0 whitewash Down Under need to think again. Captain Cook, director of cricket Andy Flower and batting coach Graham Gooch all came in for support from various quarters as the men to guide England out of their latest crisis.
Click here to watch highlights of the day's play, here for our report of day two and here for our photo gallery.
Gooch 'not responsible'
With England's batting continually failing to come up with the goods it would be easy to blame Gooch for not being able to prepare the top order for the Australian attack. Only one century - from Ben Stokes - in the entire series tells its own story but former England skipper Andrew Strauss says it is the players who should shoulder the burden of responsibility. "He is obviously doing lots of work in the nets with the players but he's not seeing any results from that," Strauss told Sky Sports. "I still think that players are ultimately responsible for their own games. The coach is there just to aid and help in any way that he can. You've got to be careful not to hold him wholly responsible."
Gooch himself said he couldn't fault the players' preparations, they just hadn't been able to implement gameplans in the middle. "There were one or two decent balls and one or two poor decisions in terms of batting," he said. "That's the way it's gone all the way through the series, we've not been able to get to grips with their bowling. You've got to apply your game, get out there and put that into operation."
Collier standing firm
Speaking to Sky Sports before the start of play the England and Wales Cricket Board chief executive provided staunch support for both Flower and Cook, whom he still believes are the right men to lead the next generation of England cricketers. "When you got through a transitional period you need somebody with knowledge, somebody who knows our system, somebody who works with all of our key coaches," he said of Flower, while adding of Cook: "Alastair fully deserves our support. It will take some time for people to reach their absolute pinnacle. We were convinced he was the right man at the time and we're still convinced today." Collier will be hoping the pair will not be scarred by the performances of this winter as England head into series against Sri Lanka and India this summer.
Beefy wades in
Ian Botham, who knows a thing or two about facing the 'old enemy', agreed that Flower and Cook should not be made scapegoats - and that some new faces will provide fresh impetus for the side going forward. "Andy Flower is a strong person, Alastair Cook is still learning his job as a captain," he said. "Maybe fresher faces, guys coming in without any baggage, might make their job a little easier. Certainly when Ben Stokes walked out there you wouldn't have thought that there was anything wrong. He was just out doing what he wants to do - playing cricket."
Harris the game-changer
Ryan Harris once again provided the perfect foil for Mitchell Johnson's dynamic pace at the other end as he kept the pressure on the England batsmen from the get-go. The seamer picked up the key wickets of Cook and Pietersen in a spell of 5-2-6-2 to send the tourists reeling, once again proving his worth with the new ball. "I don't think the wicket is getting any easier... if we bowl like we did today we'll go all right," he said afterwards, implying the end will come soon enough for England. However he did add - without irony - "It's obviously not a done thing yet... we figure they're going to fire at some stage." Even if they do, it will be too little, too late for England.