First and foremost
England's batsmen must learn from Colombo and score more big first-innings runs, says Nasser Hussain.
Last Updated: 07/04/12 11:06am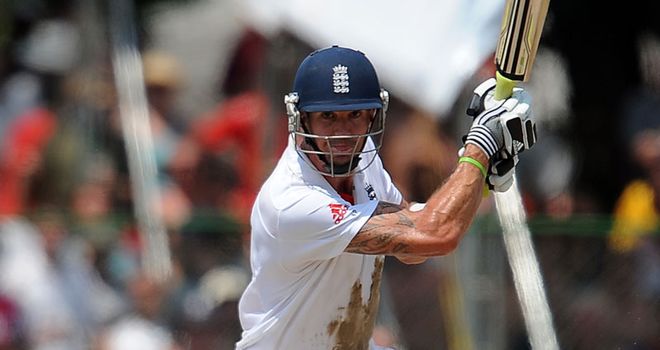 England's batsmen must learn from their second Test victory over Sri Lanka in Colombo if Andrew Strauss' side is to remain as the best Test team in the world, according to Nasser Hussain.
The tourists retained their place at the top of the world rankings with an eight-wicket victory at the P Sara Oval - their first win of the year - after Kevin Pietersen's first-innings 151 put England in control. Read our match report here.
Pietersen beat spinner Graeme Swann, who finished with match figures of 10-181, to the man-of-the-match award and Hussain, who captained England to 2-1 series win in Sri Lanka 2001, told Sky Sports that England need more big first-innings runs to stay clear of the chasing pack.
"I think England will actually be a little bit disappointed because they've finally seen in this Test what they should have done all winter," said Hussain, reflecting on the 1-1 draw with Sri Lanka which followed England's 3-0 capitulation to Pakistan in the UAE.
"Now, we've been very down on England all winter but if you look at the bare stats, I think England should have won all four if not all five of the Test matches.
"I heard the great Jack Nicklaus the other night talking about Rory McIlroy learning from his defeat [at the Masters in 2011] but also learning from victory and if England can sit down and learn from this victory - why did they win here and lost the first four? First-innings runs.
"Get the runs on the board in the first innings, get a lead, put the pressure on the opposition. They didn't do that in the first Test against Sri Lanka - they were bowled out for 190 against a pretty average Sri Lanka side."
Licence
England cruised to their victory target of 94 runs after bowling out Sri Lanka for 278 in their second innings, as Alastair Cook (49no) and Pietersen (42no off 28 balls) showed plenty of positive intent.
"They have learnt but there was no mystery in this attack," said Hussain. "Pietersen was running at bowlers because he knew exactly which way the ball was turning.
"England's batsmen went on about the DRS - Pietersen in particular in Abu Dhabi and Dubai, but he doesn't seem too worried about that now he is using his bat.
"The third thing is that the two guys smacking it [Cook and Pietersen] are the ones who got runs in the first innings, so when you go out second innings and you've already got runs you've got a licence - there is no fear of getting out.
"Those two guys knew they could smack it and they did and they took England to victory comfortably."
Disgraceful
After the victory, Strauss said he was "delighted by the way guys reacted to the challenge" of tackling Sri Lanka in sub-continental conditions.
Although England's captain averaged only 25 in the UAE and 28.50 against Sri Lanka, Hussain mounted a passionate defence of Strauss and insisted the opener's position in the side should never have been questioned.
"I thought it was disgraceful, actually, that a captain who over the last couple of years has taken England to No 1 in the world [should be treated that way]," he said.
"Just remember the dark days of where we were, and remember where we were when Pietersen and Peter Moores were arguing with each other.
"This lad has taken England to No 1 in the world in Test match cricket. I don't think you can start questioning him as a captain after four bad Test matches.
"Yes, as a batsman he needs to deliver and we saw that again in the second innings; in these types of conditions he's not the man you'd have at the top of your list.
"But in the whole winter the opposition, on flat pitches, got 300 twice. So it's working. Against a brilliant India batting line-up, they got to 300 once.
"So what Strauss is doing with this bowling attack and what the bowlers are doing, is that they've got control. They know what they are doing, he's captaining well.
"He needs to get some runs but he's not the first England captain to need runs. It will come but it will come when conditions suit his style of play."
England will host Test series against the West Indies and South Africa this summer and Hussain believes that not having everything their own way this winter will stand the side in good stead.
"I was a little bit worried at the end of last summer when they beat India and went to No 1 in the world - there was a little bit of talk from the dressing room about 'we want to be the best England team ever'," he reflected.
"I think this winter has just been a little bit of a wake-up call - just be the best team that you can be. Don't worry what's gone before you. Just be as good as you can be and that's what they did in this Test match."