Made in England
Jonathan Trott credits county cricket and the Lions with getting him ready for the international arena.
By Graeme Mair - Twitter: @gmair 1
Last Updated: 16/07/12 7:13pm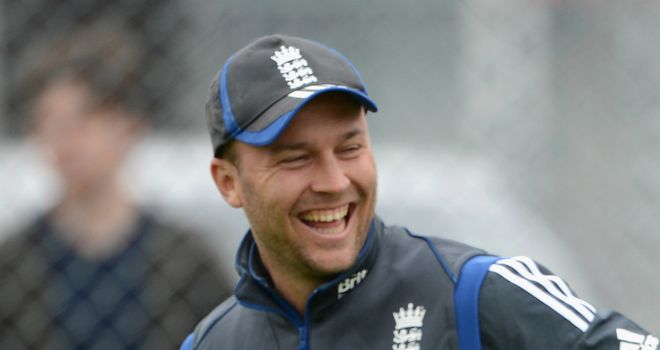 Jonathan Trott credits the English system with turning him into one of the top batsmen in international cricket.
Since his Test debut in 2009, Trott's runs have helped England claim top spot in the International Cricket Council rankings, a status they defend against world number two South Africa over three Tests this summer.
Cape Town-born Trott was part of South Africa's squad at the Under-19 World Cup in 2000, a group that included four members of the Proteas squad on tour in England - Graeme Smith, Jacques Rudolph, Albie Morkel and Thami Tsolekile.
Trott, who holds a British passport, chose to go down a different route, coming to England in 2002 and earning a contract to play county cricket for Warwickshire after hitting 245 on his second XI debut.
He became eligible for England in 2006 and was picked for two Twenty20 internationals against West Indies the following summer but failed to make an impact and returned to Edgbaston for another two years fine-tuning his game.
Arrived
The England selectors had seen something they liked and, after spending two winters with the second-string Lions, Trott was handed a Test debut in the 2009 Ashes decider against Australia at The Oval.
He responded in style with a series-clinching century in the second innings and has not stopped scoring runs since, becoming an established presence at number three in both Tests and ODIs, averaging 51.22 in the long version and 49.19 in the 50-over format.
"County cricket played a huge part in my career and will do for many others," he said.
"County cricket is very strong and a good breeding ground for international cricket. It is like state cricket was when Australia were so dominant in the late nineties.
"International cricket is different to county cricket in terms of your surroundings and the way you train and prepare. County cricket is more of a treadmill.
"For myself, I went through two winters with the Lions and that was a huge benefit when it came to making the transition into the full England side.
"The Lions provide an important bridge between county cricket and international cricket."
Targeted
The opening Test gets under way on Thursday at The Oval and Trott says he "won't be worrying about it" if the South Africans target him because of his background.
The Proteas beat England 2-1 on their last tour in 2008 and their bowling attack is once again spearheaded by Dale Steyn, the top-ranked Test bowler in the world.
Trott does not agree with those who think South Africa's bowling attack is the standout unit in world cricket.
"It's difficult to say who's got the best bowling attack," he said. "I think it's anyone on their day. We've got a very good one, so have Australia, and also Pakistan, as we saw in the winter, and South Africa.
"This is a very strong South African team coming to England to win a Test series again like they did last time, so they will be confident they can do it having achieved it once. It is our chance to put the record straight."