England 'bamboozled'
David Lloyd said 'abysmal' batting was to blame for England's defeat to South Africa in the first T20.
Last Updated: 08/09/12 6:12pm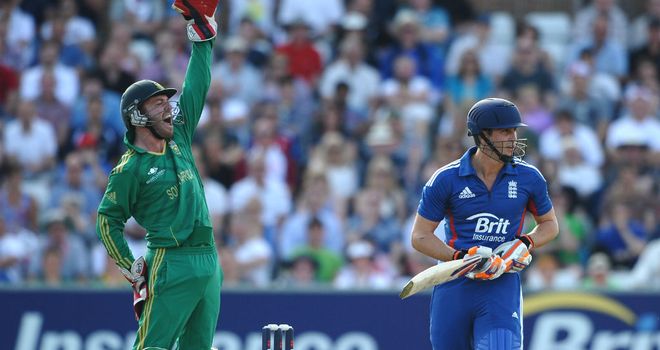 'Abysmal' and 'unacceptable' batting was to blame as England crashed to a seven-wicket defeat to South Africa in the first NatWest T20 international, says David Lloyd.
The hosts were outclassed from the off after being put in to bat, struggling to 66-4 off 10.2 overs before settling for a total of 118-7 off their full allocation.
In reply, South Africa cruised to victory in the first match of the three-game series, reaching their target with six balls in hand as Jacques Kallis (48no) and JP Duminy (47no) made light of knocking off the runs. Read our match report here.
"I thought England's batsmen were bamboozled by South Africa's tactics - opening up with a spinner and constantly changing the bowlers and changing the ends," said Bumble. "They never got going at all.
"They were pretty poor - abysmal really - and it was a tired performance from England. There were all sorts of really poor dismissals. It was procession of wickets with no-one ever getting on top.
"England spectators will say 'this is not acceptable, it's just not good enough'. These are international cricketers; I don't care what type of pitch they're playing on, they've got to adapt.
"If it's a slow pitch, it's a slow pitch for everybody. You just have to work a system. You can't just come in and say 'it's spinning, I can't play'. International players should be able to play on anything. I'm sure that Andy Flower would say this is totally unacceptable."
Criticism
After averaging just 5.50 with the bat in the 50-over series against South Africa, England's No 3 Ravi Bopara suffered more disappointment when he was removed for just six by paceman Dale Steyn.
Given the Essex batsman's recent poor form, Bumble believes it might be time to ring the changes.
"Ravi just needs to spend time in the middle. He's woefully out of form. I know that he gets heaps on Twitter, he gets absolute avalanches of criticism because he's not scoring.
"I don't mind standing up and saying I think he's a very good player but it may be a time when a player goes out of the team to give him a rest out of the spotlight and come back in with a bit of form."
Spark
Fellow Sky Sports expert Nasser Hussain believes Bopara shouldn't have been selected for the match.
"He should have been left out," he said. "If you look at Ravi's career he goes through these periods; he's just that sort of player.
"He never goes in teeing off. Maybe he should go in and just have a dart and play as a complete pinch-hitter. But he didn't. If England are looking for a spark, then Bopara must go out of the side with Luke Wright coming in.
"We've seen Luke Wright his year. He is playing well, he's in good nick, he deserves a chance and he's raring to go. Give him that go."