Opening up
Nasser Hussain told Sky Sports News that England's top order is failing them in Twenty20.
Last Updated: 28/09/12 12:02pm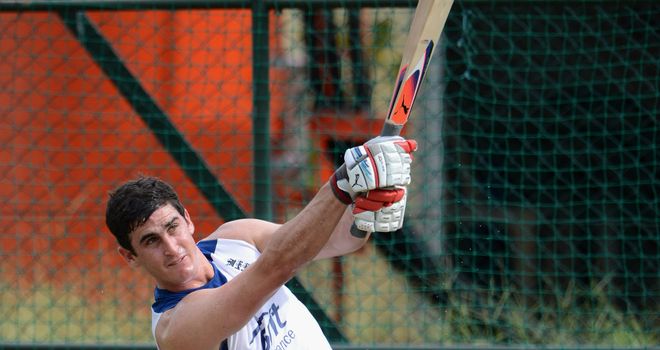 England saw their grasp on their World Twenty20 crown slip slightly with a 15-run defeat to the West Indies in Pallekele on Thursday night - and former captain Nasser Hussain blames shaky batting performances.
The defending champions were set 180 by the Windies, whose openers Johnson Charles and Chris Gayle contributed 84 and 58 respectively - and never fully recovered from losing two wickets in the first over of their chase.
Craig Kieswetter was first to walk when he found Kieron Pollard off the second ball of the innings, and Luke Wright slashed Ravi Rampaul's very next ball to Gayle at slip.
Alex Hales and Eoin Morgan eventually made a fist of chasing down the total, but Hussain believes Andy Flower may ring the changes for Saturday's clash with New Zealand after the defeat.
Hussain told Sky Sports News: "He'll be considering changes. The starts have been abysmal in this tournament if you look at it - they were 0-1 against Afghanistan, 1-1 after the first over against India and 0-2 after the first over yesterday.
"Obviously the openers have got things wrong between them but it's also the batting line-up. Eoin Morgan, in the absence of Kevin Pietersen, is England's best Twenty20 player and you don't need him coming in with the run rate up at 14 runs per over.
"Morgan has to bat the bulk of the overs. As an opposition captain, I'd be happy to see Morgan sitting on the bench as the run rate is going up."
Responsibility
Hussain emphasised the importance of a solid start from the opening batsmen, and believes Kieswetter and Hales possess the talent individually but must combine in a more effective way.
He said: "They're very talented players and individually the openers are very good players. If you look at Craig Kieswetter, he smashed South Africa everywhere in that shortened game and Alex Hales yesterday and at Trent Bridge, where he smashed 99.
"They're good players but they aren't clicking. Kieswetter is wasting a lot of dot balls which is putting Hales under pressure and if Kieswetter bats long, then Hales has to try and play the big shots. But yesterday, Kieswetter tried to play the big ugly shot and got out early on. They need to click pretty quickly or this tournament will start to go away from them.
"New Zealand are a very similar side to England - man-for-man virtually an identical side. They have good hitters in the likes of Brendan McCullum and Ross Taylor, so I wouldn't underestimate any side. Anyone can beat anyone in this game.
"England mustn't lose hope because they can't afford to lose another one. They must take every game as a knockout game and go out there taking the fear of failure out of the equation - if they see a ball they think they can hit, they must hit it.
"It's a fresh pitch tomorrow, they'll enjoy the conditions and will simply have to bat better because their batting has been pretty ordinary out here."
Absence
Whispers of England suffering from the absence of star man Kevin Pietersen are already rife in Sri Lanka but while Hussain acknowledges the ability of the estranged batting star, he insists the team must focus on themselves.
He added: "Obviously, Kevin Pietersen adds to any side. Some of the decisions that were made that led to him not being here were made by him, by retiring from ODI cricket - so the ECB is not completely at fault.
"Often, we focus on the ones who are not here rather than the ones that are, and I've always been a believer in backing the ones who have made the journey and are putting on the England shirts.
"Kevin Pietersen is a wonderful talent and any side in this competition would love to have him in their side. England would start better with KP at the top of the order but he's not here, and some of the guys have got to show that they can take over from him.
"As for the West Indies, they were put under a little bit of pressure yesterday by the hitting of Morgan and Hales so they may have to work on their bowling depth a bit, but Ravi Rampaul set the tone early on and they've got spinners if the wicket turns.
"In Chris Gayle, they have a man who is absolutely made for Twenty20 cricket. He does everything - he catches, he bowls and he bats... he even goes a little jig when he takes a wicket!
"The West Indies will be there or thereabouts at the end of this tournament."