KP has done his time
Nasser Hussain says Kevin Pietersen has served his punishment and must now return for England.
Last Updated: 02/10/12 1:35pm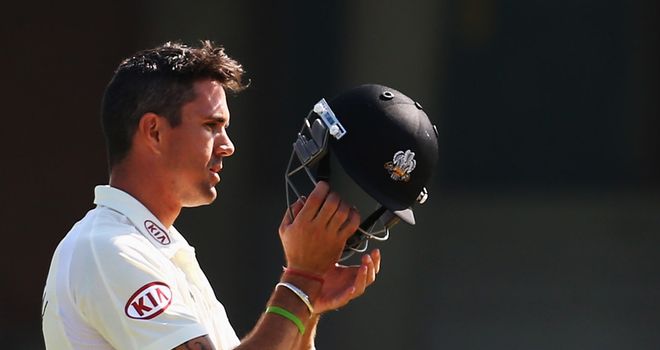 Sky Sports expert Nasser Hussain insists Kevin Pietersen has served his punishment and must now be welcomed back into the England team.
Reports on Monday morning suggest Pietersen is edging closer to a return to the England set up with the batsman ready to make a fresh apology for sending text messages to members of the South Africa team during the final Test between the nations in August.
The 32-year-old was not named in the England squad to tour India this winter but could be added to the squad if the issues can be resolved with the ECB, coach Andy Flower and the England players.
Former England captain Hussain told Sky Sports News: "The rumours are good at the moment and they are talking about meetings and things going in the right direction.
"And I hope so because he has served his time as far as I am concerned for doing the crime, especially if he misses out on the India tour.
"Let's just hope that they can all kiss and make up because England are a better side with Kevin Pietersen in it."
Last week it was reported that Pietersen may attempt to sue the ECB if they do not renew his central contract, on the grounds of unfair dismissal and breach of contract.
Hussain believes Pietersen and the ECB are now engaged in discussions over the legal situation but that sooner or later Pietersen will have to go into the England dressing room and address his team-mates and the issues of trust within the squad.
Talk like men
"There are two levels to this," said Hussain. "The first is a contractual and legal aspect between Kevin Pietersen, his agents, the ECB and the ECB's lawyers. I am guessing that is where we are at the moment.
"The other real main argument is why Kevin Pietersen was left out of the side. It was because of distrust within the dressing room and things that were going on in the dressing room, some of which we heard of, some of which we didn't. Eventually that is going to have to be solved.
"For me the sooner the better. Whether it is in New Zealand or next summer, they are still going to have to get in a dressing room and solve their issues and talk like men, shut the door on the ECB, agents, just Kevin Pietersen, Andy Flower and the players."