No easy introduction
Bob Willis says Kevin Pietersen will find it tough to slot seamlessly back into the England dressing room.
Last Updated: 03/10/12 3:59pm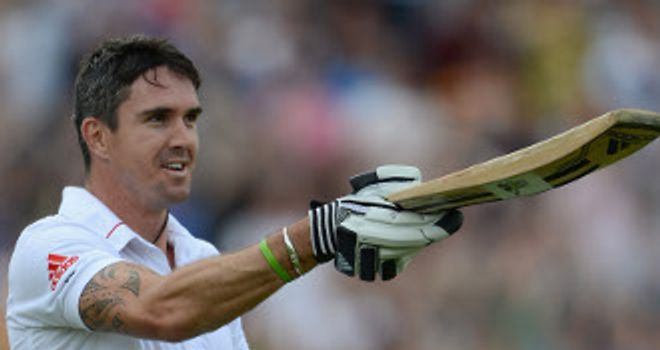 Sky Sports expert Bob Willis expects Kevin Pietersen to return to the England team for their first Test against India next month - but says he will face a challenging integration back into the squad.
Pietersen is available for selection having reached agreement with the England and Wales Cricket Board after being dropped for sending 'provocative' text messages to South Africa players during the summer Test series.
The 32-year-old signed a new central contract on Wednesday and Willis believes he will be on the plane to India, despite not being named in the original squad for the tour.
"Clearly there is no doubt about his form as an England player warranting selection," the former England captain told Sky Sports News. "The next Test series is still five-and-a-half weeks away, November 15, in Ahmedabad, and Pietersen should probably be there.
"They have offered him a central contract and they are talking about re-integration; although the squad has been announced for that India tour, Pietersen as a centrally contracted player should clearly be part of that team."
Willis believes Pietersen's return to the dressing room will be challenging for all parties, although his belated apology should pave the way for a fresh start for the team under new captain Alastair Cook.
Love of money
Asked how easy Pietersen's return would go down with the rest of the squad, Willis said: "I don't think it will be that easy and the individuals we are talking about are clearly Graeme Swann, James Anderson and Stuart Broad.
"They were probably involved in taking the mickey out of Pietersen to the amusement of the rest of the side. Kevin had a sense of humour failure and he did not enjoy this.
"He likes being top of the roost. We have talked about his love of money before and I don't think there is any denying that he likes the green-back dollar and he is going to earn as much as he can playing cricket.
"But his obsession in this area has clearly upset some of his England team-mates; some have been able to swallow it, the more mischievous have taken the mickey out of him about it.
Willis added: "A full apology to his team-mates has taken a long time to come out. Clearly the ECB have taken this matter very seriously, that is why it has taken so long to just get to this point. Clearly he is not just going to slot back into the England side.
Accomodating
"But I think the change of captaincy will have focused the management's mind. Alastair Cook has made it pretty clear that he wants England's best team to be taking the field so there is an opportunity there for a fresh start.
"Whether the team is ready to be as accommodating as Cook, we wait with bated breath. But it has been a long time coming, that fulsome apology."
The ECB say they are satisfied that the text messages Pietersen sent did not divulge any tactical information and were not derogatory towards former England captain Andrew Strauss, coach Andy Flower or the ECB - but Willis was bemused by those claims.
"I find it flabbergasting myself that Pietersen can convince the ECB that he did not say anything derogatory about the England captain," he said. "These texts were called provocative by the ECB so if they are provocative there must have been some criticism of somebody."
He added: "I expect Kevin has realised that his massive sponsorship deals probably would disintegrate, certainly outside of India, if he was not playing Test match cricket for England so there was a commercial aspect to this decision. He had to get back in the England side.
"There is no doubt about his ability as a player but he needs to, amongst all his other tattoos, tattoo 'team' on his arm or preferably on his forehead and just get on it."