The Overview: day 1
Nasser, Beefy, Bumble, David and Nick look at some of the key issues from the first day of the opening Test in Ahmedabad...
Last Updated: 15/11/12 2:40pm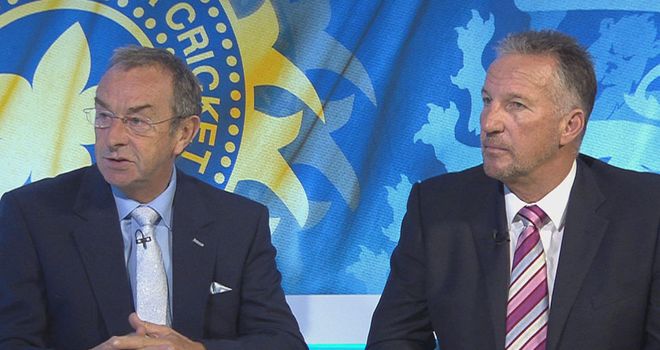 So said Nasser Hussain after the dynamic opener scored 117 off as many balls to help India to 323-4 on day one of the first Test against England, at Ahmedabad.
As ever our Sky Sports pundits were right across the action and here are their thoughts on some of the key issues of the day including that ton, Graeme Swann's four-wicket haul, Virat Kohli's unbeaten 98 and the prospect of Nass and Nick Knight stepping into the boxing ring...
The dye was cast when Alastair Cook called wrong and India chose to bat...
Mike Atherton: "I never think any pitch is a 'win the toss, win the game' scenario but this is an important toss. It looks a pretty flat wicket; it's been re-laid quite recently in September and they are expecting it to break up a little bit more than in the recent past. England's aim is to be in the game on first innings."
Sir Ian Botham: "The interesting thing about the wicket is that they've taken out a lot of the clay. They've put red soil in and everyone's expecting this to turn - Mahendra Singh Dhoni said probably a bit earlier than after three days; so the first innings is crucial for both sides."
Few heads were turned when England opted for Tim Bresnan over Monty Panesar...
Athers: "This is the rationale behind England's selection: they played on the 'B' ground in their final warm-up game and they got the ball reverse swinging after nine overs and got Bresnan to bowl very straight and he was quite effective. The question always for me with England on the sub-continent is how get that fifth specialist bowler - that second spinner into the side - and I guess it will dominate again at times.
Nass: "A lot of people out there will be saying Panesar must play - the moment you're left out you become a better cricketer. Patel's batting is absolutely key. The Indian bowlers will have seen a lot of bowlers like Samit Patel - nearly every state will have a bowler like him. They are not thinking 'oh crikey, Samit's bowling at me'. So if he's worth his place in the side, he's got to get runs and show everyone that he's as good a player of spin as anyone."
Patel got just an over before lunch as Virender Sehwag and Gautam Gambhir put on 120...
Nass: "The first thing you've got to say before you criticise the bowling is how flat this pitch is - it's incredibly flat and any seam attack around the world would have struggled batting on this. But where you don't bowl to Virender Sehwag is fourth stump, fifth stump because he'll open the face and work you away."
Nick: "Gambhir hasn't had much of the strike but he's played beautifully and solidly. Generally with him England have bowled wicket to wicket - the approach has been pretty good to him and he's been pretty respectful of the conditions and the way that England have bowled. It's Sehwag that's been the problem."
Nass: "It's an afternoon for not being boring - at times you have to be attacking with a defensive mind-set. On one tour I told Flintoff to go around the wicket and bowl bouncers for half-an-hour. You can't be very English and say let's be boring and out-patient them. You might do with Sehwag, but even him I'd play on his ego a little bit - set an 8-1 field and bowl outside his off-stump."
Prior dropped Sehwag before missing a stumping chance offered by Gambhir, prompting scorer Benedict Bermange to crunch some numbers...
Nick: "I've got a stat for you - Benny's been on fire here. He informs me that Sehwag has been dropped more times than any other player in Test cricket; so he's had his moments of luck; I guess some might say that he hits the ball so hard that it's uncatchable but he's had his luck along the way. You wonder how Benedict gets these stats, don't you?"
Nass: "I wonder how Benny got a wife, to be honest, with a stat like that! He needs to get out more!"
India powered past the 200-mark before Sehwag reached his ton off 90 balls...
David Gower: "A few years ago the Australians set a bit of a trend by trying to go at four-an-over so that gives them plenty of time, they reckon, to get ahead in the game and win it; well four-and-half an over which India are just under, gives them time. I can't really see what England can do to slow it all down. Swann has been the most effective at doing that but he can't bowl all day... Cook has to go with a bit of rotation."
Athers: "It was a fabulous hundred. You can talk all you like about England's bowlers and their plans but Sehwag has put many bowling attacks and captains to the sword and on his day he's probably one of the greatest openers the world has ever seen."
But England fought back as Swann claimed the scalps of Sehwag and Sachin Tendulkar, who was caught in the deep for 13...
Bumble: "Graeme Swann has been the bowler for England - Jimmy Anderson bowled admirably in the afternoon looking for reverse swing but in reality there's been nothing for the seamers. Swann's enjoyed his bowling spell. Sehwag scored a wonderful flat pitch hundred but Swann has been equal to it."
Beefy: "I think he was thinking about six! But I don't know why. He didn't really commit to the shot; whether he was trying to place it and was undone by turn or a lack of turn, I don't know but it was a massive bonus for the England camp. He'll be sitting in the dressing room scratching his head, given all his experience."
As India's runs dried up a little in the evening session, thoughts turned to Andrew Flintoff's upcoming boxing debut...
Nass: "Ever thought about going into boxing, Nick?
Nick: "With a physique like mine? What do you think?
Nass: "I guess with my beak it's not a sensible direction to go in either."
Swann bagged his fourth by bowling Virat Kohli, but there was no shifting Pujara...
Nick: "It's the first time I've seen him play and I'm really impressed. With Rahul Dravid retired, it's crucial for India that they find someone that they feel can bat with the same style. It's difficult to compare the two but he looked so cool and so calm that he almost eased to fifty without really knowing and we say that the sign of high-class player.
"He looked good off the back foot, which I think is important particulary when we're talking about young Indian players playing around the world in different conditions and he used his feet well, as you'd expect. He was very impressive."
Pujara stroked the last ball of the day for four to move to 98no...
Nass: "There's plenty for the England captain to think about. Should he have played the extra spinner? The day belongs to India. There has been a lot of talk, a lot of spin off the pitch before this series and now there's been a bit of spin on it. Alastair Cook lost an important toss and at the end of day one India are in a very commanding position."
Beefy: "He's well organised, is Pujara. He's played very well. That was a nice way to finish the day; he'll enjoy his evening meal and be thinking about those two runs tomorrow."
Don't miss day two of the first Test - live on Sky Sports 1 HD on Friday from 3.55am