Nasser Hussain and Sir Ian Botham urge England to be more aggressive against India's spinners
Nasser Hussain and Sir Ian Botham say England must be more aggressive against India's spinners.
Last Updated: 16/11/12 12:46pm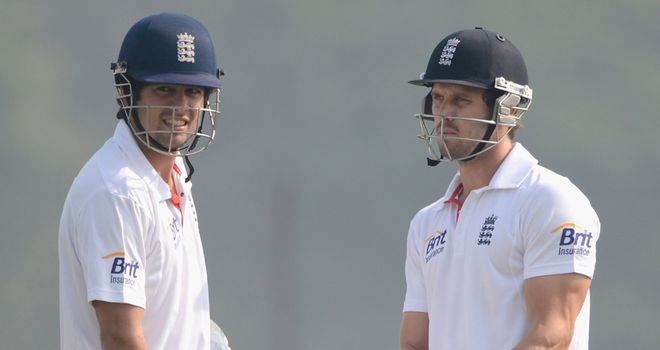 The tourists plunged to 41-3 at stumps - debutant Nick Compton (9), nightwatchman James Anderson (2) and Jonathan Trott (0) are back in the hutch after falling to spin - in response to India's mammoth total of 521-8 declared.
And Sky Sports pundit Hussain says England must be more adventurous at the crease if they are to remain competitive on the four-Test tour and win their first series in India since 1984-85.
"I always thought the tempo of the top three - Alastair Cook, Compton and Trott - might be a problem," he said. "When you've got 521 on the board and 18 overs to bowl, as India did, you can surround them.
"They know England won't run down and knock you over the top like (Virendar) Sehwag will; India have complete control but there is nothing new here and if England carry on playing in a very English way they will be in a lot of trouble.
"The toss has been vital - it hasn't been ingenious captaincy by MS Dhoni, even though it was a good declaration to leave so many overs to bowl in the evening - but England have got to change their mind-set quickly."
Hussain's fellow analyst, Sir Ian Botham, reckons India's attacking bowling policy at the end of day two would never have been replicated by England, while he says the visitors' batsmen must follow the returning Kevin Pietersen's lead and look to make runs while on the back foot.
"The overall tactics of the England team are infuriating," said Beefy. "India immediately put England's batsmen under pressure, a couple of balls turned, England went into their shell, defended and we are three wickets down.
Intent
"But if you reversed the teams' roles, England would never have had five men around the bat in a million years; when Virat Kohli came out for India (at 250-3) we had one slip!"
Botham continued: "As for the batting, Pietersen has only been out there six balls but he is manipulating the field, has scored a boundary and has shown intent, whereas for the others it was a case of trying to survive.
"The best form of defence can be attack as you take the pressure off yourself, take a couple of the fielders out of catching positions and rotate the strike. It is hard but we need to learn to put our feet on teams' throats."
Hussain, meanwhile, thinks right-hander Compton, 29, looked assured at the crease until his dismissal, but he was left nonplussed at the decision to send in nightwatchman Anderson instead of Trott when the Somerset star was ousted by Ravichandran Ashwin.
"Compton looked so comfortable against Zaheer Khan, even though he had one lbw shout that he got some bat on, and the other India seamers," added the former England skipper.
"But he likes to get back and across to the off-side and when India started bowling slower to him and got him on the front foot and reaching, he got out, so his challenge is to go get to grips with the spinners."
The one-time Essex man concluded: "We forget how nervous you get as a batsman, but it's weakness from batsmen to send in a night watchman.
"It's the equivalent of when someone at work says it's ten to five on a Friday afternoon you can go now and you say: 'Thanks boss, I will.' If you are offered the chance to bat against Ashwin for 10 minutes, you say: 'Go on Jimmy, you do it'.
"Steve Waugh did it for a while and said Australia don't need nightwatchmen - until he needed one - so it takes a brave man to say: 'No. I'm going in' - but perhaps Trott could have been that man."