The Overview: Day 3
Carrom balls, indefensible stroke-play and a good fightback gave Nass, Athers, Nick, Bumble and Gower plenty to mull over...
Last Updated: 19/11/12 12:37pm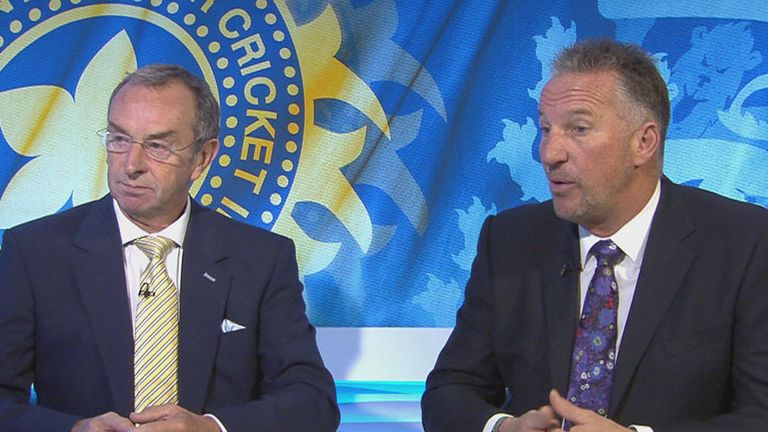 So after watching the tourists fold to 191 all out in their first dig, the Sky Sports commentary team were understandably (slightly) encouraged by England's improvement second time around.
But even at 111-0 (following on) a long, hard road lies ahead if they are to prevent India waltzing to victory in Ahmedabad.
Here's how the day unfolded and with England resuming on 41-3 in reply to India's 521-8 declared, it's fair to say David 'Bumble' Lloyd didn't hold out great hope for Alastair Cook's men...
Bumble: "It's looking desperate. Last night England had no clue against spin - this pitch is going to wear, so this is going to be really hard. They've got today to put things right but 41-3 chasing 521, good gracious! I'm not at all optimistic about England's chances; I just think it's going to be wickets all the way...
Good gracious, indeed! Surely Bumble was being pessimistic? But no. When Ian Bell ballooned his first ball into the air England were 69-5, with Ravichandran Ashwin and Pragyan Ojha wreaking havoc...
Nasser Hussain: "You can say what you like about England and the way they play spin but India were absolutely superb; their spinners were excellent and I thought MS Dhoni captained well. But England were a little bit clueless again; they were really frenetic and they didn't quite get the tempo of batting right. It has been either block or slog."
Mike Atherton: "It's been pretty disastrous for England but Glasnost has broken out here. I've actually been allowed inside the gates of the stadium this morning which probably comes on the back of India doing pretty well. I thought Cook and Pietersen did pretty well for those first 40 minutes; I know Pietersen was frenetic but he was trying to find a way. You could see method in his madness.
"But Ian Bell - for a senior player that was a disgraceful shot, really. You can take as much paternity leave as you like after that! Some people say 'get down the track and whack it over the top to send a message to the bowler' but the message that sent me was that he's got no faith in his defensive technique."
Nick: "It was indefensible. I cannot find any way to defend Ian Bell. People might say it's the way he plays; he's aggressive, he uses his feet well. But not to your first ball of the Test match! Give yourself a chance. There's nothing wrong with running down the pitch first ball, but just knock it anywhere if you're not there. It was reckless batting."
Still, at least new captain Alastair Cook was showing some guts and character...
Nass: "Alastair Cook should not be playing your side's best innings against spin. He's not natural against spin; if he's your best player against spin, they you should be concerned."
OK, let's move on as quick as this Test...Cook edged to slip and Samit Patel fell lbw leaving England on 110-7 at the start of the afternoon session and practically spun out of the game...
Nass: "The Carrom Ball was named after the board game in Asia (no Bumble, not Monopoly) where you flick counters out of the front of your fingers onto the board."
Bumble: "Somebody should develop 'the Cluedo'! That would be a mystery ball. Colonel Mustard with a custard in the library... What about 'the Scrabble'? You could bowl with a Scrabbled seam... He's just bowled him 'a Ludo'... Good grief, he's developed a Snakes and Ladders..."
Nass: "Ashwin wasn't the first to bowl the Carrom ball - it was around in your era. Jack Iverson and those sort of guys used to bowl it; Johnny Gleeson too."
Inevitably, India enforced the follow-on after dismantling England for 191, prompting Beefy to suggest the tourists' tactics left a lot to be desired...
Sir Ian Botham: "I seem to remember that in Dubai they went from block to slog and neither worked, as the results showed. It's no surprise that India enforced the follow-on and we will see more spin and they are going to have men around the bat. England have got to come up with a solution and from what I've seen so far, we are well short of that."
Athers: "On the face of it, it looks a pretty hopeless situation but you've always got things to play for in a Test match. It's a matter of improvement. You wouldn't have thought that it could get any worse after that first innings and they need to show India that they can play spin in these conditions.
Athers: "Dhoni has had a good day, with one proviso to that: when you've got 521 on the board, when the pitch starts to break up at the ends, when you've got two spinners in your attack, it's easy to look good as a captain. We've all been there - me and you [David Gower] especially - when you are up against it and you look a less good captain than your opposition. But Dhoni has been quite proactive and he hasn't let England's batsmen settle; he's not let things drift."
Dhoni mixed up his bowlers second time around but this time Cook and Compton proved inseparable, posting a hundred-stand off 204 balls...
Nass: "This innings, so far, gives a lot of hope to England - not only in this Test match, but in this series. It shows that they can bat - Cook and Compton will show to the rest of the dressing room that you can get runs against spin, that you can survive. There is a lot of cricket left in this series."
Beefy: "It was a good fight-back from England. Cook and Compton will regard that as a job well done after being made to follow-on. They'll sleep a little easier but there's a lot of work to do tomorrow, though. England still trail by 219 runs; not only do they have to get up to parity, they've then got to get something like another 200 ahead. It's a long, long way ahead."
Nass: "It's very good from those two - it's mentally tough more than anything else, following on with everyone writing you off. They've gone out second time around and given the England fans a little bit of hope."
Don't miss day four of the first Test - live on Sky Sports 1 HD on Sunday from 3.55am.