Monty Panesar should be considered for Ashes role after display in Mumbai, says Nick Knight
Should Monty Panesar play as a second spinner in the Ashes? Nick Knight says there's a case...
Last Updated: 25/11/12 12:37pm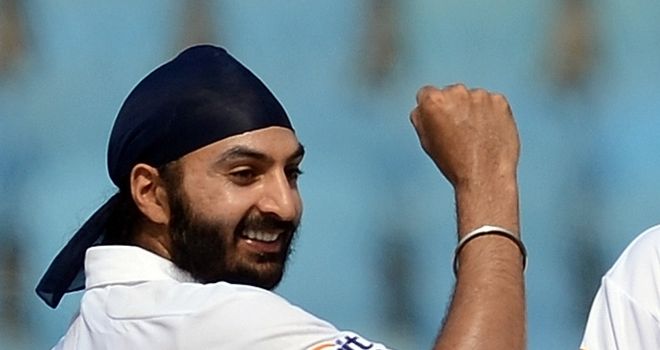 The Sussex spinner has played a star role as England moved to the brink of victory in the second Test, taking 10 wickets in the first three days after being brought in to boost the spin options alongside Graeme Swann.
Panesar has been used largely as a supplementary bowler in recent years, but Sky Sports expert Knight feels the improvements he has made to his game have made him worthy of a starting berth.
And he says Andy Flower should consider playing a five-man attack against Australia next summer.
"If we're not careful we're going to see Panesar used by England almost exclusively in sub-continent conditions," he said.
"I think he's better than that. Going back a couple of years maybe that was a fair enough decision but he's developed since his move from Northants to Sussex.
"He's played on wickets that don't turn as much, he's become a lot more patient, he's become a lot more mature and he's now expecting to get wickets. You see him clapping his hands and saying 'I'm bossing this situation'.
"The challenge England have got moving forward to the Ashes is do they go with two spinners?
"We have the debate all the time about the balance of the side, but number six very rarely contributes to the winning cause and maybe England have got to start looking at Panesar as a genuine option.
"When the wickets start to get dry throughout the summer we could have two spinners, three seamers and Matt Prior at six.
"Panesar deserves it, I think."
Pace
Panesar has taken a number of key scalps in Mumbai, twice removing Sachin Tendulkar's wicket, and has outshone team-mate Swann, as well as India's three spinners.
And Knight says the key to his success is the extra pace he offers compared to the other spin bowlers on show.
He added: "We debated years ago whether Monty bowls too quick and whether he needs to vary his pace slightly as he goes through his innings.
"He has basically decided that's a load of rubbish and he has a natural pace that he bowls at and it suits this surface with the extra bounce.
"I've been talking to Hawk Eye and trying to work out if there's any pace difference between the five main spin bowlers and the one difference is Panesar. He's averaging 57mph throughout this game whereas Ojha is about 53mph and Swann and Harbhajan Singh are about the same.
"They're all operating at about 52 to 53mph except Panesar - and what we're all saying is that's the pace to bowl at."