The Overview: Day 1
Showtime for Sachin, some comical running and a red card for Athers. It's crunch time in Kolkata...
Last Updated: 05/12/12 1:36pm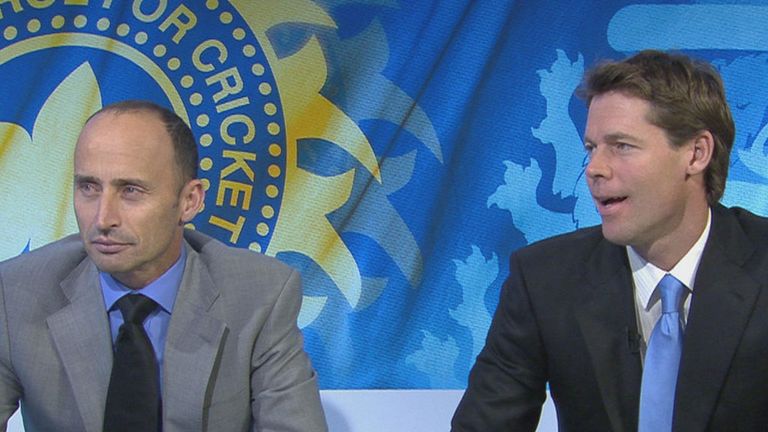 With the series delicately poised at 1-1, the home side struck the first blow at Kolkata by winning the toss (again) and opting to bat first (again) - although the Sky Sports experts didn't necessarily think that decision a bad thing for the tourists.
But could India rally? Could Sachin Tendulkar find some form? And would groundsman Probir Mukherjee - having already shooed Mike Atherton away from the pitch once - finally let our man take a look at the strip? Apparently so, it seemed, as the opening day of the third Test began...
Athers: The pitch looks very dry and cracked - I suspect there will be more reverse swing than we've seen in the other two games. You get the sense that the seamers will have a bit more work to do than they had in Ahmedabad and Mumbai - I don't think it is going to spin straight away as it did there, so it may be a better toss to win here.
Nasser Hussain: It's very odd that you play such a magnificent Test match in Mumbai - arguably one of England's best ever victories away from home - and make two changes, but I think they are changes for the better. Bell is a very, very good and proven Test match player and I think Broad has been struggling for a little while; he's not been struggling as much as people make out, because going into the series he was the leading wicket-taker in test match cricket this year, but away from home generally his stats are down and if he's not in top form then you change for the better.
Sir Ian Botham: I don't think there's any argument at all about the bowling department - I'm 100 per cent Finn should come in. I don't think Stuart Broad is match-fit, whether it's the heel or he's over-trained - I don't know what it is - but he's well below par. There is possibly an argument as to whether Bell could have come in for Patel rather than Jonny Bairstow, who enhances the fielding, but I'm fine with the way they've gone. I don't think England will mind losing the toss because it will do a little bit in Kolkata; it is winter and the game starts at 9am, so I'd be surprised if it doesn't do a bit.
Athers: I think people here feel that India here are a little bit rattled after what happened in Mumbai. There is a bit of pressure on MS Dhoni - he got caught up in a big row with the groundsman, who called him 'immoral' for wanting a pitch that turned on the first day so there's a bit of a ruckus there. There's obviously pressure on Tendulkar to do well, particularly after Ponting's retirement, and pressure on Virat Kohli who hasn't really done anything in this series. Harbhajan has been left out, marooned on 99 Tests. So there's a feeling that India's senior players are not really making much of an impression.
After putting on 47 for the first wicket, Virender Sehwag and Gautam Gambhir produced a fine impression of two men clueless at running - Sehwag the man to go, chasing an improbable third...
Nick Knight: Let's start by giving England some credit; they hunt in pairs, it was brilliant by Samit Patel to stop the ball before the rope and a brilliant throw from Finn. But the running is quite comical, really; what the communication was I don't know. Sehwag turns blind, then he runs and doesn't know what's happening and he's got no chance to get back. We see this from time to time with India and they don't generally get punished because they have such outstanding individual players that they can always gloss over it. But it's still an area that India have to get better at.
Nass: I am our run-out specialist! When you run past each other on that second run there should be some communication - we're coming back for three or we're not - and turning blind is schoolboy stuff. I think that Gambhir was surprised that Sehwag wanted a three because generally he deals in even numbers!
India lost another wicket when Monty Panesar bamboozled Cheteshwar Pujara (16) with a quicker one, before the hosts reached lunch on 90-2...
Nass: There's not a lot in this pitch for Monty - it looks like the danger ball is the one that Pujara got, which targeted the stumps. It was a very good bit of bowling by Monty - he set up Pujara beautifully by changing his pace. The ball before was a lot slower at 52.7mph, the next was slightly quicker at 56.3mph; that's all you need. It skidded through. So Monty can vary his pace - you just don't need to do it every single delivery.
Athers: I think England have had a pretty good morning - there was absolutely nothing for them in the pitch but they got the huge bonus of getting Virender Sehwag out in that fashion and then Pujara just missed a straight one. They've just got to keep on chipping away if they can.
A fair few umpires have sent Athers on his way over the years, but groundsmen? Not so many. When Athers went to inspect the pitch ahead of day one, has dismissed with some disdain by groundsman Prabir Mukherjee - much to Bumble's mirth...
Bumble: He sounds a great character. There's been all sorts coming out during the week; he had a right jab at MS Dhoni and there were reports that Mike Atherton and Victor Marks were shooed off the pitch as no media were allowed to look at it.
Going back in the history Sourav Ganguly, who owns Kolkata, was shooed off the pitch as he was doing a pitch report.
Nass: Getting rid of Atherton is absolutely fine, though, isn't it? 'Get off my pitch, Atherton!' Poor old Ath just strolled out there to have a look and update us but was told 'no you can't. I don't care how long you batted in Johannesburg, Mr Atherton, off you go!'
Back on the pitch, Gambhir (60) continued to bat with some authority until Panesar tempted him to cut at one that bounced - Jonathan Trott taking a reflex catch at slip to make it 117-3...
Nick: He played beautifully. I think he'll feel the onus of a big score because he'll realise that some of the other players in the middle order haven't been in good form. I thought he played beautifully in the last Test match in the second innings in Mumbai, so he has a little bit of form. I thought he played really nicely when he was in and he set up the innings, so he'll be desperately disappointed with the way he got out. Give credit to Monty Panesar because there's a little bit of bounce but he was set on 60. It was an excellent catch from Jonathan Trott, though, at slip.
Tendulkar carried on grafting away, but Virat Kohli's poor run continued as James Anderson got some well-deserved reward...
Bumble: Kohli is the golden ball - he is the new Tendulkar - and so far England have kept him very, very quiet. It's a desperately slow pitch and Swann has come in very, very close at slip because he knows the outside edge is going to go down. Sachin's still in there, which is testament to the man himself. He's feeling for the ball time and time again but he's still there. It's a dig in, it's a grind from Tendulkar.
India's position would have worsened had umpire Rod Tucker upheld a convincing lbw decision against Yuvraj Singh when he was on nought - the absence of DRS surely saving him - but no further wickets fell and tea arrived with the scoreboard showing 172-4...
Athers: I think England will be really happy with the two sessions that they've had. It's clearly a pretty good batting pitch so to nip out four in the first four hours is pretty good, although Tendulkar is starting to look a little more at ease. It was an almighty struggle for him at the start but you just got the sense in that 40 minutes before tea that he was starting to find his range a little bit.
I sat in the crowd for a lot of the afternoon session because the press box is so grimy and you do forget what it's like. The crowd take ownership of Sachin; every time there is an appeal, it's almost like an affront against the thousands who are in the ground as well and they start hurling abuse at Anderson or whichever bowler has appealed. You feel like they are really with him every step of the way. He's clearly not the player he was 10 years ago but what we've seen is that he's still prepared to battle it out - that's what you really want to know of these great players as they start to age. Have they still got that competitive instinct? We've seen today that Tendulkar is prepared to graft away.
Yuvraj struck the first six of the Test as he attempted to up India's pedestrian run-rate and he was succeeding when Graeme Swann induced a false shot...
David: England, again, have this happy knack of picking up a wicket when they need it. This is a big blow, actually. India had just been changing the pace of the game and Yuvraj had been playing ever so well. He'll be mortified at this.
Beefy: I think it just stops on him a little bit; he's played through the shot and it's the simplest of catches. Anderson makes no mistake with that - those are the catches you dream about in that drive position. Yuvraj had got India going but he's gone.
Still 'the little master' - clearly determined not to go the way of Ponting just yet - battled on, his fans eagerly hoping to see his 52nd Test ton but with the score on 230 those hopes were dashed... Matt Prior just about clinging onto a tickle behind.
Nass: Anderson deserved that wicket. He's bowled really well to Sachin Tendulkar. There was as little bit of movement away. It was a beauty, it really was. There was nothing wrong with the shot; perhaps you could argue that Tendulkar didn't move his feet right back into the shot. Prior takes it but he just rolls around to make sure he's got it. Maybe Sachin just lost his concentration after the drinks break.
Finn definitely lost his concentration - and took his eye off the ball - moments later as MS Dhoni and Ravichandran Ashwin dallied and contrived to present the tall seamer with a golden run out opportunity which was spurned...
Nass: Finn had plenty of time - they would both have been at the same end. Dhoni was going, Ashwin was coming back and then came the fumble. He had time but you do go for it; you don't realise you've got more time. Someone needed to say 'time'.
It seemed India would suffer no further loss before stumps - only for Anderson to knock back Ashwin's middle stump in the penultimate over of the day to make it 268-7...
Beefy: Anderson and his team-mates are pumped up. England have had a very good day. It went through the gate, just angled in - it really hasn't done anything. It's just angled but as far as Anderson's concerned it's perfect. It's been a good day for Alastair Cook - he would have been worried after losing the toss but all of the bowlers have performed. The new ball is just four overs old so there's all to play for tomorrow. Jimmy Anderson picked up three wickets, Monty Panesar two; Jimmy Anderson's the leader of the pack and he's lived up to that today.
Nick: It's unquestionably England's day and England's session (three wickets for 101). The bowlers have been made to work hard but they've got the ball reverse swinging for the first time in the series and Anderson has come up trumps. Panesar has been brilliant once again - 35 overs 2-74 - but all of the bowlers can be pretty proud of their achievements on this first day on a flat, benign surface. Sachin Tendulkar (76) is back in the runs which will please him and the Indian team. MS Dhoni (22no) is still there and gives them some hope but they will be disappointed with 273-7.
Watch day two of the third Test between India and England from 3.25am on Thursday on Sky Sports 1 HD.