Sky Sports cricket panel discuss England's turnaround in India
Our experts discuss how England have transformed their fortunes in India after their first Test defeat.
Last Updated: 10/12/12 9:07am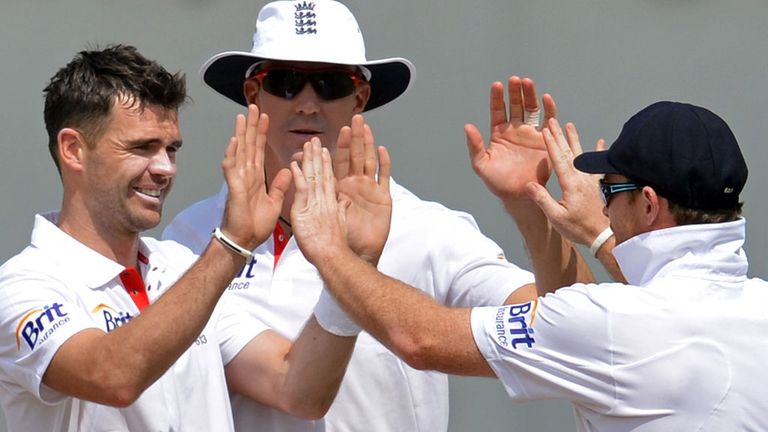 England's turnaround has been remarkably impressive. After that heavy loss in the first Test they have since cruised to a 10 wicket margin of victory in Mumbai on a turning track in the second Test before eventually sealing an inevitable win in Kolkata on the fifth day, following India's second innings batting collapse on Saturday.
After the third Test win the Sky Sports panel of experts - Nasser Hussain, Sir Ian Botham, Nick Knight and David Lloyd - discussed the key reasons for England's change in fortunes in India.
Alastair Cook's batting
Knight: It has been an incredible turnaround from that first Test match loss in Ahmedabad and you question how that has happened. If you go back to that match, in the second innings - after playing nicely for 40-odd in the first innings - Cook made 170-odd. It wasn't so much the runs but the method and way he scored them which was important. There was a calmness and authority to the way he played. It was almost a message to the dressing room: 'we can do this'. Although they went on to lose the game there was a huge message sent there from the leader of the team.
Bumble: He's the leader of the team, he's a thoroughly sensible bloke and he's go this great skill. He knows how to bat in Test match cricket and how to set a platform for the rest of the team.
England's bowling attack is out performing India
Botham: The poor old bowlers get overlooked. The batsmen have had some big scores and done well but at the end of the day you've got to take 20 wickets and these guys have stuck to their tasks magnificently. They've totally out-bowled India. They've got almost twice as many wickets as India in this series and that's why they're 2-1 up. As a unit England changed it for this match, they brought in Finn for that extra pace and bounce and he encouraged Anderson, whose pace was up in this game. They all work well together, Monty coming on early with the new ball is doing an excellent job, then Swann does well when there's more grip and the seamers are reversing it. You struggle to fault the bowlers over the last two games.
Good decision making from England's management
Knight: There were questions about what Cook's relationship with Andy Flower would be like before this series and they've had to make some tough decisions. They got it badly wrong in the first Test and opted to drop the vice-captain Stuart Broad for this game. Some may say it was a straightforward decision, well, it may be when you're out of the team and you can do it willy nilly. It wasn't an easy decision from within the team. But it was a decision well-made and that was proven by Steven Finn's performance. They saw the error of their ways in the first Test match, got it right in the second Test match and got it right again here.
Jimmy Anderson's impact in Kolkata
Knight: India isn't the place to go and bowl if you're a frontline bowler, you don't very often get things in your favour in India. However, one thing they've had in their favour in this Test match, which they haven't had in the first two, is the reversing ball. But it isn't about only having the reversing ball, you have to be able to bowl with it. Anderson is working them over constantly, one in one out, he hides the ball and they don't know which way it is turning. They've out bowled India in their own conditions.
Bumble: Anderson is the leader of the attack, not only on the field but also in the dressing room. He's a no nonsense character. He's fit, he's strong and he knows what he's doing. His bowling skills are top at the minute. Think about when he came into international cricket: if it swung he was fine if not he had nothing to offer. Now, he's learnt the skills. Jimmy Anderson prepares himself properly - India take note of that - and does the job.
All-round team performance
Knight: What will impress and please Alastair Cook and the management more than anything, compared to the victory in Mumbai [and the defeat in Ahmedabad] is it was a more all-round performance, by that I mean it wasn't all about Cook with the bat or spin with the ball. We often hear from them that it is all about unity, togetherness. That victory will pull everyone together. It was a really inclusive performance. Steven Finn was an excellent selection and got a few wickets, Jimmy Anderson was great with the reversing ball, Ian Bell, ok, he only got 28 off 28 at the end but there was a bit of punch and bite in his innings which will serve him well going into Nagpur. They look in good shape, team wise.
Bumble: England's performance in the last two Test matches have been superb. They've had great management, good skill, good captaincy, good leadership, senior players leading the attack and good selection. It has highlighted in the first game at Ahmedabad what a terrible selection it was to leave Monty Panesar out of the game. He's come in, settled in. We've had terrific contributions form Pietersen, Nick Compton has settled in nicely, Jonathon Trott did well in the first innings here. They've had little bits from Samit Patel, Matt Prior has been excellent with the bat. There have been contributions all the way down. And fitness - England are light years ahead of India in that department.
Faith in Kevin Pietersen, who scored 186 in second Test
Botham: He is a magnificent player. The great thing about him is when he scores he scores quickly and that gives you time. It puts the opposition under stress. Their spinners were going magnificently in the second Test and then Cook and Pietersen, who have conflicting styles, but both effective, suddenly nullify them for a whole day. They both got hundreds, put England in a strong position and then England's spinners out-bowled India's.
Bumble: I think he's the best England player I've ever seen. He gets you on the edge of your seat.
Nasser: When you're 30-2 team spirit doesn't buy you a lot, you want Kevin Pietersen strolling out to the middle. It was a good decision to include him but it was a last minute one. It wasn't a cunning plan to bring him back. Whoever made that last minute decision, whether it was Cook, Flower or [Managing Director Hugh] Morris or a combination of them all, they made the right decision. You want your best players in India.