Sir Ian Botham says Joe Root should be an automatic selection for England's tour of New Zealand
Beefy says Joe Root should be an automatic selection for England's upcoming tour of New Zealand.
Last Updated: 23/01/13 4:55pm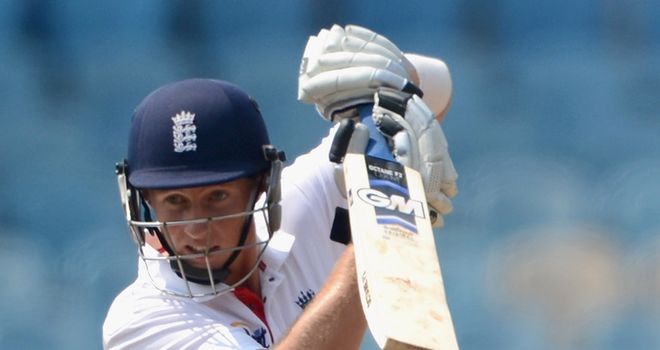 Yorkshire batsman Root, 22, struck 57no from 45 balls in the fourth one-day international against India to boost his 50-over average to 66 in his fledgling career.
The knock could not save England from a five-wicket defeat - a result that earned India an unassailable 3-1 series lead with one match to play.
But it did impress Botham, who said Root must be given every chance to impress when England tour New Zealand in the coming weeks.
Chairman of selectors Geoff Miller will announce England's 15-man Test squad to tour New Zealand early on Thursday morning.
"I would certainly be taking him to New Zealand and not sending him to be with the England Lions," said Botham of Root, who scored 73 on his Test debut against India in Nagpur in December.
"I think he should now stay in this side and he's got a chance to cement his position. Other players are going to come back but I think that England in that middle order need someone of his ability. For me, he would be an automatic selection."
Disappointing
Root has already been overlooked for England's Twenty20 and ODI squads to tour New Zealand - a decision the selectors may come to regret after Alastair Cook's side suffered a third straight 50-over defeat in India.
Alastair Cook and Kevin Pietersen both scored 76 but England failed to recover after collapsing from 132-1 to 142-4 and India overhauled their final total of 257-7 with 15 balls to spare, as Rohit Sharma (83) and Suresh Raina (89no) led the charge.
The defeat means that Sunday's fifth and final one-dayer in Dharamsala will be a dead rubber but Botham told Sky Sports HD that England ODI supremo Ashley Giles should use the game to re-think his side's 50-over policy.
"England will look at their batting, which again was disappointing in the middle," said Botham. "Root was the only real highlight.
England might want to re-think the idea of dropping him down the order. From what I've seen, he ought to be up higher in the order - he looks a very well-organised player.
"Jos Buttler deserved his chance and took his chance; he kept fine today with the gloves and showed how he can improvise when he batted.
"That means there is more competition for other people who want to get into the side in that position. I think that Craig Kieswetter will now go to the back of the queue.
"Eoin Morgan is struggling for runs and why they put Samit Patel up the order today I don't know because I thought he's finished a couple of innings quite well at seven.
"England still seem to be swimming around in a bit of a circle, not quite sure where they are going or who they are going to pick. They need to start making their minds up.
"Jade Dernbach is a major worry for me. I wouldn't have played him today. I don' think that he has the control, I don't think that he has a stock delivery for one day cricket and, again, he leaked runs far too easily. He might have ended up with 1-59 from 9.3 overs, but he had 0-50 from seven and that's where the damage was done.
"You've got Stuart Meaker here - and you're trying to find out what these kids have got and they don't play. You're not going to find out if they are carrying the drinks. So there are a few areas for England to look at."
Disappointed
Man-of-the-match Raina was caught by Cook at slip when he had 41 but received a life as seamer Steven Finn had inadvertently broken the stumps at the non-striker's end in his delivery stride.
India, on 178-4 off 35 overs, needed 80 to win off 90 balls at the time, and umpire Steve Davis subsequently called the delivery a dead ball, reprieving Raina, on the basis that Finn's actions had distracted the batsman.
But Botham said: "I don't think it is a distraction. I, myself, have done it many times as have many opening bowlers - Shaun Pollock immediately springs to mind - who have come in and tried to get close to the stumps only to catch the stumps as you are bowling. That's not called a dead ball.
"Ravichandran Ashwin runs up to bowl, stops and then bowls - is that a distraction? All I will say regarding the wicket is that Raina wasn't distracted; he was bitterly disappointed to be out. It takes a little while for the decision to be made."
Watch the fifth and final ODI between India and England from 3am this Sunday, live on Sky Sports 1 HD.