Champions Trophy: James Anderson praised after bowling England into semis
Nick Knight praised Jimmy Anderson as England swept past New Zealand into the semi-finals.
Last Updated: 17/06/13 12:01pm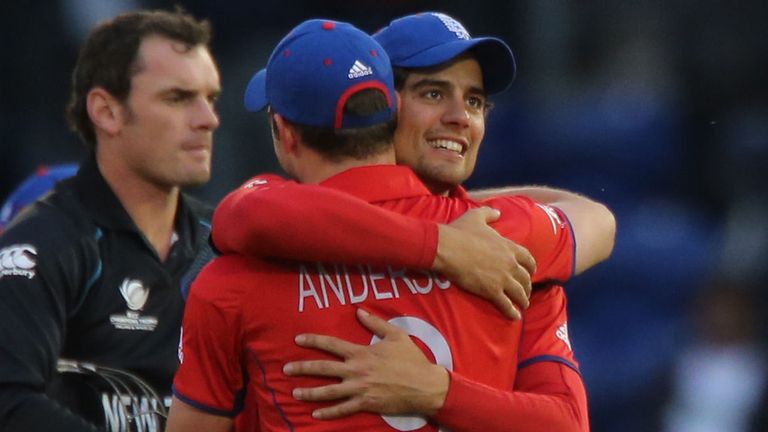 Alastair Cook's men fought valiantly in between the Cardiff showers on Sunday to defend their total of 169 and win by 10 runs, in a match reduced to 24 overs.
Skipper Cook had slapped 64 off 47 balls to impress with the bat but, after England lost their last seven wickets for 28 runs, it was left to the bowlers to come to the rescue and Anderson snared both Kiwi openers cheaply with a dazzling new-ball display to set his team on the way and finish with 3-32.
Nick Knight was full of praise for the England attack and said: "We were slightly concerned with the way England finished the innings and we felt the England bowlers would need to be at their best - but that's exactly what we got.
"It was a terrific performance with the ball. In the post-match interviews you got a hint that New Zealand felt behind the game all the way and that was partly with the way Anderson and Stuart Broad bowled.
"They didn't just pick up the wickets, they stopped New Zealand from ever getting their innings going.
"It meant England were always just ahead. The conditions had been in their favour with the ball nipping off the slightly damp surface, but they bowled beautifully.
"They had so much control and in the end there was nothing more New Zealand could do. It became a bit of a slog in the end."
England will face either South Africa or India in the final four, depending on Australia's result with Sri Lanka on Tuesday, and, despite the ongoing concerns with the batting, England should be confident with the form of their bowling and efforts in the field, believes Sir Ian Botham.
The former England all-rounder explained the home side's catching in particular carried them home, while New Zealand's defeat was largely down to their failures in the field.
"The big difference between the two sides was the fielding and that was very unlike New Zealand, who dropped a lot of catches," he said.
"They didn't look themselves in the field, while England were the opposite. They were quick across the ground and they had the right fielders, in the right place at the right time.
"If England had got a few less runs they would have been looking at those dropped catches."
And although captain Cook came good not only with the bat but with his fielding placement as well, Knight was delighted to see Anderson wrap it up in style.
"England had key fielders in key positions and overall it was a good day for Alastair Cook," he said.
"And with Anderson getting the last wicket it was a nice way to end the day - Jimmy was simply outstanding."