Sir Ian Botham says England 'bottled' Champions Trophy Final
Sir Ian Botham criticised England's players for losing their heads in the Champions Trophy Final.
Last Updated: 24/06/13 6:45am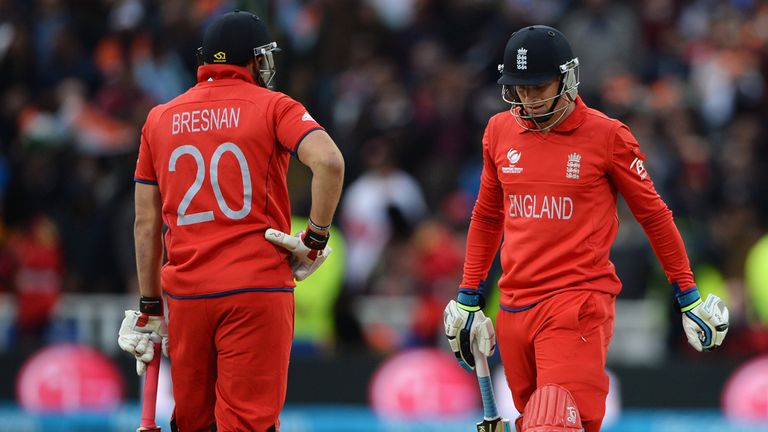 Alastair Cook's side looked to be on course to beat India in Sunday's rain-shortened showpiece at Edgbaston after bowling their opponents out for 129 before the fifth-wicket partnership of Eoin Morgan and Ravi Bopara steered the tournament hosts to the brink of victory.
England needed just 20 from the final 16 balls, but Ishant Sharma dismissed both batsmen in successive balls and after Jos Buttler was sent packing for a golden duck, England stumbled to 124-8.
India's spinners had done much of the damage early in the match, but Sky Sports pundit Botham said England's players lacked the mental strength to win the game in the closing stages.
He said: "We talked about India's spinners before England's innings started and we thought they'd have a big part to play, but England had won it and then they just bottled it. I think that's the word. They took the gas a bit.
"I thought Morgan and Bopara had got England back into a great position, but look at the shot Buttler played when he walked. It was his first ball and he missed it by about a foot. There was no need for that then. He didn't need to have a swing first ball.
"It looked to me that suddenly it all just became too much for them.
"Today they took a step backwards. You can call it pressure, bottle or whatever you want. At the end of the day, India turned the screws and England lost."
Question
Fine margins let England down after the Birmingham rain saw the game reduced to 20 overs per side and Botham highlighted an early overthrow by Tim Bresnan which gifted India four runs.
But he also questioned the controversial decision by third umpire Bruce Oxenford to dismiss Ian Bell after he was stumped by MS Dhoni with TV pictures initially appearing inconclusive.
Botham said: "I'd like to question - and I'm not quite sure - how we reached the decision to give Bell out.
"That was very strange and that was a turning point. That was a very strange decision because there was nothing that I saw to say that he was out.
"He was perplexed with the decision and we didn't understand it. There was nothing conclusive to say that it was out.
"We will talk about things like that, but we'll also talk about fielding and overthrows - and England didn't field at their best today."
Despite leaving a number of influential names at home, India finished as the only side to go through the Champions Trophy unbeaten.
Botham didn't believe MS Dhoni's side would play as well as they did throughout the competition, particularly in the field, but says they were worthy winners.
"Who would have thought it of this young Indian side?" he added.
"All the big names like Sehwag, Tendulkar, Yuvraj Singh and all of those people were left at home and this young side have come here and done it.
"The fielding energy was there. They had run-outs today and the fielding was excellent again from India. The catching was good and you can't fault them.
"They deserve it."