Pick of the day
We review day one of the opening Ashes Test at The Gabba
Last Updated: 21/11/13 2:24pm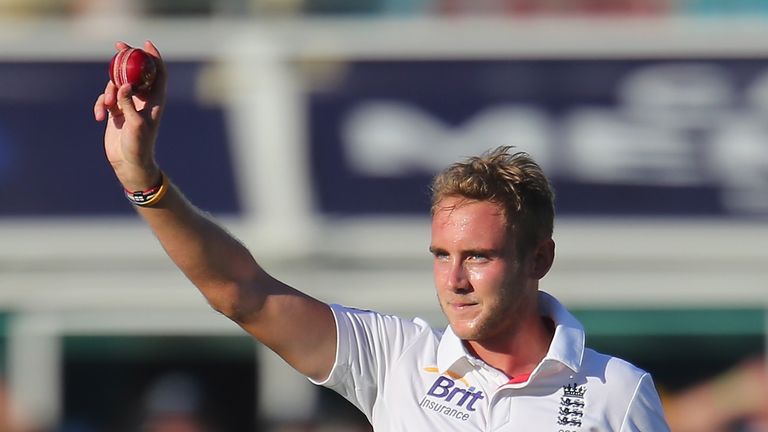 Australia won the toss and made the simple to decision to bat first under on a typical Gabba pitch offering pace and bounce.
But Stuart Broad - booed throughout by the partisan crowd - claimed five wickets as Australia were reduced to 273-8 at stumps.
We take a look back on the action with a range of opinion, analysis and video.
Opening chapter
There were enough twists and turns on day one to keep everybody interested but it is England who finished on top. Australia lost opener Chris Rogers in the fourth over but were going along nicely thanks to a 59-run, second-wicket stand between David Warner and Shane Watson. But Watson's exit shortly before lunch, wafting to second slip off Broad, was the start of a collapse that saw Australia reduced to 132-6. Brad Haddin and Mitchell Johnson repaired some of the damage with a 114-run partnership before Johnson (64) and Peter Siddle fell to the second new ball late in the day, Haddin remaining unbeaten on 78. Click here for full report.
Man of the day
Not a difficult choice with Broad producing the perfect riposte to his many Australian critics. His first delivery was pulled away for four by David Warner to raucous cheers but the day steadily improved from that point. He took the first four wickets to fall - including bouncing out Chris Rogers and Michael Clarke - and returned late on to end Johnson's resistance with a full inswinger. On a blameless pitch his figures of 5-65 from 20 overs represented a fine effort and set the game up nicely for England.
'Quite enjoyable'
Broad was understandably pleased with his day's work. The man himself was keen to play-down his treatment by the host nation, preferring to focus on the job at hand. He said: "After losing the toss on what I felt was a belting batting wicket, to take eight wickets in a day we have put ourselves in a really strong position. I had prepared myself for a little bit of stick and boos but I quite enjoyed it... The Aussies are good sports fans. They want to see tough, hard cricket. They like to give the opponents a bit of stick but they appreciate good sport." Johnson, meanwhile, had a positive spin on Australia's performance: "We fought back really hard. Brad and myself put on a nice partnership of 100. That was a really important part of the day for us and we're definitely back in the game."
Expert view
Former England captain Andrew Strauss, who oversaw Australia's downfall three years ago, was impressed by the way England excelled in unfavourable conditions. "A lot of people will be waking up in England thinking 273-8 is not a bad score but the wicket was very, very flat and there was no seam movement at all. I think England were worried after the first hour - they were thinking 'I'm not sure we're going to get many wickets on this'." Broad has now dismissed Australia skipper Clarke eight times in Tests, something that has not gone unnoticed by Strauss: "He has got the wood over Michael Clarke, which is a massive role for him to play. Clarke is really struggling with his short balls and the longer Stuart Broad can keep exploiting that, the better it is for England." Click here for Michael Atherton's analysis of Clarke's problems against the short ball, plus you can listen to Sir Ian Botham and David Lloyd in our all-new Ashes podcast.
Milestone moment
Kevin Pietersen was presented with a silver cap by England and Wales Cricket Board chairman Giles Clarke before the start of play to mark the occasion of his 100th Test appearance. Pietersen is the 10th Englishman and 56th player overall to achieve the feat. He took a catch in the covers to dismiss Warner during the afternoon and briefly exchanged words with Haddin later on - but it was an otherwise quiet day in the field for the 33-year-old, who has scored 7,887 runs at 48.38 during his Test career to date.
Catch up
You can relive all the best action from day one by reading our interactive commentary from the Gabba, tailor the highlights with the Ashes Events Centre and view a gallery of the best images here. For in-depth discussion and analysis, tune in to the Verdict at Night show on Sky Sports 2HD at 9pm.