Ashes paper talk
Round-up of Ashes gossip and features from the back pages of Wednesday's Australian papers.
Last Updated: 05/12/13 12:23am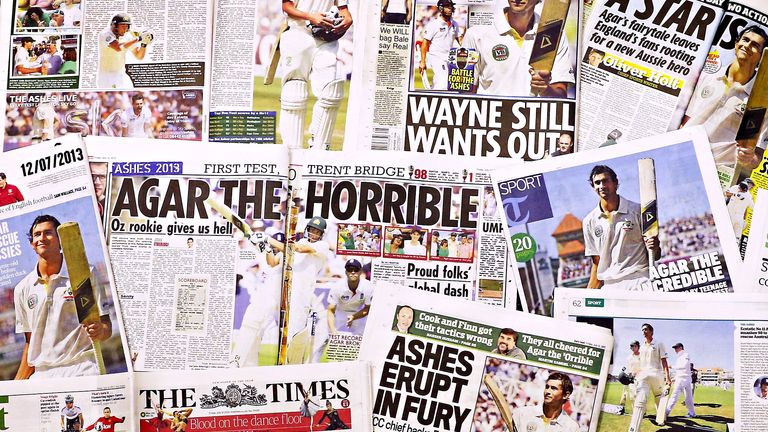 We check out what the latest gossip is on the Ashes with Mitchell Johnson's moustache, Graeme Swann's unusual teacher and the pain driving the Aussies in Wednesday's papers Down Under.
COUNTDOWN TO SECOND TEST: 1 day!
DAILY TELEGRAPH
Paceman Mitchell Johnson says it will take crushing England to become an Australian bowling legend like Dennis Lillee.
The hero in Brisbane said: "I guess you get compared to Lillee and Merv Hughes. Reaching over 200 wickets in Test cricket is an elite club, a great achievement but for me it is just great to be back playing Test cricket again in an Ashes series. We got close last Ashes in England even though the scoreline was 3-0. We are looking good now and hopefully we continue our form."
And the airtime (or paper space) given to Johnson's moustache grows ever-larger. "It's the gift that keeps on giving," reports the Telegraph.
He set out to raise $50,000 for mens' health by keeping his handle bar face hair for the summer instead of shaving at "Movember's" end and says: "It is great to get conversation about the MO going, I didn't expect it to take off like it has. Originally I wasn't going to participate this year but my wife said it was for a good cause and I agreed to it."
Australia want to use George Bailey as a secret weapon in Adelaide to destroy spinner Graeme Swann, described by the paper as an "ageing tweaker".
Reflecting on the victory in Brisbane, Bailey said: "We certainly wanted to keep bringing their best bowlers back into the game and try and tire them out. That worked."
THE AUSTRALIAN
Despite receding concerns over Michael Clark's injury, the incident has provoked a painful Ashes recall from eight years ago.
It reports: "The 2005 Ashes turned on an ankle and memories of that reversal were revived when Michael Clarke sat out training in Adelaide. Back then the Australians went into the second Test in England 1-0 up after a big win in the first match and confident the series would follow the well-worn script, but when Glenn McGrath trod on a ball ahead of the toss the plot took an unforeseen twist..........."
The Adelaide drop-in wicket has caused a few eyebrows to be raised but the groundsman is delighted.
Curator Damian Hough says: "Hopefully a typical Adelaide Oval pitch would be good."
SYDNEY MORNING HERALD
Australia are using the painful memory of "first-morning mayhem in Adelaide three summers ago as a cautionary tale".
On the first morning in Adelaide in 2010, Jimmy Anderson reduced Australia to 3-2 - its worst start to a Test innings in 60 years - and its Ashes campaign was in ruins.
Shane Watson, who ran Simon Katich out for a diamond duck that morning, said: "We know how important it is for us to be able to start well, whether we bat or bowl first. Runs are going to be very important here - the wicket looks very good. The batsmen need to be able to make sure we set a really good total in the first innings. We know against England how important it is to not have those lapses, because that's when we've lost Test matches and not been able to stop that momentum."
There is plenty of fighting talking from Ryan Harris discussing how niggling injuries are not quashing his hunger for English blood!
In his latest column, Harris says: "I've had many battles with injuries over the years, but that has nothing to do with why I won't be charging in with the ball in our final training session in the Adelaide Oval nets. I can assure you, I'm ready for England. The key to my confidence ahead of the second Test was the spell of four-and-a-half overs I bowled on Tuesday. Only four-and-a-half? The reason, as many of you probably guessed, is because our fitness staff deliberately restrict our workload just before a match, to keep us fresh."
In Derek Pringle's column, the ex-England bowler catches up with two Ashes warhorses talking about dealing with fast bowling.
David Gower says: "You know it is going to hurt if you get it wrong so the exhilaration when you get it right is enormous. The better batsmen work out ways of coping. On a good day the adrenalin rush gives you a frisson. On a bad day, it can turn to fear and people around can sense that."
While Alan Border adds: "The key was to limit your ambition against it, adopt an attitude called calm aggression and make sure you keep breathing. There's something about pure pace that gets the adrenalin pumping. But you don't want to be overhyped. Good breathing, slow deep breaths, is vital to keep you less stressed. That's what I try to tell blokes. It helps to keep the body and mind in check."
Anybody think there'll be a drop-in pitch at Sydney?
The chairman of the Sydney Cricket Ground Trust chairman Rodney Cavalier says: ''It was never more than a polite inquiry, but I made it clear way back when Adelaide declared that it would be going to a drop-in wicket, that even if the SCG was the last cricket ground in the world that had a traditional wicket, it would remain the last cricket ground in the world."...no grey area there then.
England spinner Graeme Swann is desperate for Ashes wickets and has linked up with former Australian spin great Ashley Mallett.
Mallett, who snared 25 victims in six games from 1971-80, said: "We just have a chat about bowling, generally. He was though reluctant to go into too much detail but revealed he had told his protege that he had given Australia's left-handers too much room outside off stump in Brisbane.
HERALD SUN
Ankle niggles aside, Michael Clarke is a man on a mission. In his latest column, the Aussie skipper says: "Steve Waugh called one of his books "Never Satisfied" and I feel the same way. Our first Test win at Brisbane's Gabba was fantastic because of the aggressive, positive way we played and we intend to run with that confidence and momentum when the second Test starts.
"Winning just one Test in a series doesn't mean a thing if you don't back it up.
Given the ordinary year we've had we have no reason to brag or gloat. We have been practicing for the possibility of Monty Panesar coming into the England team as a second spinner, with coach Darren Lehmann throwing down left-arm orthodox deliveries at training. We have also been training to cover the possibility of Chris Tremlett remaining as a third seamer or Tim Bresnan returning to their side after recovering from a back injury."
BRISBANE TIMES
Clarke is expected to prove his fitness at training on Wednesday. After rolling his right ankle on Monday, he didn't train on Tuesday, but Shane Watson says their captain will train on Wednesday, with no great concern in the Australian camp about the injury."
Watch the second Ashes Test from Adelaide, starting on Wednesday, 11pm on Sky Sports 2 HD