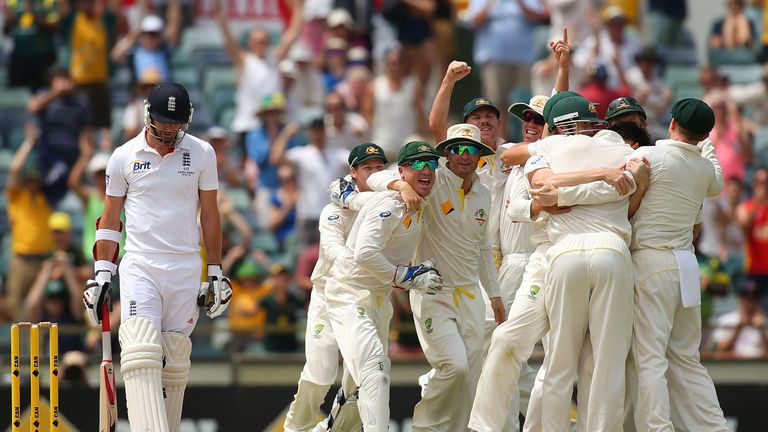 Victory by 150 runs in Perth gave Michael Clarke's men a 3-0 lead in the five-match series and ended their run of three straight series defeats to England, dating back to 2009.
England were all out for 353 chasing a target of 504 by the afternoon session on day five at the WACA, despite a maiden Test century from Ben Stokes.
We take a look back on events on day five with a range of opinion, analysis and video.
Mission accomplished
Arriving at the ground on Tuesday morning, Australia needed five wickets to complete a three-match demolition job on England, who resumed on 251-5. Stokes and Matt Prior held up their hosts' victory march for 19 overs in the before Prior swished at a wide one from Mitchell Johnson and edged through to wicketkeeper Brad Haddin. Stokes, playing in just his second Test and on 72 overnight, brought up his hundred with a hooked four off Johnson shortly before lunch. But the end came quickly after the break, Stokes caught behind trying to sweep against Nathan Lyon's spin. Johnson completed the result by having James Anderson caught at short-leg, his 23rd wicket over the three Tests. Click here for full match report and here for the day in pictures.
Everybody hurts
England captain Alastair Cook gave a stark assessment of his team's performances over the first three Tests but vowed to keep fighting hard right to the end of the tour. Cook said: "We knew what a good side there were in England and we knew how tough it is to come here - you have to be on top of your game to compete with them and we haven't. They have been very ruthless and not let us back in any game. Everyone is hurting now. That happens in sport - there is a winner and a loser and at the moment we are the losing dressing room and it hurts. All we can do now is work as hard as we can on our games, then come out on Boxing Day and put in a better performance."
Grand plans
With the series safely in the bag, Michael Clarke has promised there will be no let-up from Australia's players during the final two matches. Clarke is targeting a repeat of the 5-0 whitewash Australia achieved in 2006-07. "The guys have done a fantastic job and that's why we stand here as winners today," he said. "It certainly wasn't given to us easy but we expect that. We've known from day one that playing against England's always tough. They've got a lot of good players and we've seen that throughout this series... Our goal is to get back to being the number one side in the world. No doubt we will celebrate hard tonight and enjoy it, we deserve that. But we have two more Test matches and we'd love to win 5-0."
Where now?
David Lloyd thinks England have tough decisions to make about the future of some of their senior players, in particular Prior and Kevin Pietersen. Former England coach Lloyd said: "There won't be wholesale changes, of course, and you could argue that eight players will play [at the MCG on Boxing Day] - they pick themselves. But the wicketkeeper is under the microscope and there will be younger wicketkeepers who could come in and do that job. Kevin Pietersen is an interesting one. Your gun-player, your best player has been out-performed at number four by Michael Clarke. The one thing I would say having been in dressing rooms where everything has been reversed is 'are these the best players?' You'd probably say 'yes, they are' but then you look them in the eye - and how matches they've played - and ask if they've still got the stomach for this. Click here to listen to our experts discuss the situation in the latest Ashes podcast.
Brighter future
England's established players, particularly the batsmen, have been the main culprits for the side's poor form in Australia but, in the shape of rookie all-rounder Stokes, there has at least been one positive to emerge. Handed a debut in Adelaide, the Durham player has taken an immediate liking to international cricket, contributing with bat and ball. His century in Perth was confirmation that England have a player - fitness permitting - who can balance the Test side for the next decade. Click here for our full feature on Stokes.