Ashes report card: We review the performance of England's players
With the dust just about settling, we grade England's players for their Ashes performances Down Under.
By Graeme Mair
Last Updated: 06/01/14 12:39pm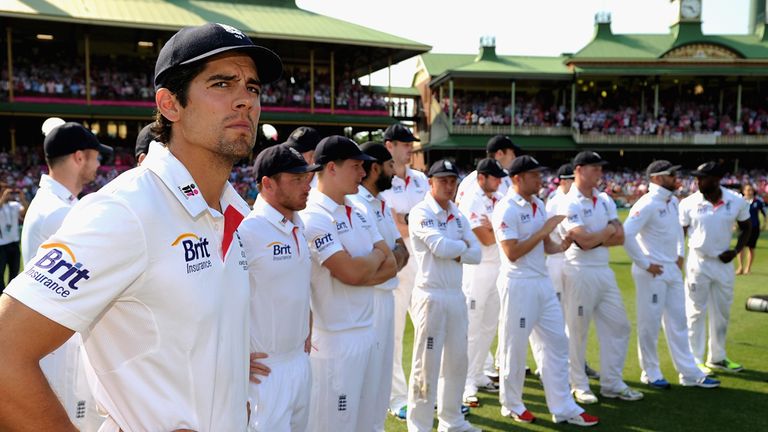 We get out the red pen to mark the performance of England's players during the series.
Let us know your thoughts by using the feedback form at the bottom of the page...
Click here for our review of Australia's players
Alastair Cook - F
Aside from a fluent 72 in the first innings at Perth, looked nothing like the batsman who had dominated on the previous tour in 2010/11. Failed to score an Ashes century home-or-away this year, testament to the excellence of Australia's attack, in particular Ryan Harris who got him out six times. A plodding, rigid approach to the on-field element of captaincy was ruthlessly exposed by aggressive batsmen. Plan A of containment - 'bowling dry' in the modern jargon - failed as miserably as it succeeded gloriously three years ago. Dealt with off-field part of job admirably, showed grace under fire as the tour unravelled. Will continue as England captain because of lack of viable alternatives, not a great reason but will have learnt a lot about himself and team-mates during the trip.
Michael Carberry - C
Forced way into England's plans by scoring 153 in the final warm-up match and played all five Tests as Cook's opening partner, deservedly retaining place ahead of Joe Root for final match. Consistently failed to push on after making starts. Passed 30 six times but 60 in the first innings at Adelaide was top score. Played Mitchell Johnson as well as anyone and showed a suitable temperament for Test batting. Less comfortable when right-arm seamers - Harris, Siddle and Shane Watson - started going around-the-wicket as a matter of course. Dropped sitter at backward point off Brad Haddin on the first evening at Adelaide when the series was still alive.
Jonathan Trott - No grade
Worked over by Johnson in both innings of first Test and returned home immediately afterwards due to stress-related illness. Had previously managed the problem successfully while becoming a lynchpin at No 3 in the England order and is hoped he can recover to do so again in the future. Sorely missed, qualities became most obvious when not there as often is the case with players happy to let others take the limelight.
Joe Root - D
Shuffled down and back up the batting order, ended the tour being dropped in Sydney. Smiled his way through bouncer barrage and verbal abuse but 87 in the second innings at Adelaide was lone highlight and - with benefit of hindsight - was a mistake to move him to No 3 instead of Ian Bell after Trott's departure. At 23, is clearly England's best young batsman but would benefit from management providing him with role clarity.
Kevin Pietersen - C
A tour of missed opportunities. Looked in decent form but found ways to get out. Final return of 294 runs in 10 innings made him England's leading run scorer, which tells its own story. Unable - or unwilling - to attack off the back foot against seam bowling. Off-spinner Nathan Lyon had some joy from around-the-wicket. Endured a miserable 100th Test in Brisbane but remains committed to England cause, as evidenced by cortisone injection in his knee just to play in the series.
Ian Bell - E
Dominant on home soil earlier in the year but struggled in Australia like everyone else, averaging 26.11. Belatedly moved up to No 3 in Sydney, which will be his position from now on unless Trott is able to resume his career. Provided safe pair of hands in the field and was promoted to second slip after Graeme Swann retired.
Gary Ballance - D
Pencilled in for No 6 position before the tour but had to wait until Sydney for his Test debut after Carberry's early form prompted a change of plan. Came to the crease for the first time with England 23-5 and acquitted himself well despite being hit flush on the helmet by Johnson. Looked the part, calm with a simple technique. Scored only 18 and seven but will get more chances in easier circumstances in near future.
Ben Stokes - A
The one unequivocal positive. Rapid rise after starting tour uncapped. Big chance came when England decided to play two spinners in Adelaide, making a seam-bowling all-rounder an attractive option at No 6. Hard to over-state how well he played during remainder of the series. A maiden Test century in Perth on a pitch with large cracks running down it was England's only hundred. A haul of 15 wickets - including 6-99 in the first innings at Sydney - was second only to Stuart Broad among the tourists and he was comfortably England's quickest bowler, if slightly on the expensive side. Relished the red-hot contest, bumping shoulders and returning verbal fire with Johnson.
Matt Prior - F
Continued downward spiral of poor form from the summer, including first-innings ducks in Brisbane and Adelaide. Glovework deteriorated, including pair of missed stumpings in Perth. 'Taken out of the firing line' for final two Tests (translation: dropped). Turns 32 in February but has come back strongly from a similar situation once before and will be given every chance to do so again. Rightly so, given overall quality record across 75 Tests but worth noting - unlike many positions in the side - there are several promising young alternatives.
Jonny Bairstow - E
Like Yorkshire team-mate Root, career has suffered at the hands of England's (mis) management after a bright start. Viewed as specialist No 6 batsman last summer but on tour as back-up wicketkeeper. Played in Melbourne and Sydney in place of Prior without unduly distinguishing himself. Block or bash approach with the bat. Wicketkeeping improved in the final match, although not a major compliment.
Stuart Broad - B
Pantomime villain for the Australian crowds but carried the England attack with 21 wickets in the series. Stayed fit throughout 2013, finishing the year with most Test wickets of any bowler. Adapted well to the pitches in Australia and consistently found any seam movement and variable bounce on offer. Terrorised by Johnson when batting. Bowled behind his legs in Adelaide for golden duck after a six-minute wait while sightscreen was fixed in moment of high farce.
James Anderson - C
Took the new ball in every innings but 14 wickets at 43.92 was a disappointing return. Suffered in comparison to previous deeds and was unable to swing the Kookaburra ball much. But economy rate of 3.22 was the best of the visiting bowlers and sent down more overs - 190.3 - than anyone else in the series. Sledger-in-chief not popular with Australia's players and endured a bouncer barrage when batting. Never shied away and put his hand up for nightwatchman duties, admirable given the circumstances and his seniority in the dressing room.
Tim Bresnan - E
Added to the squad after proving recovery from a stress fracture in back. Played in Perth and Melbourne in an effort to stiffen the batting as much as anything. Struggled to make an impact with bat or ball. Remains an important one-day player for England but the Yorkshireman now looks to have an uncertain Test future.
Graeme Swann - F
Treated harshly by Australia's batsmen during defeats in Brisbane, Adelaide and Perth, prompting mid-tour retirement. A selfless act allowing team to build for the future with the Ashes already gone or jumping from a sinking ship? Depends on your perspective. Either way, finished with 255 wickets in 60 Tests, good enough for seventh on England's all-time list, second only to Derek Underwood among spinners. Thrived in pressure situations and able to perform dual role of attacking and keeping things tight until this proved a tour too far. Good slip catcher and influential in the dressing room. Tough to replace.
Monty Panesar - E
A strange tour, quite possibly his last. Played as second spinner in Adelaide and lone twirler in Melbourne - a 50th Test cap - following Swann's abrupt exit. Made little impact on either match, bowled just 16.5 overs at the MCG. Dropped in Sydney for a rookie leg-spinner. No 11 batsman but showed willingness to get in line against steady diet of throat balls from Johnson. As ever, fielding was atrocious.
Chris Tremlett - C
Made his name in Australia on the 2010/11 tour but not quite the same bowler since a back operation. His lone appearance came in the opening match in Brisbane and he was accurate, taking four wickets. England were all out for scores of 136 and 179 in losing by 381 runs, so of course it was a seamer who got dropped. Unlikely to play Test cricket again.
Boyd Rankin - F
Giant Ulsterman finally unleashed in Sydney but twice pulled up with cramp while managing just 8.2 overs on the opening day. Bowled far too short and down the leg-side. At least picked up a maiden Test wicket in the second innings when Peter Siddle carved an edge to the wicketkeeper. One-cap club beckons.
Scott Borthwick - E
Ridiculous selection as specialist spinner in Sydney. First leggie to play a Test for England since Ian Salisbury in 2000 but had few credentials for the role. Scored more than 1,000 runs batting at No 3 in Durham's County Championship-winning team last summer but less successful with the ball. Promising batsman? Yes. Test leg-spinner? Not yet close. Could have gone worse - think Simon Kerrigan being mentally scarred for life at The Oval - but struggled for control despite finishing with four wickets, all of them on the slog chasing quick runs. One-cap club beckons.
Steven Finn - No grade
Only member of original 17-man squad not to play at least one Test. England used 18 players during the series. Did a lot of net bowling.
James Tredwell - No grade
Limited-overs specialist played a Test in Bangladesh in 2010 and was added to squad for Sydney but overlooked in the XI for Borthwick. One-cap club beckons.