Vaughan's view
Michael Vaughan calls for the ECB to track down Gary Kirsten and urges England's players to start playing with more freedom. Hey, he says, they may just start enjoying themselves...
Last Updated: 04/03/14 8:35am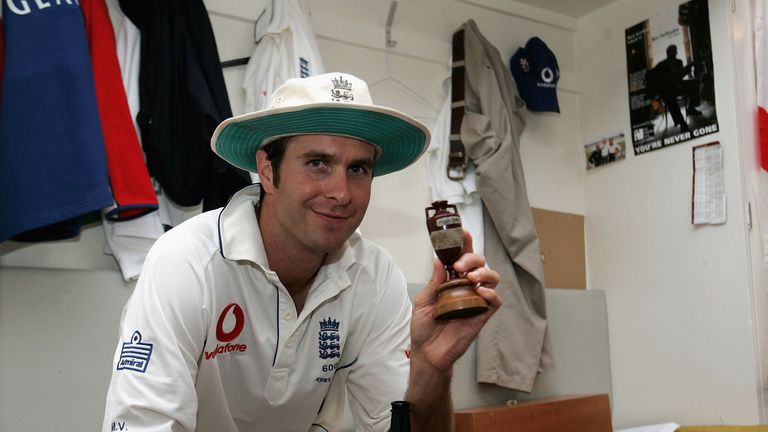 The Ashes humiliation Down Under ultimately ended Andy Flower's five-year rein as Team Director, as well as accounting for the playing careers of Graeme Swann, Kevin Pietersen and potentially one or two others.
One victory in 13 matches against the old enemy was gut-wrenching to watch and caught everyone by total surprise after England had won the previous three Ashes series with relative ease.
Looking to rebuild in the more 'chilled' climes of the Caribbean, England are now looking to boost morale with victory in three-match Twenty20 and one-day series'.
With the one-day series locked at 1-1, Sky Sports News Radio caught up with former England captain Michael Vaughan to discuss a number of pressing issues facing the national side.
Signs of decline
"It started to go wrong, I think, in 2012 when England played Pakistan and got hammered in Abu Dhabi and Dubai and then they came and played South Africa - the team of this era. They outfought England in all facets of the game. There was the Kevin Pietersen text-gate as well and Andrew Strauss retired. It was then that England should have looked at the way they played cricket and they should have changed and evolved. They then went to India and the attrition brand of cricket they like to play worked. It was their first win over there in 30-odd years and was remarkable but they should have realised that their brand of cricket was being found out by the better teams. Even though they beat Australia 3-0 last year I felt it was more like 2-2. They got fortunate at Old Trafford then there was rain and bad light at The Oval and Australia declared and we could have ended up winning that 4-0, which would have been staggering really."
Ashes post-mortem
"Once England arrived in Australia it was hostile it was heated with their press and they had Mitchell Johnson who produced that performance in Brisbane. As soon as they came back on that second day I thought if he stays fit it could be 5-0! England's batsmen didn't look comfortable against what is an outstanding bowling attack, you only have to look at what they're doing to South Africa now. The Aussies are better than we thought they were and England haven't been as good as they think they've been. England now need to look at what Australia have done over a nine-month period. Change the mentality, change the brand of cricket, go for it a bit more, it's amazing how much more you enjoy it when you play that way."
New brand of cricket
"I think we have talent and that's the promising aspect. There are players there now who could play an expansive game. I just look at run-scoring levels and look at South Africa who score at over three runs an over, and Australia, who scored at about 3.4/3.5 an over since Darren Lehmann's taken over. I'd be looking at that formula and thinking that we need to do exactly the same. The benchmark is to score quickly. There is no excuse these days with the power of the players and these incredible bats. I really feel that scoring at 2.5, that England have for a while now, is the olden ages. With the ball in hand in England I'd say be a bit braver with the field settings. Have a few more slips, you may go for more runs but you'll create more opportunities and I think that's what the public want to see. I just think that England have allowed teams into the game and they're better to absolutely hammer teams. We have got as good cricketers as South Africa and Australia. The rest of the opposition around the world are all much of a muchness so I'd like to see England start this summer against Sri Lanka and India with a more attacking brand of cricket."
The end of KP
"Every England performance from now on when they lose people will be saying 'what if Pietersen was playing?' but the fact is, he's gone. I've moved on from it. I didn't particularly agree with it. I think England need to sell the game a bit more, play a bolder brand of cricket, it's an entertainment business so smiling cricket on camera is allowed! Young guys playing in front of 30,000 people - it should be the best time of your life. Smile, look like you're enjoying playing. I think playing cricket has become too serious. Just look at Australia. All Lehmann has done is change mentality. Go out and express yourself."
Flower replacement
"I said straight away Gary Kirsten. If I was the ECB I'd be flying to Cape Town and knocking on his door saying 'Gary, what does it take?' I'd be doing everything possible to get Kirsten involved with English cricket and I'd surround him with the likes of Ashley Giles, Paul Collingwood and Graham Thorpe. If England are serious about getting it right, you go out and get the best. Kirsten keeps ruling it out but I don't believe him. I don't see how anyone could have done any different to Ashley Giles. He's not had his own team yet. The only time he has had his own team he got England to the final in the Champions Trophy. Every time he's had a 50-over team the best players have been rested. If Kirsten is not available I'd move the team forward with Giles, Collingwood and Thorpe. Giles is getting criticism but you've got to bide your time and be patient. I could see him doing a really good job if he gets the freedom. He needs a blank canvas."
West Indies decider
"I guarantee it will be tight. If England need 100 to win they'll find a way of making it tough! It's going to be a tricky pitch but they should take huge relief from winning the other day. You could see the faces when England were seven down and Stuart Broad was given out first ball and nearly caught. If they had lost that game I feel the effect over last 3 weeks would have been massive. It would have killed the dressing room. They've got a glimmer of belief now and Wednesday's game is big. They've just got to win, it doesn't matter how they win - just win. Hopefully over time they'll start winning with a bit more style. This isn't a great West Indies team without Chris Gayle, Kieron Pollard, Kemar Roach. England have more expertise but West Indies have more power and England don't have enough players who can whack the ball out of the ground."
Listen to Michael Vaughan speaking to Sky Sports News Radio here: