Tim Abraham
Sky Sports News reporter
Tim Abraham: Behind the scenes with England
Last Updated: 17/07/14 4:55pm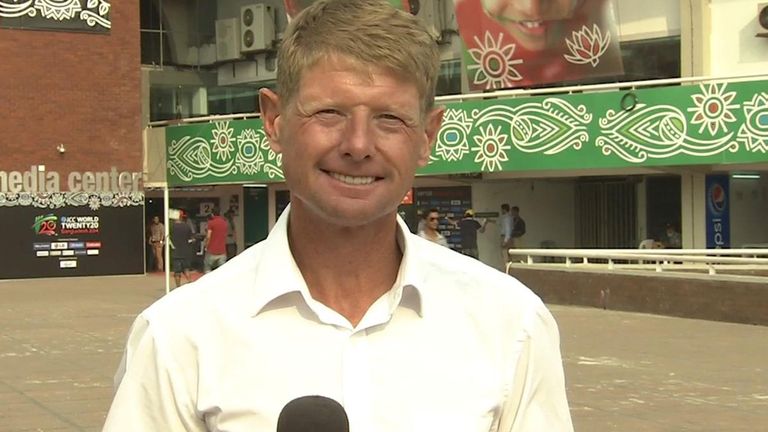 As Test match build ups go, this was one of the busiest and most controversial, even if it didn't start out that way.
Sky Sports News reports on practice sessions for all matches, as well as media conferences which give the Test match a fast-paced build-up. We regularly do live updates during training, covering selection issues and conditions. We have unparalleled access in cricket, as we can be at training all day, whereas some of my colleagues who work in football are only able to get a quick hit before they are asked to leave.  
Monday was a travel day for the players as they made their way down from Nottingham. Given the quick turnaround, the first practice session on Tuesday was a light relaxed affair, with the fast bowlers given the session off to rest up. As it turned out, they all went off to a swanky Hertfordshire hotel for some massage therapy and mud wraps! 
Despite the low-intensity affair, it was a busy morning of player access for Sky Sports News, with Sam Robson put up for interview by sponsors Investec. It was actually the first time I had spoken to him one-on-one since he broke into the team, and I joked I had actually spoken to his brother, Leicestershire opener Angus, more than him, most recently after he got a hundred for Leicestershire in a tour match against India at the end of June.
Gary Ballance was also put up by the ECB, while Chris Woakes was speaking to the media on behalf of the Lord's Taverners charity to promote a competition where kids get the chance to design new sporting logos for their buses. So while we had lots of taking heads from England, the same cannot be said for the Indian team, who are not exactly proactive in making players available. They seem do the bare minimum, and it has got to a stage now where we can just expect the captain on the day before the game. Even then it's uncertain whether his media conference will actually take place. This has been an issue with India going way back and I do remember even at ICC events, they pulled out of planned media conferences. 
With interviews completed, it was a case of filming England practice and doing live reports. However, the whole tone of the day quickly changed, as we got word from the ECB that India were planning charges against Jimmy Anderson under the cricketing code of conduct. They also told me that they would be issuing a statement themselves denying the seriousness of an alleged 'bust up' at Trent Bridge and that their own allegations against Ravindra Jedeja would be forthcoming.  
The ICC officially confirmed the story through their press release, saying Jimmy Anderson has been charged with level three breaches, which are serious allegations. We were able to get lots of reaction as there was a function going on in the pavilion that evening, attended by Sky Sports commentators Sir Ian Botham and Michael Atherton, along with Graham Gooch. All three were surprised by the timing of it all, a good five days after the alleged incident. 
The controversy completely overshadowed the early part of the final practice day. I saw Jimmy Anderson arrive at the ground and he gave me the thumbs up as he walked into the pavilion. He was also in good spirits during the traditional team photo. It was pretty much business as usual but there was an air of anticipation in the build up to the captain Alistair Cook's media conference, as we wondered just how much Cook and his Indian counterpart MS Dhoni would say given the pending ICC hearing.  
Cook reinforced the ECB Statement, backing his man, as well as saying that he hoped tensions between the two teams would not boil over under the circumstances. I started off proceedings and we did manage to actually talk about some cricketing issues, such as team selections and the state of the pitch. It was rumoured that MS Dhoni was not going to turn up for his press conference, but he eventually did, saying India were quite right to be pursuing this charge, as they felt it was that serious! 
The morning of the Test is always busy with an early start at Lord's, mainly because MCC members start queuing in the early hours to get their favourite spot in the pavilion. It has become a bit of a tradition now for the Lords Test and I always see familiar faces, many of whom have been there since 3am. From as early as 6am, I conduct interviews and live reports, which go right through until 11am when live coverage starts. I also caught up with former England one-day captain Adam Hollioake, who had flown in from Australia where he now lives. It was good to get a perspective on just how the Aussies are taking in England's eventful new era; after all, this time next year, it's the Ashes.....again!