Ashes Tour Diary
Our man in Australia Joe Drabble reflects on a turbulent week for England and the problems posed by the departure of Jonathan Trott
Last Updated: 26/11/13 6:33am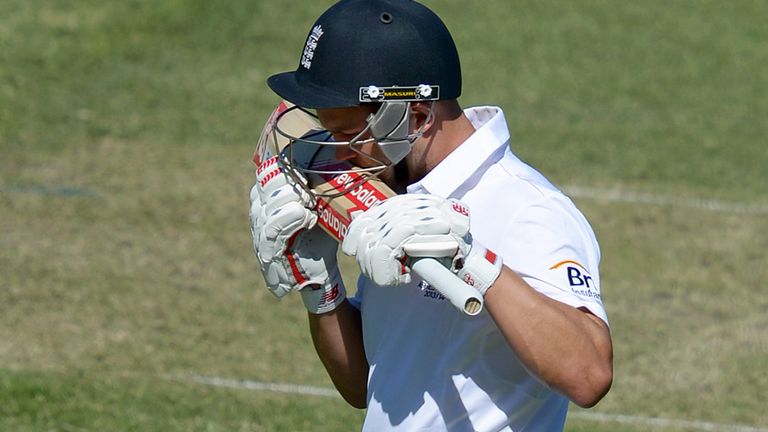 England's lynchpin at No 3, Trott has arrived back home to the comfort of his family after revealing that a horrible mental illness has caught hold of him. It puts cricket and this tour into perspective.
The Australian press and public have been largely sympathetic towards Trott however they also realise that his absence significantly boosts their chances of ending their Ashes losing streak.
Trott was in sublime touch in Australia three years ago, averaging 89 and scoring centuries in Brisbane and Melbourne that went a long way to helping England record a famous 3-1 win.
Robert Craddock, writing in the Sydney Telegraph, observed: "Trott's departure is a blow from which England's tour may never recover and it has eerie echoes to Marcus Trescothick's sudden departure for similar reasons in 2006-07.
"Already England are one Test down and will now have to include an unproven player like Jonny Bairstow in their top six.
"But it's not just about team balance.
"The departure of a player through mental injury cuts deeper than if he had twisted an ankle or broken an arm.
"There is a chance a distinguished Test career could be over and sadly, no deed he has performed on the field will be remembered more than the way he left the game."
Temperament
Indeed, Alastair Cook, Andy Flower and Co must now work out how England are to replace the void left by Trott and at breakfast this morning Nasser Hussain, Michael Atherton and David Lloyd made strong cases for both Joe Root and Ian Bell to step up.
Root, an opener by trade, would seem the most likely contender, however there is also an argument that Bell, who has played 82 more Tests than Root, should step up to the plate.
Either way, England must make a decision on which batsman replaces Trott before Adelaide and this week's tour match against CA Chairman's XI in Alice Springs offers Jonny Bairstow, Gary Ballance and Ben Stokes the perfect opportunity to stake a claim.
Whoever comes in will have to have temperament. Australia have set their stall out to ruffle England up and reaction to Michael Clarke's plea for Mitchell Johnson to break James Anderson's arm during the last knockings at The Gabba have been greeted with a mixed view Down Under.
Many believe Clarke crossed the line, however controversial Australian cricket writer Ben Dorries has a different take on the confrontation.
Writing in the Brisbane Courier Mail, Dorries said: "By telling pale-faced and smarmy Pom Jimmy Anderson to 'get ready for a broken f**king arm' during the dramatic closing stages of the Gabba Test, Clarke finally stands for something. With every hot-blooded gesture, you could almost feel thousands of sports lovers suddenly discovering new warmth for Clarke. It did what 25 Test centuries couldn't ... it won him widespread acceptance from the Australian public. After losing three Ashes series in a row, Clarke should be applauded for standing up for his team and going chest to chest with the Poms."
Applauded? I'm not so sure, but one thing is certain; Australia are prepared to fight and fight hard for what everyone in these parts believes is rightly theirs, the Ashes urn.