Ashes Tour Diary
Joe Drabble blogs from Melbourne on Graeme Swann's shock retirement and looks ahead to Christmas dinner with Bumble and co.
Last Updated: 22/12/13 12:07pm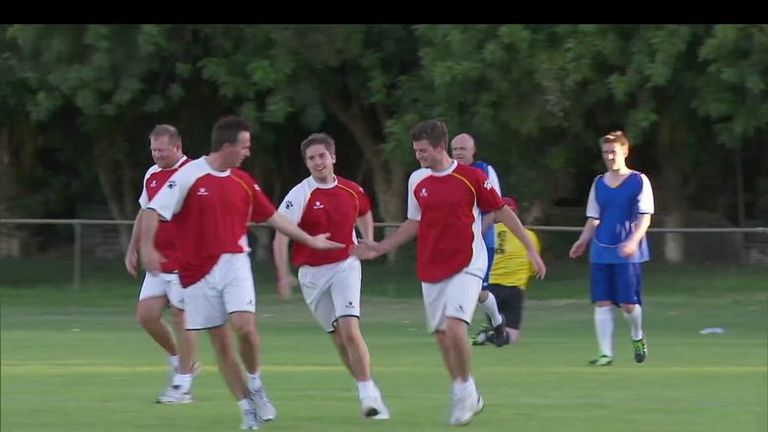 At the age of 34 and with a number of niggling injuries still lingering, Swann's decision to step down does not come as a major surprise in terms of logic, however the timing is baffling.
Four days before the start of the Boxing Day Test and midway through an already tumultuous Ashes series, today's ECB press release came as big shock with two of the most prestigious Test matches just around the corner.
His explanation: "I was desperately hoping to win the Ashes out here again like we did in 2010-11 but with the Ashes gone now in those three Test matches, personally I think to stay on and selfishly play just to experience another Boxing Day Test match and another Sydney Test match would be wrong."
After taking 255 Test wickets in 60 Tests matches Swann has earned the right to bow out when he wants, but I always struggle to comprehend why players end their careers midway through a series and, in effect, a match.
Privilege
What is for certain is that an England team-sheet without the name 'Swann' on it will seem odd from now on. He has been a whole-hearted cricketer ever since bursting onto the scene in Chennai in 2008 with two wickets in his first over and it's been a privilege to watch him live for the past few years.
I've been exploring the magnificent city of Melbourne over the last couple of days. It's a 'proper place' as David Lloyd would say, with everything you could possibly want as a tourist. The locals will also have you know that this is the 'Sports Capital' of the world with the MCG, Melbourne Park and AAMI Park all in close proximity, not to mention Albert Park and the Etihad Stadium.
I took a busman's holiday to the MCG on Friday night to watch some Big Bash action. It was nice to see a couple of Englishmen - Luke Wright and Jos Buttler - scoring runs and hopefully that's a good omen for the week ahead.
I'm looking forward to having Christmas dinner with the Sky Sports cricket crew on Wednesday. A meal has been organised in the hotel for all the commentary and production team and I'm pleading for a Christmas jumper-themed affair!
I've left you all a present on Christmas night. Tune into Sky Sports 2 from 10.30pm for build-up to day one of the Boxing Day Test to watch me in action for the English media in the annual Ashes football match. Mark Pougatch has been calling me 'Lionel' ever since.
Happy Christmas back home, I await the next ECB press release with bated breath...