KP seeks spirit of 2005
Kevin Pietersen believes the series against India could be as big as the classic Ashes summer of 2005.
Last Updated: 26/07/11 9:24am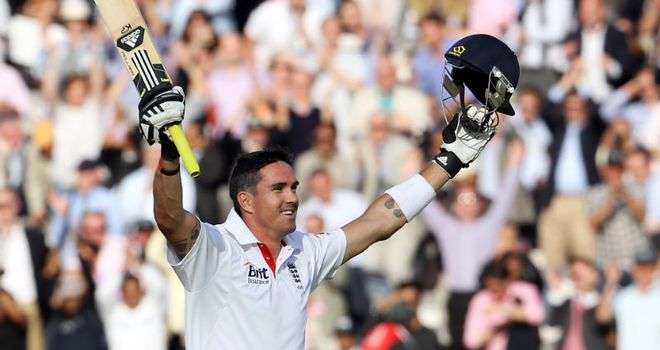 Kevin Pietersen believes the series against India could be as big as the classic Ashes summer of 2005.
England got off to a perfect start as James Anderson starred with the ball on day five to help Andrew Strauss' side secure a 196-run win against the world's number one side.
The result was secured in front a sold-out crowd at the home of cricket after hordes of supporters lined the streets of St John's Wood to take advantage of 20,000 cut-price tickets available on the door.
The quality of the cricket and the fervour of the fans called to mind the memorable summer when England reclaimed the Ashes for the first time in 18 years - a fact that was not lost on Pietersen, who made his debut in that series.
Full house
"Potentially, this is as big (as 2005). You can see that from the number of people who turned up in the morning," said Pietersen.
"As we drove here the lads were commenting on the number of people outside. For us, as players it's magnificent that the public think it's such a big series and hopefully we can get another full house (in the second Test) at Trent Bridge now.
"Obviously this is a huge series for both teams and for the public. It's going to be a huge summer and a huge series with the crowds showing such interest."
Pietersen walked away with the man-of-the-match honours following a game-changing 202 not out, but captain Andrew Strauss made sure his bowlers left with a ringing endorsement too.
Anderson claimed five for 65 on the final day but Broad was superb throughout and Chris Tremlett, who was struggling with a hamstring niggle for much of the game but was named in an unchanged 12-man squad for the second Test, also excelled.
"I think over the two innings that was as close to the perfect bowling performance we've had in the last two years and that is saying a lot because we have had a lot of exceptional bowling performances," he said.
"It was an outstanding bowling performance by the whole attack over five days."
Hampered
India captain Mahendra Singh Dhoni felt his side's chances in the match were hampered from the moment lead bowler Zaheer Khan went down with a hamstring injury on day one.
He did not bowl again in the match and is a major concern for the second Test in Nottingham next week.
"It became quite tough for us after losing Zaheer Khan in the first session on the first day," said Dhoni.
"It was very difficult to bowl with three bowlers.
"We just needed that one extra bowler and things could've been different. We have three days but I'm not 100% sure if we will play him or not (at Trent Bridge). It is a long series and we don't want to risk any individual if he is only 90% fit."