Butt, Asif and Amir guilty
Salman Butt and Mohammad Asif have both been found guilty of conspiring to fix parts of the 2010 Lord's Test between England and Pakistan.
Last Updated: 01/11/11 6:28pm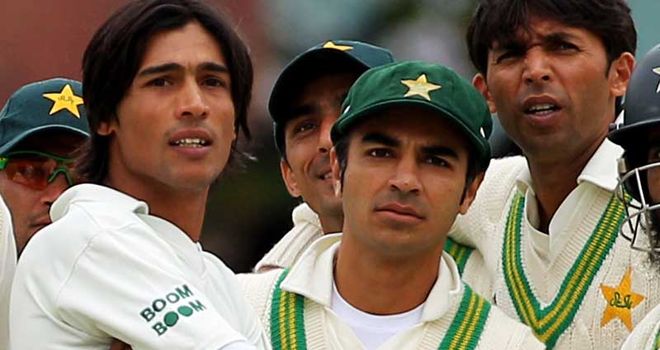 Former Pakistan Test cricket captain Salman Butt and fast bowler Mohammad Asif have been found guilty of conspiring to fix parts of the 2010 Lord's Test against England.
Both men were found guilty of conspiracy to cheat and conspiracy to obtain and accept corrupt payments at Southwark Crown Court. Fast bowler Mohammad Amir had already pleaded guilty to both charges.
The corruption charge carries a maximum sentence of seven years imprisonment. The lesser charge of conspiracy to cheat carries a possible punishment of two years imprisonment.
Former captain Butt, 27, and fast bowlers Asif, 28, and Amir, 19, plotted to bowl deliberate no-balls in the Lord's Test as part of a lucrative betting scam.
Bragged
The trio were caught after an undercover reporter recorded UK-based sports agent Mazhar Majeed, 36, boasting of how he could arrange for Pakistan cricketers to rig games for money.
Majeed claimed he had been carrying out match-fixing for two-and-a-half years and had made "masses and masses of money".
He spoke of the advantages of "grooming" younger cricketers to work with him and bragged that he had seven players in Pakistan's national side rigging games for him.
The corrupt agent also discussed deliberately losing the Oval Test match against England last summer for over a million dollars and plotted to fix games at last year's Twenty20 World Cup in the West Indies.
The fixing scandal emerged after the News of the World's former investigations editor, Mazher Mahmood, approached Majeed in August last year pretending to be a wealthy Indian businessman seeking major international cricketers for a tournament.
The agent was secretly filmed accepting £150,000 in cash from the journalist as part of an arrangement to rig games.
Majeed promised the reporter that Asif and fellow fast bowler Mohammad Amir would deliver three no-balls at specific points during the Lord's Test between Pakistan and England from August 26 to 29 last year.
The no-balls were bowled exactly as promised. The probability of someone predicting this by chance was estimated by a cricket statistician as 1.5 million to one.
Butt and Asif both strenuously denied any involvement in match-fixing.
Explaining why he bowled a no-ball at Lord's precisely when Majeed said he would, Asif claimed that Butt told him, "run faster, f***er", moments before his delivery.
Cheat
The former Pakistan captain said the agent asked him to rig parts of crunch games at the 2010 Twenty20 World Cup and last summer's Test series against England.
He insisted he ignored the requests, but admitted he did not fulfil his duty to inform the cricketing authorities about the corrupt approach.
But a jury at London's Southwark Crown Court unanimously convicted the pair of conspiracy to cheat.
The jurors also found Butt guilty of conspiracy to accept corrupt payments by a majority of 10 to two. They later returned a jury of guilty on Asif for the same charge.
Now that the verdicts have been returned, it can be revealed that Amir had already pleaded guilty to both charges.
The judge, Mr Justice Cooke, said he would begin sentencing Butt, Asif and Amir at 10.30am on Wednesday.
The jury was not told that Amir pleaded guilty to conspiracy to cheat and conspiracy to accept corrupt payments at a pre-trial hearing on September 16.
Amir, a teenage cricketing sensation who was tipped to become one of the all-time great fast bowlers, issued a heartfelt apology for his actions through his lawyer when he pleaded guilty.
His barrister, Ben Emmerson QC, told the court: "Amir wants to make it clear he wants to take full responsibility for what he did by deliberately bowling two no-balls.
Vulnerable
"This vulnerable 18-year-old boy, as he was then, was subjected to extreme pressure from those upon whom he should have been able to rely.
"He recognises the damage he has caused Pakistan cricket and he wishes to do his best to put that right."
The jury was also not told that the International Cricket Council imposed long suspensions on the three Pakistan cricketers in February.
Butt was banned for 10 years, five of them suspended, Asif for seven years, two of them suspended, and Amir was banned for five years. They are all appealing against the bans.
Butt was found guilty as his wife Gul Hassan gave birth to their second son after undergoing a Caesarean section in hospital in Pakistan.