Big Bash kicked off with a bang last week, says Matt Floyd
The Big Bash kicked off in style last week and Matt Floyd says the tournament looks wide open...
Last Updated: 12/12/12 10:33am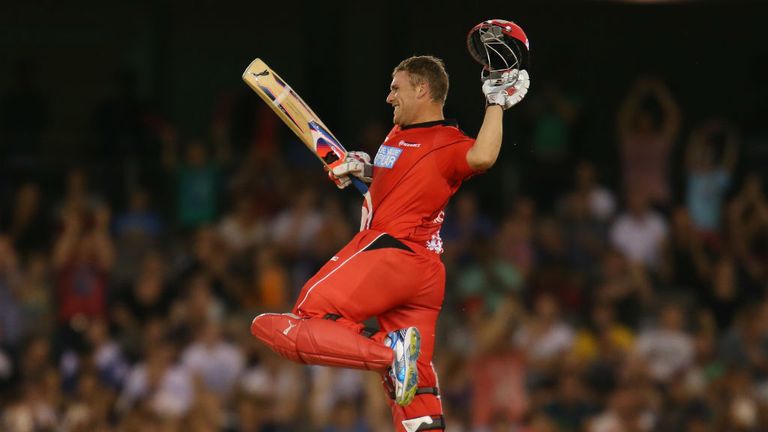 The Big Bash hit UK TV screens with a big bang last week.
As expected the tournament came with all the usual Australian razzmatazz and some very interesting innovations as well.
First among these has got to be the flashing 'Zing' stumps that light up as soon as the bails leave their groove. Corky in the studio was a massive fan and you can see why - they were very eye catching for the viewers (and probably those at the ground too) and must have helped the square leg umpire on stumping and run out decisions.
I guess there are still issues that need to be ironed out (they once lit up without the bails actually coming off) but they seem a welcome addition to the shorter format.
The umpire and batsman helmet cameras also added an extra element to the coverage although Ian Ward will tell you that Sky trialled helmet cam on him years ago when he was playing for Sussex. Listening to a mic-ed up bowler talk you through his plans and thought processes just before he bowled is also nothing new but in this case, as it's the great Shane Warne, it seems even more captivating and insightful.
Last year Warnie famously predicted how he would get Brendan McCullum and Herschelle Gibbs out immediately before doing it. On day one of the Big Bash this year he wasn't quite as impressive. In fact, not only did the great man's two overs against the Melbourne Renegades go for an astonishing 41 runs, he also dropped an absolute sitter, having just said that his side desperately needed a wicket!
It was all pretty ironic considering he'd insinuated the previous week that he'd be interested in an Ashes return. I'd be surprised if he didn't respond positively though and I bet he does something special in the next two or three games to silence those who think he's a spent force.
Wide open
After seeing all the teams in action once it seems pretty obvious that this tournament is going to be very hard to predict.
Take the first game between Warne's Melbourne Stars and their city rivals the Renegades, for example: the Stars had Warne, Lasith Malinga, David Hussey, Brad Hodge, Clint McKay, Cameron White, Matthew Wade and Luke Wright, and were the pre-tournament favourites; the Renegades had Murali but were heavily reliant on their captain Aaron Finch, whose claim to fame is he once scored a T20 half century against England, although a few more people might know his name now as he proceeded to smash 111 not out off 65 balls and, yup, you guessed it, the Renegades thrashed their more glamorous rivals.
Last year's beaten finalists, the Perth Scorchers, were also much vaunted coming into the first game and suffered a similar fate at the hands of the Adelaide Strikers. Recalled-again Aussie Test number three Phil Hughes was the Strikers' star man with 74 off 48 balls. He may still have work to do to prove he can cut it at Test level but on this evidence he seems a different batsman to the one we saw in the 2009 Ashes.
The Sydney Sixers had no such problems against their local rivals the Sydney Thunder and showed why they are the defending champions as well as the Champions League T20 holders. They are surely the team to beat and the Hobart Hurricanes could be ones to keep an eye on too. Ricky Ponting missed the first round due to a stomach bug but when he comes back he will add further fire power to a batting line up that features two of the competition's most in-form players in Travis Birt and Owais Shah.
World Twenty20 champions Chris Gayle, Marlon Samuels, Sunil Narine and Kieron Pollard arrive this week to further beef up the competition. Expect more fireworks and flashing stumps!