Stuart Broad is is happy to have Paul Collingwood on board as an assistant coach
England one-day captain Stuart Broad says the team are enjoying the opportunity to work with Paul Collingwood.
Last Updated: 23/02/14 5:31pm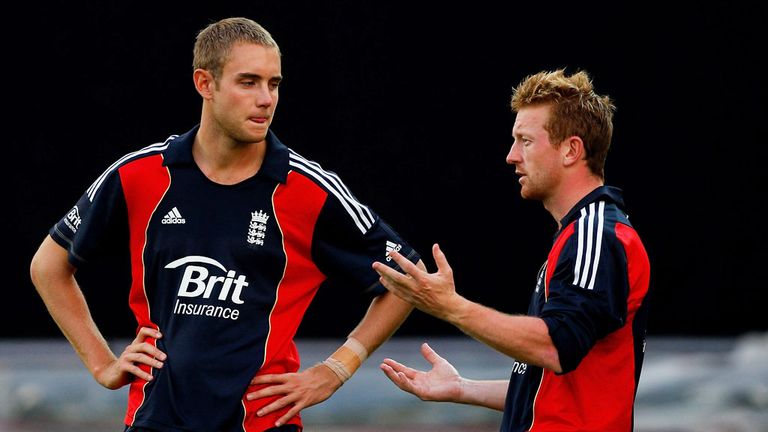 The England squad are in the West Indies to play three T20s and three one-day internationals as a warm-up for the T20 World Cup in Bangladesh.
And Durham skipper Collingwood will act as assistant coach under Ashley Giles for both legs of the trip.
The 37-year-old excelled for England in all formats during his international days but was a particularly exceptional limited-overs performer, playing 197 one-day internationals and captaining England to World T20 glory in 2010.
And Broad said: "I have played a lot of cricket with Colly, he is a fantastic guy.
"He's energetic, he's very positive, and he's what you would call a good tourist.
"He loves being away, he brings a lot of energy to the group, and he was one of the best fielders England ever had."
Hard work
England are in Antigua at the moment, preparing for the first one-day international on Friday, and Broad says they are putting in plenty of hard work.
"We know when we go to Bangladesh for the World Cup we are going to be playing in hot conditions," he said. "We want to be one of the fittest sides there.
"We can really use this three weeks. With one-day and Twenty20 cricket you get a bit more time between games to work on that sort of thing."
England will be starting life without Kevin Pietersen and Broad admits the explosive batsman will be hard to replace.
"You look back to the 2010 World Cup, over here in the Caribbean, he got man of the tournament and was the shining light," said the skipper.
"Without him, we would not have won that tournament, there's no doubt.
"But there are opportunities for other players to step up and do that now. In sport, opportunities always arise, and there are players in this changing-room who have got the same match-winning ability."